SportsNation Blog Archives

Wes Welker
It didn't take long for former Patriots wide receiver Wes Welker to find a new home. A day after free agency opened, the five-time Pro Bowler agreed to terms on a contract with the Broncos, leaving Tom Brady behind in New England and teaming up with Peyton Manning in Denver. Welker has topped the 100-catch mark five times in the past six seasons, so how will he fare in the Mile High City, catching passes from another future Hall of Famer?
---
Don't know what you got 'til it's gone?
Welker was the biggest constant in an ever-changing receiving corps for the Patriots.

---
Catching fire
Welker was a pass-catching machine in New England, racking up 672 receptions in six seasons.

---
Bang for the buck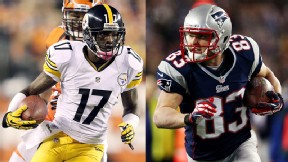 Mike Wallace got a big-money deal from the Dolphins, but his production has paled in comparison to Welker's.

---
Big names leaving Boston
What'll be harder for Boston fans: seeing a clean-shaven Kevin Youkilis in pinstripes or watching Welker catch passes from Manning?

One odd subplot of this weekend was the continued absence of Wes Welker from the Patriots' game plan. Welker, who normally catches more of Tom Brady's passes than any other receiver, was barely used in Week 1 and only got big playing time in Week 2 because of an injury to Aaron Hernandez. Welker is being diplomatic about his reduced role, but is this really the way the Patriots should be using him?
palanador21: "This is simply yet another case of BB completely disrespecting one of the key cogs that aided in the Patroits success. In trying to prove that he does not need Welker; I can see Belichek costing this team more losses as they had to the Cardinals."
terbmagic: "Let's be honest and call it what it is. Welker isn't being put on the field because the patriots do not want to pay him. They are testing what it would be like to not have him around. Hence the flood of passes to Lloyd and Edelman. We will see in the next 2 weeks if Welker gets the ball more, that means they will probably sign him. If not.....free agent."
starfox936: "the truth is, is that he is a 31yr old slot receiver. They are upset they had to pay too much for him this year and are phasing him out and learning to live without him as the season continues."
Mario702lv: "Should just call it what it was...good defense by the Cards. Brady had little options, moved his feet a lot, got hit a lot."
Unbiased1969: "With the Hernandez injury, I think Welker's involvement will not be so limited after all."

Join the conversation or respond by signing in or creating a profile and blogging.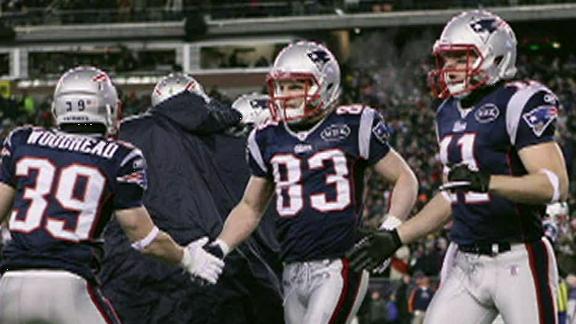 The Patriots have signed Aaron Hernandez to a long-term deal, notably before they gave Wes Welker anything of the sort. Welker has been Tom Brady's primary target in recent years, but is this a sign that he has been moved down the receiver heirarchy?
x_Boston_x: "Congrats to Hernandez... Sorry for Welker... He's a class act and put in all the work, then signs the tender hoping it would get something going for him and then just to be slapped in the face... I hope he still plays his heart out, Welker and Brady should retire together and go down as the best QB/WR tandem."
teamjordan2345: "Just as Randy Moss learned, Wes Welker will too. The writing is on the wall; he's not going to get the contract he wants in NE. The youth movement has begun."
wrigleyfield123: "can't stand the patriots, but they will redefine the TE position over the next couple of years with these two. And they are hard core, won't give welker an extension but will to both of their young TE in the same year."
Khanivore: "Hernandez is a much better player than Welker so of course we pay him and jopefully trade Welker or let him walk somewhere else. Not a huge market for short and slow WR's who specialize is short yardage passes."
farnsworthcollinstruffle: "Welker is and has been a consumate professional. That being said, his value isn't as high if he leaves the Patriots and both the Patriots and every other team in the league know this, hence the fact that Welker signed the tender."

Join the conversation or respond by signing in or creating a profile and blogging.