SportsNation Blog Archives

Tyson Chandler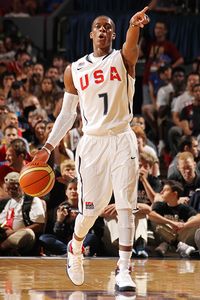 It wasn't so long ago that Rajon Rondo was on top of the world. Now he's missing the worlds. His Celtics came up just short against the Lakers in the NBA Finals, but Rondo's overall playoff excellence helped land him at No. 4 when more than 10,000 SportsNation judges ranked the NBA's best point guards in July. And considering the three guys ahead of him -- Chris Paul, Deron Williams and Steve Nash -- either elected not to play for Team USA this summer or weren't eligible by virtue of their general "Canadian-ness", he seemed like a lock to be one of the stars of the show.
The catch, of course, is that as the United States beat Greece on Wednesday in its final exhibition, Rondo wasn't even there. Rondo withdrew from the team Tuesday, shortly after he himself admitted he was on the bubble to make the final cut. So did Rondo realize his game wasn't the best fit for the international game and graciously save Team USA the trouble of cutting a player? Or did he quit to save himself the embarrassment of being cut?
"

There was no need for him, everything he can do Rose can do as well, plus Rose even hit the clutch free throws (last weekend against Spain). Sure Rondo is a better defender, but he is a gambler defensively and we don't have the bigs like KG and Perkins to cover for his mistakes when his steal attempts fail. Rondo is always timid at crunch time b/c he is afraid of shooting clutch free throws.

"

-- doomgunner
"

I think Rondo just didn't like being benched. I mean, he has been a starter for years now. Some guys cannot handle going from playing all the time to not even logging in 1 minute, I think it's a shame. I still don't think he should have quit though.

"

-- Vampire_Face
"

Rondo knew he wasn't the best fit for international play and has a few other things to do, so he bowed out and spared the coach the heat of making the cut. This is a team of hungry players, and he's not one of the hungriest. Billups is already there to provide the wily veteran presence. It was just a rational decision. I guess being rational is too weird to understand anymore.

"

-- The Pragmaticist
"

Coach K is overrated. and Colangelo can't be trusted. Both are snakes, Rajon gave them a way out. I hope they appreciated it. A DNP? You've got to be kidding me.

"

-- zeppyled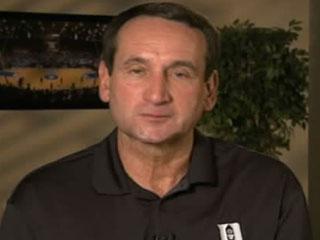 It seems unlikely the newest incarnation of Team USA will produce any NBA free-agent madness on par with Dwyane Wade, LeBron James and Chris Bosh hatching plans for a takeover. That is, unless you get worked up about the idea of Tyson Chandler and Eric Gordon joining forces with Danny Granger.
It's not quite the 1998 team of CBA rejects and European-based nobodies that somehow won bronze in place of NBA players otherwise occupied with a labor dispute, but the American side Mike Krzyzewski will lead in the FIBA World Championship doesn't look like dream material. We've got Kevin Durant, which might be enough all on its own, but Carmelo Anthony, Kobe Bryant, Dwight Howard, LeBron James, Chris Paul and Dwyane Wade are among the high-profile players sitting out this round of international play.
With O.J. Mayo, Tyreke Evans, Gerald Wallace and JaVale McGee out of the picture, what would your final 12 look like out of the 15 remaining candidates?
Guards: Chauncey Billups, Stephen Curry, Eric Gordon, Rajon Rondo, Derrick Rose, Russell Westbrook
Wingmen: Kevin Durant, Rudy Gay, Danny Granger, Andre Iguodala
Big men: Tyson Chandler, Jeff Green, Brook Lopez, Kevin Love, Lamar Odom

"

Wow, this is the first time I have seen the full roster and I have to say it is very lackluster. Who came up with this list of players? I wont be surprised if this team fails to capture anything.

"

-- atlbravefalconsince1986

"

Everybody please relax. Coach K knows what he is doing. It is unfortunate that we do not have anyone better at Center than Brook Lopez and Tyson Chandler. Why isn't D. Howard playing? If I were Coach K I would cut Granger, Westbrook, and Green. I would cut Chandler too if I had my druthers, but we can't enter play with only one center.

"

-- KinKeezie
Emeka Okafor played three college seasons; Tyson Chandler didn't play any. Both were selected second overall in their respective NBA drafts; neither has had an abundance of luck staying healthy as a professional. Both looked good for stretches when they were on the court. The lesson here? Heck if we know.
Apparently the Bobcats and Hornets are also at a bit of a loss when it comes to two talented big men with physical baggage. The two teams swapped players Tuesday, with Okafor heading to play with Chris Paul in New Orleans and Chandler ... well, we hear Charlotte has some wonderful golf courses that should keep him busy during May.
When the Bulls picked Chandler No. 2 in 2001, both Pau Gasol and Tony Parker were still on the board (although in Parker's case, that was true for most teams in the first round). At least the Bobcats got some service out of Okafor after picking him No. 2 (and in a draft that saw Shaun Livingston and Rafael Araujo go in the top eight picks, it could have been worse), but imagine how things might look if the lottery had given them the No. 1 pick that went to the Magic.
"

This is a decent trade for Charlotte(only if Chandler stays healthy). Charlotte was the lowest scoring team in the league and Okafor has the offensive skills of a high school player. The team needs to score and win now. If they dont make the playoffs then at least fans will have more highlights. Charlotte is now a young and athletic team.

"

-- gilesjk84
"

I love Michael Jordan, but he's a complete failure as a front office guy. Just sit back and stay out of business deals Mike, you suck at it.

"

-- brianm23
"

I live in Charlotte and all you see for the Bobcats is Emeka Okafor, what are the Bobcats going to do without him? Really? This is one of the most stupid trades I've ever seen the Bobcats make in their small history. I hope this trade doesn't work or Tyson Chandler doesn't pass the physical or something please. Jeez!!!!!!!

"

-- swimmerchildren