SportsNation Blog Archives

Miami Heat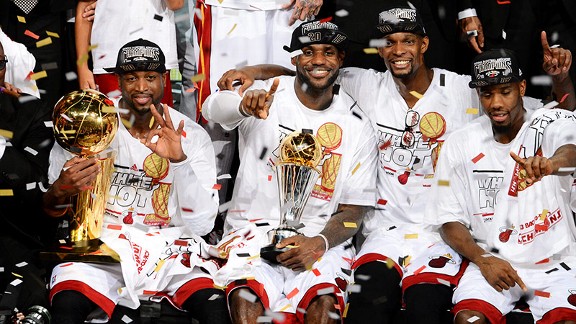 Garrett Ellwood/NBAE/Getty Images
NBA 5-on-5: Miami Heat
The Heat added Greg Oden and Michael Beasley to their roster, but were they A-worthy offseason moves? Which is the biggest question facing the two-time defending champs? Will they become the first team since the 1999-02 Lakers to three-peat? The NBA 5-on-5 guys had their say and now it's time for SportsNation to weigh in.
Joe Cavaretta/Sun Sentinel/Getty Images

LeBron James to keep quiet on 2014

Take a good listen, LeBron James prospectors. This might be the last you hear from the King about his impending (possible) free agency. At Miami Heat media day Monday, the four-time MVP and two-time defending NBA champion said he no longer will talk about next summer, when he can opt out of his six-year deal. In other words, prepare for a near-repeat of the summer of 2010, when James' dithering led to his infamous -- and famous, in South Florida -- Decision. Should Heat fans be nervous?

A hard head is an asset in football, but the Virginia Tech Hokies seem to be taking the whole thing literally. They'll be debuting ''Hokie Stone'' helmets for Thursday night's game against Georgia Tech, designed after a type of rock mined near the campus and used in many of its buildings. Alternate uniforms are all well and good, but are these helmets more brick than marble? We recognize that metaphor was a bit strained. It's obviously more shale than anything else.

Here's a sampling of what readers had to say in our Facebook conversation on the story:

Evan Shikora: "Hideous, just hideous. Wear the camo jerseys with pride - rock head football players."
Craig Miller: "Most universities have brick concepts, not this kind of stone. Very nice architecture on campus."
Jim Marquez: "Not usually a fan of all the different helmet and uni designs (I'm looking at you Oregon), but this one is pretty cool."
Sean Cahoon: "loveeeeeee it!!! May seem small to non-Hokie fans but "Hokie Stonw" means a lot to us. For those who have passed. For those to come. Reach for excellence!"
Jonathan Pankey: "Non-Hokies will probably not understand the significance of the Hokie stones and that is fine and they will judge it just on looks alone but most true Hokies will understand it and think that even though it is not a flashy look, it represents the school very well. I am a Hokie to the core and I love the Hokie stones and I think the 3-D design is pretty cool but I really prefer the all maroon look."

What do you think? Leave your comments below.

On balance, the NBA probably has the best crop of nicknames in sports. It's able to find evocative monikers for even the least essential players and is refreshingly devoid of lazy portmanteaus like "A-Rod." The league seems to be embracing this unique status, as it's considering allowing the Heat and Nets to use nicknames on the back of their jerseys for one of their four matchups this season. We're just upset that Shaq isn't somehow involved -- he's got enough nicknames to require a jersey change on every change of possession.

Here's a sampling of what readers had to say in our Facebook conversation on the story:

Zack Ficke: "I hope this isn't the strategy to allure fans to the game of NBA basketball. I'm sure the league views this as trivial in nature in the grand scheme of things, this epitomizes everything the nay-sayers already feel about the NBA game - it's a bunch of incredible gifted athletes playing as INDIVIDUALS lacking intensity until half the league makes the playoffs and they ratchet things up a bit."
Michael Figueroa: "The only jersey of these I would want is one for Jesus Shuttlesworth. You know that one would be legit. Lol. Seeing King James or Flash or The Big Ticket would just be kinda lame. Too corny."
Cody Van Ryn: "A needed reminder to those NBA players, you cant create your own nickname, real nicknames are given to you'"
Barry Gilbert: "Jesus Shuttlesworth will definitely sell more jerseys than "king james"; on a side note: how is this different than what they do in Brazil? (Nene, Pele, Kaka)"
TJ Seidler: "I think the idea is great and since the NBA is a business they have to find new ways to get jersey sales. I believe adding the nicknames is great especially if the NBA wants to sell more to kids who want their favorite players jersey with the nickname on it."

What do you think? Leave your comments below.