SportsNation Blog Archives

Detroit Pistons
DeAndre Jordan redefined "Lob City" Sunday night with an incredible throwdown on the Pistons' Brandon Knight. Jordan entered the night with 135 dunks, the third-most in the NBA, but none were quite as impressive as this one. Even Jordan's fellow NBA players were impressed, taking to Twitter to react to the dunk heard 'round the league.
Deandre ......... Jordan.

— Derrick Williams (@RealDwill7) March 11, 2013
DeAndre Jordan!!!! Dayyyuummmm!! Dunk of the year #littletikeshoop

— LeBron James (@KingJames) March 11, 2013
Why jump B. Knight?!

— Harrison Barnes (@HBarnes) March 11, 2013
That dunk @deandrejordan had tonight was RIDICULOUS smh. #unfairathleticism

— Garrett Temple (@GTemp14) March 11, 2013
Why did he jump?????

— Shelvin Mack (@ShelvinMack) March 11, 2013
Damn somebody just got baptized...dunk of the year.

— Quincy Miller (@qmillertime) March 11, 2013
Brandon Knight #NoBro

— Brandon Rush (@BRush_4) March 11, 2013
@deandrejordan od'd on Brandon knight =3!!!!!!!

— tyshawn taylor (@tyshawntaylor) March 11, 2013
Best dunk of the year!!!!!!! Wow

— DJ White (@dj_white3) March 11, 2013
Join the conversation and follow us on Twitter @ESPN.
The Grizzlies, who've been looking to shed payroll without damaging their postseason chances too much, are on the verge of completing a trade that would send Rudy Gay to Toronto, Jose Calderon to Detroit and multiple pieces to Memphis, sources told ESPN.com's Marc Stein. Fans were mixed on who got the best of the trade, and whether the 26-year-old Gay was worth the contract that pays him $16.5 million this season.
nmsadler: "It's funny to watch these people who don't watch the Grizzlies criticize this trade. Just because Rudy is the best on the team in 2k13 doesn't mean he's ACTUALLY the best on the team. He's not. He's a great guy, and he's good...but not the heart fo this team."
bpete00: "Rudy Gay, DeMar DeRozan and Andrea Bargnani... Quite possibly the most over rated, overpaid, underachieving trio in NBA history. Thanks Colangelo."
crillbill: "I dont think Memphis was comfortable entering the playoffs as such a high seed. This should help."
hoopsfreak91: "The Grizzlies will be just fine. Remember when they made a run in the playoffs a few years ago without Gay? Who knows? They might do so again with the assets they've picked up."
ccgagnon365: "I honestly think the Pistons are winners here. Trade away an expiring player/large contract and a below average SF for Jose Calderon. There will be a second trade coming shortly... "

Some NBA players, including multiple members of the Grizzlies, took to Twitter to react to the big trade.

naaaaawwww b

— Tony Allen (@aa000G9) January 30, 2013

Wow

— Mike Conley (@mconley11) January 30, 2013

WoW. I'm speechless.

— Tony Wroten (@TWroten_LOE) January 30, 2013

Wow that was 1 crazy trade today. Are you serious Rudy Gay is right there under KD, Lebron, Kobe, and Melo. #badtrade

— Kendrick Perkins (@KendrickPerkins) January 30, 2013
Join the conversation or respond by signing in or creating a profile and blogging.
We can understand if you don't want to take the time to grade your tech-support help on the other end of the telephone, but when we're talking about the dollars and emotion you've invested in sports, we think it's worth the effort. It's time for ESPN The Magazine's Ultimate Standings, in which SportsNation grades organizations on everything from ticket prices and stadium experience to the talent on the field, court or rink. Which team will end up on top this year? It depends on what you say.
Take part in the 2011 MLB survey
2010 MLB Ultimate Standings
1. Los Angeles Angels (Overall: No. 3)
2. Tampa Bay Rays (Overall: No. 6)
3. Colorado Rockies (Overall: No. 13)
4. Minnesota Twins (Overall: No. 14)
5. Atlanta Braves (Overall: No. 15)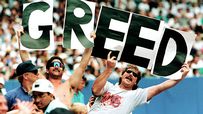 Take part in the 2011 NFL survey
2010 NFL Ultimate Standings
1. New Orleans Saints (Overall: No. 1)
2. Indianapolis Colts (Overall: No. 4)
3. Green Bay Packers (Overall: No. 9)
4. Arizona Cardinals (Overall: No. 19)
5. Baltimore Ravens (Overall: No. 20)
Take part in the 2011 NBA survey
2010 NBA Ultimate Standings
1. Orlando Magic (Overall: No. 2)
2. San Antonio Spurs (Overall: No. 7)
3. Cleveland Cavaliers (Overall: No. 10)
4. Dallas Mavericks (Overall: No. 24)
5. Oklahoma City Thunder (Overall: No. 25)
Take part in the 2011 NHL survey
2010 NHL Ultimate Standings
1. Pittsburgh Penguins (Overall: No. 5)
2. Detroit Red Wings (Overall: No. 8)
3. Washington Capitals (Overall: No. 11)
4. San Jose Sharks (Overall: No. 12)
5. Chicago Blackhawks (Overall: No. 16)
Carmelo Anthony's name has been attached to more teams this season than we can count -- we even heard a brief rumor that he'd be the next striker for Manchester United (note: rumor may or may not be total lie). Now, it seems like there's a final destination for the iconic Denver forward -- the New Jersey Nets. Everything is in place for the massive 15-player trade, which also involves the Detroit Pistons. Everything, that is, except Anthony's approval.
The Nets don't want to trade for Anthony if he bolts at the end of the season -- their plan may be to build around Anthony, potentially adding Chris Paul once he becomes a free agent as well. Anthony's preference is supposedly to be traded to the New York Knicks, but will visions of Paul feeding him assist after assist sway his opinion at all?
Cameron (Galesburg, IL)
If the Nets can pull off the Melo deal and get Anthony, Billups, and Hamilton do you see any chance of them getting the 8th seed?
Chad Ford
Yes, because of the weakness of the rest of the East. Top 5 in the East are pretty strong, and the Knicks look like a lock for the 6th seed. After that it's wide open and the Nets would be in that mix. But do you go through all of this trouble for a quick first round exit? Will it get much better in 2011-12? Heat, Magic, Bulls, Celtics and possibly Hawks and Knicks look like better teams. In summer of 2012 ... Nets won't have a ton of space because of Brook Lopez's cap hold ... so how, exactly do they land Chris Paul. In other words, Melo will add excitement, but I don't see him delivering a title to the Nets. Full transcript
3. Would the Nets be a respectable team with Carmelo Anthony?
You know a blockbuster trade is in the works when we're discussing a team that's 10-27 and the words "future draft pick" aren't involved. The New Jersey Nets could be the architects of such a trade, as the team is seeking to add Carmelo Anthony, Rip Hamilton, and Chauncey Billups in a move that could see 15 players changing their uniforms. Is this a good potential trade for New Jersey?
"wow...talk about another major swing of power to the eastern conference if this deal goes down. denver would certainly go down in western conference power rankings if it does." -- SN commenter geehhdogg