SportsNation Blog Archives

Utah Jazz
We can understand if you don't want to take the time to grade your tech-support help on the other end of the telephone, but when we're talking about the dollars and emotion you've invested in sports, we think it's worth the effort. It's time for ESPN The Magazine's Ultimate Standings, in which SportsNation grades organizations on everything from ticket prices and stadium experience to the talent on the field, court or rink. Which team will end up on top this year? It depends on what you say.
Take part in the 2011 MLB survey
2010 MLB Ultimate Standings
1. Los Angeles Angels (Overall: No. 3)
2. Tampa Bay Rays (Overall: No. 6)
3. Colorado Rockies (Overall: No. 13)
4. Minnesota Twins (Overall: No. 14)
5. Atlanta Braves (Overall: No. 15)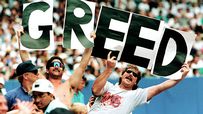 Take part in the 2011 NFL survey
2010 NFL Ultimate Standings
1. New Orleans Saints (Overall: No. 1)
2. Indianapolis Colts (Overall: No. 4)
3. Green Bay Packers (Overall: No. 9)
4. Arizona Cardinals (Overall: No. 19)
5. Baltimore Ravens (Overall: No. 20)
Take part in the 2011 NBA survey
2010 NBA Ultimate Standings
1. Orlando Magic (Overall: No. 2)
2. San Antonio Spurs (Overall: No. 7)
3. Cleveland Cavaliers (Overall: No. 10)
4. Dallas Mavericks (Overall: No. 24)
5. Oklahoma City Thunder (Overall: No. 25)
Take part in the 2011 NHL survey
2010 NHL Ultimate Standings
1. Pittsburgh Penguins (Overall: No. 5)
2. Detroit Red Wings (Overall: No. 8)
3. Washington Capitals (Overall: No. 11)
4. San Jose Sharks (Overall: No. 12)
5. Chicago Blackhawks (Overall: No. 16)
1. More impressive to rally from 22 down or score 54 in a quarter?
Who do you turn to for NBA excitement? Why, the Jazz and Pacers, of course. The Jazz handed the Heat their third loss of the season, and did it by coming from 22 points down to win in overtime. Meanwhile, the Pacers hit 20 of 21 shots en route to 54 points in a single quarter against the Nuggets. Which is more impressive?
"54 points in the 3rd quarter? Must've changed the difficulty from Hall of Fame to Rookie." -- SN commenter Soul Sector JF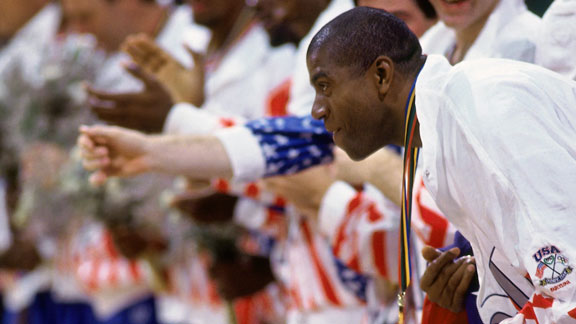 The Naismith Basketball Hall of Fame opens its doors to a new class of inductees tonight in Springfield, Mass. (which gave us basketball and Dr. Seuss within a 13-year span and has since taken the last 106 years pretty much off). And perhaps it's only fitting that all-time sidekick Scottie Pippen gets to share the night with one of only two players in NBA history to score more points than Michael Jordan (not to mention, the entire 1992 Dream Team).
Pippen spent his career ceding (sharing, if you're feeling charitable) the spotlight to Jordan, but is entering the Hall with the Mailman one legacy battle he can win? SportsNation blogger ricodade offers his own take on a "Robin" for the ages.
"Pippen's induction is overdue. He should have went in last year with MJ, but I understand why he didn't. Jordan's legacy is so much bigger than basketball. It would have been fitting for them to enter the Hall together, just as they won six titles together.

"Scottie's resume reads like so: 6-time NBA Champ. 7 time All-Star. 8 time All defensive first team(twice on the 2nd team). 3 time All NBA first team. His 2307 steals is still a record for steals for a forward.Dream Teamer/Olympic gold medalist.

"That's hardly the resume of a sidekick." -- Check out ricodade's blog
"

Congrats Pip!! Couldn't have done it without you. We all know that. As great as MJ is, you were definitely the most crucial/vital piece to his success and vice versa. The truest Batman/Robin duo of all-time! It's a great day to be a Bulls fan, watching your introductory into the Hall of fame!

"

-- Youmustbecrazy40
"

i hate the mailman but even i know he should be in the Hall. on the other hand Scottie Pippen should never go to the hall. his plaque should be of MJ's head not his. he owes his career to his airness.

"

-- rocketsandtitans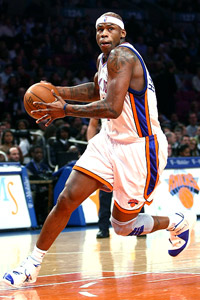 A consolidation of player power in Miami is the talk of the offseason, for obvious reasons. But when do we talk about a diffusion of power in the Western Conference?
Phoenix moves on without Amare Stoudemire but with Hedo Turkoglu. Utah has to hope Al Jefferson and Raja Bell equal the departed Carlos Boozer and Kyle Korver. Dallas kept Dirk Nowitzki, no minor feat, but it's hard to envision Tyson Chandler as the missing piece of the puzzle. Will impending free agency distract Carmelo Anthony? Will Yao Ming stay on his feet for an entire season? Should we just let the Lakers skip ahead to the NBA Finals?
In following Horace Greeley's advice, Al Harrington said he picked the Nuggets instead of the Mavericks based on each team's potential (the extra money inherent in suggestions that the Mavs were loathe to give him five years probably didn't hurt). We say if Harrington can judge Western Conference potential, he's a better man than us.
jay (uptown dallas)
are the mavs seeking ant other trade scenerios right now
ESPN Dallas' Jeff Caplan
Jay, Donnie Nelson says the team will be as active as ever. They'll continue to probe New Orleans about Chris Paul. the Hornets just fired GM Jeff Bowers, so things are in flux there and Paul is getting increasingly uneasy about the direction of the franchise. Otherwise, the Mavs will keep calling clubs for trades, kicking around Carmelo, as if that's going to happen, but yes, they will be looking for trades, particularly a blockbuster to land a star to pair with Dirk. I think the percentages are low. Full transcript
"

Great signing by Denver. Al Harrington was the only bright spot on a horrible Knicks team. He's young and from NJ so you know he has energy and toughness.

"

-- mcbrinkosu
If Buzz Aldrin is any indication, at least Deron Williams has "Dancing with the Stars" to look forward to in his future. Like Aldrin, who gained pop-culture relevance in recent years as much for viral videos of him punching a conspiracy theorist as for being the second man to walk on the moon, Williams appears doomed to live in the shadow of a guy he famously arrived on the scene with -- in his case, Chris Paul in the role of Neil Armstrong.
But fellow 2005 draftee Paul and the Hornets are sitting at home after the point guard sat out a good chunk of the regular season -- 37 games -- with a variety of injuries. And with Mehmet Okur out of action for the rest of the playoffs with a ruptured Achilles tendon, all Williams did was go for 33 points and 14 assists to lift the Jazz to a 114-111 win on the road in Game 2 against the Nuggets.
So is it really as clear as SportsNation has made it seem in the past which product of 2005 is the best bet for the future? Would you rather have Williams or Paul for the next decade?
"

all the jazz points in the 4 th quarter are credit to deron williams getting by his man, drawing help, and dishing. thats THE best point guard in the league, scoring when its there, but not looking to score. letting it come naturally.

"

-- rbmw263
"

Best part of this game: The crowd chanting "Utah sucks! Utah sucks!" as the Jazz go on to beat them on their home floor. All you nug fans on here can do is blame it on the refs.. Anything to take the credit away from the Jazz who basically dominated that game. P.S. If you want to talk about bad calls, watch Melo all night push off and hook everytime he went in

"

-- lurpinator