SportsNation Blog Archives

Los Angeles Clippers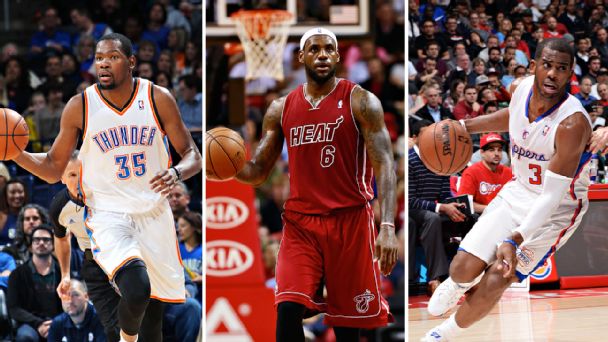 Getty Images
Predictions for NBA second round?
The second round is well underway. Which team will win each series? What will happen in the later rounds? Cast your votes below!
Game 7 drama for NBA playoffs
The first round of the 2014 NBA playoffs have been unpredictable and exciting. So it's fitting that five of the eight opening series will come down to the ultimate sports drama this weekend: a win-or-go-home Game 7. On Saturday, the Pacers, Thunder and Clippers all advanced to the conference semifinals. Still ahead on Sunday: the Spurs will both be looking to stave off an unexpected early exit at the hands of the Mavericks, whle fhe Nets and Raptors play for the right to face the Heat in the next round.
Sterling banned for life
Donald Sterling has been banned for life in response to racist comments caught on tape. NBA commissioner Adam Silver also fined Sterling $2.5 million and said he will urge the NBA's Board of Governors to force a sale of the team. This penalty is about as hard as the league could come down on Sterling and prompted widespread approval from some of the NBA's biggest names.
Clippers lose amid controversy

The Los Angeles Clippers took the court Sunday for the first time since racist comments purportedly made by owner Donald Sterling surfaced. Before the game they showed great solidarity in staging a silent protest. During it, though, the events seemed to catch up to them, as the Golden State Warriors won 118-97 to tie the series 2-2. The NBA is investigating, and commissioner Adam Silver expects it to go "extraordinarily quickly."