SportsNation Blog Archives

Los Angeles Lakers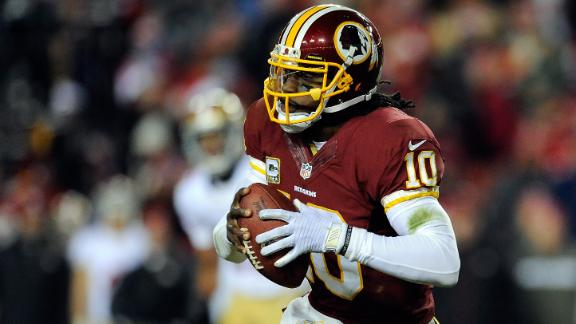 Robert Griffin III's knee injury still seems to be affecting his game, as his mediocre stats and lack of explosiveness this season suggest. 49ers linebacker Ahmad Brooks said that he doesn't believe Griffin should be playing until he's fully recovered. Brooks has a unique perspective on this -- he sacked Griffin twice and hit him two other times in the 49ers' 27-6 victory over the Redskins on Monday night. The idea of sitting Griffin might have some merit for the Redskins, as they're 3-8 and need to think long term about Griffin's career.
Here's a sampling of what readers had to say in our Facebook conversation on the story:
Glenn Cannon II: "Everybody expected the same results from last year from a player who had NO OFFSEASON to develop, and mesh with his less then talented WR Core. Then they have him miss all of the preseason games only to start him in the first game to shake off the rust?"
Jared Waters: "Any one of you who actually watch the redskins know it's not his fault. The man has absolutely no offense line, no time to throw, coaches who can't call plays, and a terrible defense behind him. The man is scrutinized for every little thing he does. Give him a break. Clear the house and get someone who will coach and help him and the team ."
Mike Vogel: "RG3 is a a one-of-a-kind, tough, classy player who took the league by storm. When the 22 kid got badly hurt and was playing on one leg, Shanahan kept putting him back in until he was damaged goods forever. Yes, RG3 wanted to go back, but he's a kid and its the job of the coach to be an older, wise head. But Shanahan is all about Shanahan. Fire him now!"
Andy Sipes: "The Skins are extremely lucky to have Cousins as a backup. He would start for other teams in the league right now and be a better option for them. The Skins aren't going to make the playoffs. Sit RGIII to get him healthy, play Cousins to get him some experience and get a good draft pick (O-Line perhaps?) in this year's draft to help further protect your investment in your QB."
Michael Williams: "RGIII is a good player one day he will be great. He needs a better protection scheme! He also needs a couple more weapons at WR or TE. The defense could play better too.Just give him some time."
---
Health concerns
Griffin's Total QBR is lower than a lot of struggling quarterbacks' marks, including those of Ryan Fitzpatrick, Christian Ponder and Mike Glennon.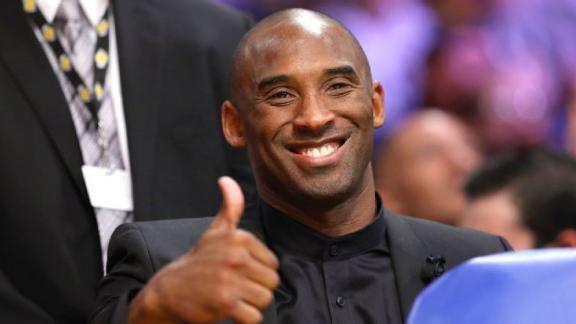 The Lakers have assured that Kobe Bryant will remain with the team for two more seasons. And sources tell ESPNLosAngeles.com's Ramona Shelburne that the extension, worth $48.5 million, will maintain Bryant's status as the NBA's highest-paid player. What remains to be seen is whether Bryant, who's expected to return soon from a torn Achilles tendon, will play at a high level. It also remains to be seen whether the terms of Kobe's deal will allow the Lakers enough financial flexibility to add impact free agents who could lift the team back into the league's elite.
Here's a sampling of what readers had to say in our Facebook conversation on the story:
Good move?

Drew Miller: "If you're a LeBron or whatever thinking about the latter half of your career, do you want to go to a place like Boston (where they gave Paul Pierce the old heave ho) or LA (where they will pay you max money well past your prime, whether it's loyalty or stupidity or whatever)? Seems like it might actually be a smart business move in the long run even if it is obviously terrible on an individual production level."
Chris Cr: "Well worth 24 million. Great way to end his legacy. Most people don't realize the Lakers have no salary cap. They still have room for 2 max contracts."
Wade Hollywood : "He deserves it....it ain't about teaming up superstars....it's about competing....and he's one of the best competitors of all time."
Jason Rogers: "I'm not a lakers fan but Kobe has helped stuff a lot money into the Lakers pocket. I see no problem with him taking a large slice of the money pie on his way out the door."

Bad move?

Robert Chanshin Park: "lol the Lakers just guaranteed they have no chance at winning for at least another two years after this one. What an idiotic move."
Chris Woodward: "2 years / $48 million for a 36 year-old coming off a major Achilles injury. LOLOLOL, Lakers basically just threw in the towel until Kobe retires. That contract is terrible. Woof."
Donald Miller: "There go there massive cap space to another aging star. The Lakers are officially in basketball limbo as a franchise until Kobe retires. What a shame."
Michael Laws: "I love Kobe. He is my all-time favorite player and no one else even comes close. But this was a huge mistake by the Lakers. Giving half the salary cap to one player. Stupid, stupid move and it likely just cost my team it's immediate future."
---
Remember me?
Kobe Bryant has returned to Lakers practices, but coach Mike D'Antoni says no date for his return has been set.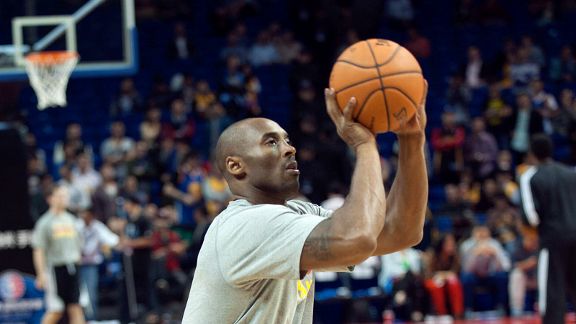 Danny La/USA TODAY Sports
Kobe to return in November?
That rumbling you hear is the sound of Kobe Bryant getting closer to taking the court. On Tuesday, the 35-year-old practiced at full speed in 5-on-5 drills for the first time since rupturing his Achilles tendon in April. Later, Bryant said he might just make his 2013-14 debut by the end of the month. How he'll play is anyone's guess. But if he even remotely returns to form, it would be a boost for the 5-7 Los Angeles Lakers.
How much does Kobe have left?

He's back! Well, almost anyway. Kobe Bryant participated in Saturday's team practice for the first time since tearing his Achilles seven months ago. In an interview Friday, Bryant stated that "the fadeaway still works, the ballhandling, being able to post. Those are things that I can do right now." But will his offensive repertoire be as effective as in years past?

Five teams that reached the 2013 NBA playoffs have started the new season with less-than-stellar results -- and in the Knicks' case, a serious dose of bad luck thanks to Tyson Chandler's leg fracture. It's still early, but Denver and Memphis seem to have taken a step backward from last season. The Bulls are still getting used to playing with Derrick Rose, who's not yet back at MVP strength. And questions remain about what the Lakers will look like when Kobe Bryant returns. Our 5-on-5 panel has measured the panic meter for all five franchises. Now it's your turn. Vote below!

---

Everybody hurts

Losing Tyson Chandler leaves the Knicks without their defensive anchor up front and few good options in his place.

---

Work in progress

The Bulls are still getting accustomed to playing with Derrick Rose after going an entire season without the former MVP.

---

Mountains of difficulty

The Nuggets added coach Brian Shaw but have yet to show they'll overcome the loss of Andre Iguodala to free agency and Wilson Chandler and Danilo Gallinari to injuries.

---

This bears watching

Zach Randolph is off to a slow start, and the Grizzlies' defense has yet to match the standard it set last season.

---

Good enough?

The Lakers are 3-3 but have looked overmatched at times -- and Steve Nash is still hobbled. Is there enough depth to surround Kobe for a playoff push?