SportsNation Blog Archives

David Ortiz
The Red Sox aren't done with Bobby Valentine just yet, as he claimed that David Ortiz's extended DL absence this season was the result of Ortiz's decision to sideline himself for reasons other than injuries. Do you believe Valentine's claims?
foolof: "The Red Sox need new management, and I'm not talking about the guy who writes the hitting lineup before every game."
B1LLYBOB: "I don't think Bobby V was trying to blame Ortiz for the way the season went. Probably just pointing out that Ortiz could've played. I don't blame Ortiz for sitting out, if it's true what Bobby V said. Bobby V is probably just venting (not necessarily lying) after only being given a one year shot at managing a team... The facts are, this team is in shambles and need a lot of help before returning to greatness."
pbigby: "he did quit, its just that the red sox were in on the quitting. it will be the same next year, their new manager quit on his old team at about the same time."
jeff49554: "I can actually believe Valentine on this one. A lot of high paid superstars quit when their team is losing a lot. Though if Ortiz really was hurt, it's a stupid thing for Valentine to say. "
dv25jv: "It was all my fault. I was not a good enough Sox fan. Just thought I admit it before Bobby V. threw me under the bus too."

Join the conversation or respond by signing in or creating a profile and blogging.
David Ortiz became the 49th player in Major League Baseball history to hit his 400th career home run, and the sixth to do so in a Red Sox uniform. Is it likely the eight-time All-Star will hit 500 homers before his career is said and done?
NFLfan3769: "Congrats to Ortiz...400 is a huge number. He's certainly a blast to watch at the plate."
Pedroia The Destroyah v5.0: "It would have been cooler to see him do it in Fenway against the Yankees. But still awesome."
Bblue170: "Big Papi! is the Best DH ... shame that there are people wanting to minimize the big daddy for BoRedSox"
.nuneee: "Is there any better way for Big Papi to hit #400 than in a road loss to the Oakland A's... awesome"



Join the conversation or respond by signing in or creating a profile and blogging.
David Ortiz says he's fed up with reports of turmoil in the Red Sox clubhouse. Is he just putting on a brave face for the media?
chasindreams0729: "Maybe if Ortiz would learn to say "no comment" he wouldn't constantly have to hear about it. Seems like he's the one always ranting to the media. If you don't say anything, they won't report it."
PapaGergs21: "I don't know why anyone would want to play in Boston anymore, especially under Valentine."
akbrown529: "For once in a while, why can't everyone just shut up and leave the players alone and allow them to play the game, sports would be better off if the media kept there opinions the them selves and stop causing so much drama where there is none,how hard is it to just let them play."
Symbiosis12: "He's speaking from the heart. And he's for the most part correct. It's like New York of the late '70's."
2 Close 4 Missiles Switching 2 Guns: "At least someone on this team is finally stepping up and doing something that resembles leadership."
Pnkrwkkid: "Well the Sox have won 5 in a row, 2 games over 500 without crawford, Ellsbury, Bailey, and Pedroia here and there. Watch out for the Sox in the second half."



Join the conversation or respond by signing in or creating a profile and blogging.
David Ortiz lashed out at perceived criticism of his leadership ability after a Red Sox win put the team back at .500. Is this just a temporary outburst?
randallroberson: "If you don't feel respected in Boston Big Papi, demand that the front office trade you to Cleveland. We would throw a parade for you down Carnegie Ave. before you played a game."
doorhingedude: "He's making 14.5 million dollars this year, sounds like respect to me."
oconnor2114: "Yanks fan here...I think he is right. Papi and Pedoria have been the glue of this team the past 3 years. You can't count on anyone else consistenly. Not sure what he is trying to do with his comments though. I for one, have a ton of respect for this guy."
edross22: "Ortiz and Dustin are definitively the leaders of this team. So as long as your team sees you as a leader forget about the rest Papi. I really see you as a leader, you are showing it in the field and off the field. "
zimmerolls: "The fans know Ortiz offers huge leadership to the team. He walks the talk. It's the ridiculous media that portrait it as something different and discount it. Ask the fan on the street and they will tell you the leaders on this team are Papi and Pedroia."
rnewmanjr1: "Ortiz does make some good points. But as far as he himself getting respect. That is wrong. He has been put on a pedestal for years for a good reason. His problem is after years of playing in Boston his skin has gotten thinner and he sees everything as an insult"



Join the conversation or respond by signing in or creating a profile and blogging.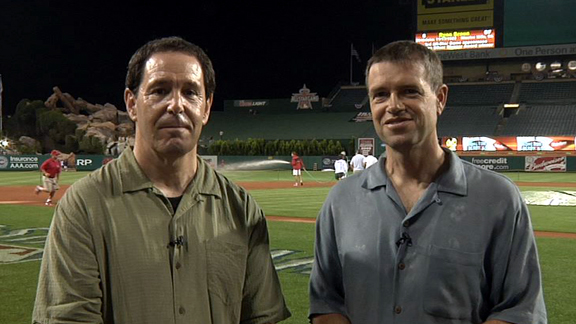 It's not like all of SportsNation wrote off David Ortiz when the aging slugger got off to a slow start for the second consecutive. Only 37 percent (including 44 percent of voters in Massachusetts) said the Red Sox should simply get rid of him after three lousy weeks to open the season.
But does a surge in May and June, capped off by a command performance in Monday's Home Run Derby, really merit a long-term contract extension? Maybe if you believe Ortiz is working on a Hall of Fame career. But even the two Hall of Famers Baseball-Reference.com feels are most comparable to Ortiz through age 33, Willie Stargell and Willie McCovey, tailed off noticeably at about this age. And some just don't see the logic in keeping Big Papi.
"I'm a moderate Papi supporter...the slumps to begin the last two seasons have been brutal (and costly) but he turned it around and averaged out to typical "aging slugger" performance levels. Problem is an "aging slugger" isn't worth 12.5 mil a year... or even 10 mil a year. I'd be ok with 4 years 35 mil or so but I doubt he'd be happy with that, in which case you need to let him walk ... don't pick up the option and don't resign him for anything more than 8-9 mil per year." -- SN commenter TDesmo
Ethan (Berkshire County)
Do you think the Sox will let Papi go no matter how well he performs for the remainder of the season? Seems like Theo has learned his lesson on extending/signing veterans on the decline regardless of popularity.
ESPN Boston's Gordon Edes
Ethan, Ortiz has at least given himself a fighting chance at having his option for next season picked up. I can assure you, though, that the decision will be based on production, not popularity. His bat may well be worth keeping for another year unless you're certain of replacing it. And I don't see any certainty yet. Full transcript
"

Glad to see Papi still being Papi. I missed his jovial demeanor. He's still the man.

"

-- duke81681