SportsNation Blog Archives

Serge Ibaka
It started out pretty well for the Heat: LeBron James was throwing down dunks, Shane Battier was hitting 3s, and the Thunder were having difficulty making shots. Then, gradually, without a real turning point, the Thunder came back and won. You might blame Dwyane Wade for his subpar performance. You might blame James for scoring only seven points in the fourth quarter. You could say that the Thunder's role players really stepped up. We just think it's a matter of one great team temporarily being better than another great team. Sounds like a good thing for the series to come.
---
LeBron or Wade?
Dwyane Wade managed just 19 points, but many point to LeBron James not stepping up in the fourth as the reason for the Heat's loss.

---
Should LeBron defend Durant?
Defending an offensive Swiss army knife like Kevin Durant is no small task, but it might be worth it for LeBron if it means fewer points for the Thunder.

---
Should Durant defend LeBron?
By the same token, defending LeBron James is a nightmare. The Thunder started with Durant but moved Thabo Sefolosha and others on James as the game progressed.

---
Unsung hero?
Sefolosha, Nick Collison and Derek Fisher all came up with big plays when it counted in Game 1.

Settle down, everyone. It's now official: the Spurs will not go undefeated in the playoffs. In fact, if you just saw last night's thrashing, you might think that San Antoio was the team in trouble. Who knows -- maybe they are! The Thunder might have just discovered a way to throw the Spurs off their rather effective game. Alternately, this could just be one of those temporary bumps in the road, and perhaps the Thunder were allowed one chance to shine before the steamroller Spurs start back up.
---
Is this a bad sign for the Spurs?
20-point losses don't just happen -- the Spurs were dominated in every facet of the game on Thursday night.

---
Should Westbrook pass first?
Russell Westbrook only scored 10 points, but his nine assists suggested that he looked to be more of a distributor.

---
Game 4 winners?
Game 4 is incredibly important in this series -- either the Thunder even it up, or the Spurs (likely) put it entirely out of reach.

BEST OF THE BEST
Best dancers?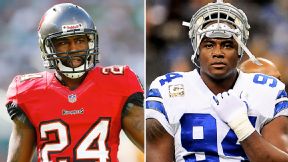 Which player has a brighter NFL future: Darrelle Revis, or DeMarcus Ware? Vote! »