SportsNation Blog Archives

Washington Capitals
With apologies to our Canadians friends (and their compatriots in Minnesota, Michigan and other places where plugging in your car at night doesn't mean you've gone electric), the NHL schedule would usually find itself relegated to the shadows on a night featuring a big NBA game (Spurs at Magic), a mildly compelling college football bowl game (San Diego State vs. Navy) and anything the NFL cares to offer (even Panthers at Steelers).
But the Penguins visiting the Capitals is not your typical NHL game.
Maybe the Capitals are just beginning to emerge from a recent seven-game losing streak, and maybe Alex Ovechkin isn't scoring goals this season, but is the NHL still the best show in town when these two teams meet?
Bernie (DC)
Pierre do you think this down period for the Caps will make them strong by the end of the season? Are do you see this as a symptom of bad things to come? (For Bruce B or GMGM)
Pierre LeBrun
Bernie, in chatting with GM GM during the worst streth of the skid, that's what he truly believed. That this adversity would really help them down the road. Full transcript
Candy (Washington)
When will Ovechkin score a goal??
Barry Melrose
That's the question of the year. I never thought I'd see Ovechkin go into January with under 15 goals. Obviously this has to change for Washington. The good news is the Caps and Ovechkin have played two good games in a row. Maybe Thursday night against Pittsburgh will be the jump start that Ovechkin needs. Full transcript
The way the last year has gone for Alex Ovechkin, you can pretty much bet the farm that Sidney Crosby is going to hang a hat trick on Canadiens goalie Jaroslav Halak in Game 1 of the Eastern Conference semifinals.
First came last season's playoff series between the Capitals and Penguins, won by Crosby en route to hoisting the Stanley Cup. Then came the Olympics, where Ovechkin's hyped Russian team flamed out early and Crosby cemented his status as a national icon by scoring the gold-clinching goal in overtime. And now the first round, where Crosby totaled five goals and nine assists in six games to help the Penguins fend off the pesky Senators. And where Ovechkin could only watch as the Canadiens knocked off his top-seeded Capitals, leading one SportsNation commenter to put it succinctly.
"Ovechkin must be the Russian word for Overrated." -- suitcasejohnny
But how bad was Ovechkin, really? He had five goals and five assists, meaning he played a part in almost half of the team's goals against Montreal. So who really deserves the blame?
"

I'd take Datsuk, Zetterberg, Malkin or Crosby over Ovie any day. IMHO Datsuk and Malkin were the two best players in the league last year. I'd say so far Datsuk and Crosby are the two best players this season.

"

-- ShootTheM14
"

Someone mentioned Ovechkin not having a great supporting cast ... Semin, a 40 goal scorer on the reg, turned into a ghost. Backstrom, before the series widely considered one of the best young centers in the game, disappeared when it counted. Jose Theodore won a lot of games this year. So did Varlamov. Wasn't Mike Green a Norris finalist? Isn't Mike Knuble the veteran locker room presence that every young team needs?

"

-- tamaz71
"

I don't understand how Crosby vs. Ovechkin was ever an arguement in the first place. I understand they both play different positions and people like big hits and flashy players, but Crosby takes faceoffs and wins a good percentage of the time, and Ovi doesn't. Crosby back-checks and plays defense, Ovi doesn't. And when Crosby decided to focus on his goal scoring last summer it only lead to him scoring the most goals in the NHL. Crosby does everything Ovechkin does plus more.

"

-- DCSteelFan
The odds are with us, right? We've already had the lousy Game 7 -- and the Coyotes left no doubt about making sure their debacle at home against the Red Wings would snag that distinction. So surely, tonight's tilt in the (non-Canadian) national capital will provide the drama we've come to know and love from devisive playoff hockey games. Right? Pretty please? Just don't make us watch the Bucks and Hawks, that's all we ask.
In ESPN fantasy leagues this season, Ovechkin was the overall No. 1 pick in traditional drafts and went for an average of $72 (American, we assume) in auction drafts. Halak didn't register, putting him behind the likes of Ondrej Pavelec and Scott Clemmensen. But coming off 90 saves in the last two games, would you trade Halak for Ovechkin tonight?
Brian (Virginia Beach)
Who wins game 7 tonight Capitals or the hot Habs?
E.J. Hradek
I still have to stay with Washington. They did get 54 shots on goal the other night. They will be on home ice. They've lost two games at home in this series, so it might not be that big of an advantage. They need to take the day-to-day with this group and try to catch their breath a little bit. Now is the time for calm and cool leadership. Bruce Boudreau, who's done outstanding with that team over the years, seems too on edge. That kind of stuff on the bench can impact the players in a negative way. I'm looking forward to it. It would be a monumental upset if Montreal can pull it off. In the Ovechkin era of playoff hockey, of their series that have gone seven games, they've won one and lost two. Full transcript
What says postseason hockey like Phoenix and the Potomac? All right, maybe the Game 7 settings are slightly off, especially considering teams from traditional hockey holy sites Detroit and Montreal are involved, but we've got a pair of decisive games to savor in the span of 24 hours. Tuesday night brings the Red Wings visiting the Coyotes, and the Canadiens take on the Capitals a night later.
Given how littered the NHL's postseason history is with No. 1 and No. 2 seeds going down to defeat in the first round (you have to look all the way back to, oh, last season for the eighth-seeded Ducks knocking off the top-seeded Sharks), a loss at home by the Capitals might not be historic. But it would be a colossal collapse from a team that held a 3-1 lead against the Canadiens and further evidence that there may be no force in sports quite so powerful as a red-hot goalie, in this case Jaroslav Halak.
"

Can't believe this series is going to a 7th game. ... The Coyotes were on a mission from the start, but the short-handed goal really got things going. I'll be there, I've always wanted to go to a playoff 7th game.

"

-- LeoPolk
"

Gonna be interesting to see if the Russians show up for this one. I think the Habs will win because of Halak.

"

-- itsfeedingtime
It's just like the census, only this one is fun and doesn't come in the mail. And nobody from FOX News or MSNBC will yell at you about it. It's time for ESPN The Magazine's Ultimate Standings, in which SportsNation grades organizations on everything from ticket prices and stadium experience to the talent on the field, court or rink. Which team will end up on top this year? It depends on what you say.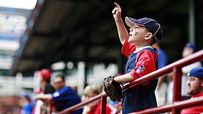 Take part in the 2010 MLB survey
2009 MLB Ultimate Standings
1. Los Angeles Angels (Overall: No. 1)
2. Milwaukee Brewers (Overall: No. 7)
3. Tampa Bay Rays (Overall: No. 16)
4. Minnesota Twins (Overall: No. 23)
5. Philadelphia Phillies (Overall: No. 24)
Take part in the 2010 NFL survey
2009 NFL Ultimate Standings
1. Pittsburgh Steelers (Overall: No. 3)
2. Green Bay Packers (Overall: No. 13)
3. Indianapolis Colts (Overall: No. 14)
4. Tennessee Titans (Overall: No. 15)
5. New England Patriots (Overall: No. 19)
Take part in the 2010 NBA survey
2009 NBA Ultimate Standings
1. Cleveland Cavaliers (Overall: No. 5)
2. San Antonio Spurs (Overall: No. 9)
3. New Orleans Hornets (Overall: No. 12)
4. Houston Rockets (Overall: No. 17)
5. Orlando Magic (Overall: No. 18)
Take part in the 2010 NHL survey
2009 NHL Ultimate Standings
1. Carolina Hurricanes (Overall: No. 2)
2. Detroit Red Wings (Overall: No. 4)
3. Washington Capitals (Overall: No. 6)
4. Pittsburgh Penguins (Overall: No. 8)
5. St. Louis Blues (Overall: No. 10)