SportsNation Blog Archives

Percy Harvin
Remember when the NFL really wanted to cut down on the number of kickoff returns this season? Yeeeeaahhh ... about that ... it doesn't really seem to be working. We're not sure about the total number of returns compared to last year, but returners are almost making a point of taking kickoffs out of the end zone, even if they're all the way at the back. Randall Cobb already tied the longest return ever on Thursday, and players like Ted Ginn and Percy Harvin both have returns of more than 100 yards already. Did the NFL's efforts fail?
"A lot has to happen downfield for Ginn to break those things and so it was an entire special teams effort." -- SN commenter BCook122
"Percy Harvin nearly gave me a heart attack! " -- SN commenter bolt_struck
---
Start of a trend?
We could be seeing more and more returners take kicks out of the end zone this season. Or it could just be a single-game fluke, and there could be fewer and fewer returners taking a chance.

---
Anecdotal evidence?
We haven't seen any advanced stats yet suggesting that receivers are taking more risks, but it sure seems that way. Do you agree, or are our eyes deceiving us?

---
Which returner?
Randall Cobb tied a return record, but both Ted Ginn and Percy Harvin have more established résumés. Considered purely as returners, it might be a difficult choice between the three of them.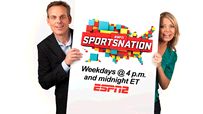 Michelle Beadle and Colin Cowherd considered renaming "SportsNation" TV the "Fall Classic."
Argue the hot topics of the day and vote on the biggest stories from the world of sports. The show airs on ESPN2 at 4 p.m. and midnight ET.
Note: Broadcast voting results are as of this afternoon (ET).
Brett Favre threw for 244 yards and four touchdowns. Percy Harvin had five returns for 175 yards to go with 84 yards receiving.

After a slow start in the World Series, A-Rod has batted in three runs in the past two games and the Yankees lead the Series 3-1.

Was his punishment for apparently attempting to eye-gouge a Georgia player too lenient, too harsh or fair?
What is "SportsNation" TV, and how do you make your voice heard? Read about the new ESPN show that features fan opinions with calls, tweets, polls, rankers and more.