SportsNation Blog Archives

Michael Crabtree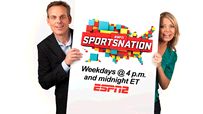 Michelle Beadle and Colin Cowherd are prepared to pitch on three days' rest for "SportsNation" TV.
Argue the hot topics of the day and vote on the biggest stories from the world of sports. The show airs on ESPN2 at 4 p.m. and midnight ET.
Note: Broadcast voting results as of this afternoon (ET).
Would you perform better at work if Michael Jordan were around?
His Airness is an inspirational, honorary assistant to U.S. captain Fred Couples during the Presidents Cup in San Francisco. He's also smoking cigars.
Is Brett Favre the most overrated player in the NFL?
He owns many quarterback records but only one Super Bowl ring. No other quarterback gets more media love and mixed reaction from fans.
Is Lance Armstrong's endorsing beer a good or bad idea?
The seven-time Tour de France winner, who spends much of his time advocating for cancer research, will be the spokesman for Michelob Ultra.

Which fan base made out better with its team's WR addition?
On the same morning the 49ers finally signed first-round draft pick Michael Crabtree, the Browns traded Braylon Edwards to the Jets.

How will Alex Rodriguez fare in the first round?
A-Rod's reputation in the postseason isn't positive in New York, but a 27th title would change everything. He hit 30 homers and drove in 100 runs this season.
What is "SportsNation" TV, and how do you make your voice heard? Read about the new ESPN show that features fan opinions with calls, tweets, polls, rankers and more.
As if an NFL draft with Sam Bradford, Colt McCoy and Tim Tebow needed more drama, next year's selection festivities may also include a guy looking to become a repeat first-round pick. With each passing day, it appears more and more likely that Michael Crabtree won't sign with the 49ers. And to think everyone thought the Raiders were the Bay Area team that wasted a pick on a wide receiver.
Pete (Florida)
If he re-enters the draft in 2010, will Crabtree go in the 1st with all the obvious character issues?
Buster Olney

You're talking about him a year away from the game. Mike Williams was away from the game for a year, was the 11th pick by the Lions and was a bust. Time away from the game is important. IF he goes back into the draft, he will be a talent. Sitting out this year, he looses a years salary and he losses a year that would have brought him a year closer to free agency. Both parties took this too far. The 49ers know that they won't get anything out of Crabtree in his rookie season. Full transcript
Andrew (Seattle)
Is Michael Crabtree not about money at all and Crabtree just doesn't want to be a 49er?
Chris Mortensen

Good question. I think if the 49ers had caved and given him "top five" money, then he would already have been signed. But I have sensed that he wasn't thrilled about going to 49ers. That's life. A lot of players would like to be able to choose their teams coming out of college but that's not how the system works. Full transcript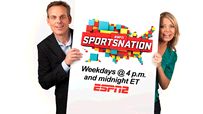 Michelle Beadle and Colin Cowherd have more than enough weapons to succeed, which they will flaunt on today's edition of "SportsNation" TV.
Argue the hot topics, vote on the biggest stories and chat during the show, on ESPN2 at 4 p.m. and midnight ET.
Note: Broadcast voting results as of afternoon ET.
Will Peyton Manning retire as a Colt?
His little brother just signed a massive contract, so does that mean Peyton's next contract will be too expensive for the Colts to match?
Which team needs Red Sox-Yankees series more?
The Yankees are 0-8 against the Red Sox this season, but does that necessarily mean they need the series more than their rivals?
Should Michael Crabtree sit out the year?
Michael Crabtree is generating headlines, thanks to one of his "advisers" saying he is prepared to sit out the season. Good idea or bad idea?
Does Eli Manning have enough weapons to succeed?
The New York Giants have 97 million reasons to expect Eli Manning to succeed. But does he have the receiving corp to do it?
Which is the better way to celebrate?
Pies to the face are so cliche. Why not cake? We tackle the tough questions here in SportsNation, so give this one some real thought before you vote.
What is "SportsNation" TV, and how do you make your voice heard? Read about the new ESPN show that features fan opinions with calls, tweets, polls, rankers and more.
One is a legend of NFC West football, unparalleled, unmatched and unstoppable by those who share space with him in an NFL stadium. Jerry Rice was pretty good, too. The game's greatest receiver stopped to chat with SportsNation and offered up his thoughts on the outlook for the 49ers this season. But that wasn't all for 49ers fans in the 'Nation, as NFC West blogger Mike Sando also chatted on all things 49ers, Cardinals, Rams and Seahawks.
Tim Finnegan (Islip, NY)
What do you think are the strengths and weaknesses of the 49ers coming into this season? Do you think Michael Crabtree could have the same kind of impact that you had on the team?
Jerry Rice

I think their weakness in the the quarterback position. They need to name a quarterback and right now they still have players battling it out for the starting job. As a receiver and a player that has been in the league for a long time, you want to know who is going to be you're starting quarterback going into training camp. Michael Crabtree showed in college that he is a great player bit right now he's a little behind schedule because of the injury. I think he will be OK but it's going to take some time to get adjusted to the pace of an NFL game. Full transcript.
Corey (D.C.)
What do you expect from Vernon Davis this season in their new offense, along with the other weapons defenses will have to worry about like Gore, Crabtree, Morgan, etc?
Mike Sando

I expect greater involvement in the passing game and more maturity from Vernon Davis. The latter part seems to be the trend for him under Mike Singletary, at least to this point. Davis might always be vulnerable to his emotions, but he seems to be trending in the right direction. The touchdown catch he made at Arizona last season reminded us what he can be.
John (NYC)
Hey Sando, love the blog.What are the chances Willis has a Defensive MVP type season? I understand he'll need to get more sacks but from what it sounds like, the niners d sounds good enough to alleviate some of the pressure off of Willis allowing him to make more big plays.
Mike Sando

I think Willis plays well enough to deserve consideration for that award even if he doesn't have the stats. He's a force. I do think he would need a combination of interceptions and sacks to get the necessary acclaim for that award. And it would help if the 49ers fielded a top-10 defense while winning a few more games. Full transcript.