SportsNation Blog Archives

Blake Griffin
Clippers rout hapless 76ers
The Clippers with Chris Paul just might be the team no one wants to play once playoff time comes around. Take their 123-78 dismantling of the Philadelphia 76ers on Sunday night, perhaps summed up best by the video above. Obviously this has the "they're playing a very bad team" disclaimer, but plays like that show just how explosive the Clippers can be with a healthy Chris Paul. That play came after the team jumped out to a 31-point lead in the first quarter, which tends to be when Lob City makes a comeback. Paul and Griffin may never translate their chemistry into a title, but they're sure fun to watch.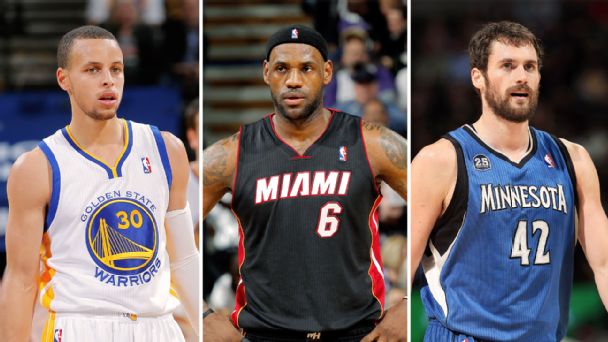 Getty Images
Love, Curry, Kobe All-Star starters
It will be a contest for the young -- and, in a couple of cases, the old -- when the 2014 All-Star Game tips off in New Orleans on Feb. 16. Or it could be, if everyone is healthy by then. The starters have been unveiled, with four first-time starters -- the Western Conference's Stephen Curry and Kevin Love and the Eastern Conference's Paul George and Kyrie Irving -- joining regulars such as LeBron James, Dwyane Wade, Carmelo Anthony, Kevin Durant and, yes, Kobe Bryant. (Blake Griffin was the other.) Wade and, especially, Bryant earned votes despite fighting through injuries this season. Who didn't deserve the call? Who did but must wait until next Thursday, when the reserves are announced? Cast your votes below!
Clippers, Thunder scuffle

Serge Ibaka and Blake Griffin have a bit of a history, so it's no surprise that an innocuous bit of contact between the two turned into a dust-up during the Clippers' win over the Thunder on Wednesday night. As scuffles go, it wasn't terribly vicious -- the worst that happened was Ibaka bringing his hand back like he was going to throw a punch but never actually throwing said punch -- but it did result in ejections for Ibaka and Matt Barnes and a technical foul for Griffin. Barnes actually tweeted during the third quarter after being ejected, but we can't repeat what he said.

Noah Graham/NBAE/Getty Images

Will Clippers win post-'Lob City'?

"Lob City" is dead. Long live ... "Doc City"? Whatever you call it, it the Los Angeles Clippers need a new nickname, as Blake Griffin said new coach Doc Rivers is putting an end to the beloved (and short-lived) moniker. Not that Clips fans will be too distressed; with a championship-winning coach replacing Vinny Del Negro -- and a shored-up bench offering a new dynamic to a team that won 56 games a season ago but exited in the first round of the playoffs -- things are looking brighter than ever on the "other" side of Staples Center.