SportsNation Blog Archives

Mike Trout
Who gets your MVP votes?
The narratives surrounding the MLB MVP races this year are compelling. In the AL, the past and future collide as Miguel Cabrera once again takes on Mike Trout for the title, while in the NL, Andrew McCutchen tries to become the first Pirates MVP since Barry Bonds in 1992. Our experts gave their choices the American League and National League MVP awards. Do you agree? Cast your votes now!
Mike Trout seems like a pretty laid-back guy, but apparently that doesn't include the issue of performance-enhancing drug use in baseball. The Angels outfielder said that, if it were up to him, PED users would be banned for life -- no suspensions, just a permanent ejection on the first offense. Trout said it was unfair to players who aren't using to be forced to play with PED users, but is his opinion a little too draconian?
Here's a sampling of what readers had to say in our Facebook conversation on the story:
Rob Miller: "All Pete Rose ever did was bet on his team to win and he got a lifetime ban. These players-some who are repeat offenders-cheat their way to the top to get those monstrous pay days, change record books and be icons. Who really deserves a lifetime ban from the game."
Chris H: "If you're stupid enough to continue to use performance enhancers AFTER the Jose Canseco fiasco, then yes, I think you deserve a lifetime ban. "Everybody's doing it!" is a stupid excuse."
M. Garrett Hutchinson: "Who cares! Its entertainment, the fans want to see bigger hits, faster players etc, its par for sports! The fans are the biggest hypocrites."
Tim Peplinski: "Good for you Mike Trout. At least the kid tells the truth."
Joe Morales: "I think EVERYONE should use PEDs. It would make the good better and the better even better. Exciting games, better performances, more income for the orthopedic surgeons, burnout players at age 35."
What do you think? Leave your comments below.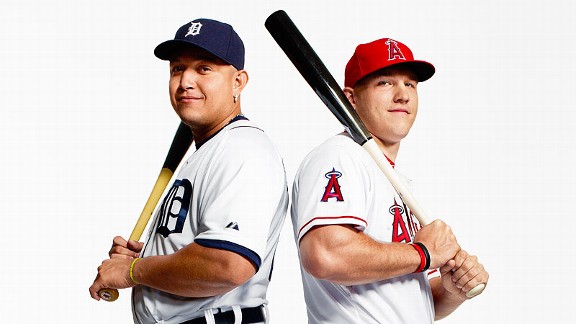 Chris Buck for ESPNMiguel Cabrera and Mike Trout battled it out for the AL MVP vote in 2012.
Voting for the 2013 ESPYS Awards is open, and today we're debating the best player in baseball from the past year. Miguel Cabrera pulled off the first Triple Crown in quite some time, but some stats have Mike Trout's 2012 season as far above Cabrera's. R.A. Dickey and David Price were nigh unhittable last season, and Buster Posey won NL MVP in the same year he added another World Series trophy to his case. Who gets your vote?
Angels' Mike Trout hits for cycle
At 21 years, 288 days old, Mike Trout became the youngest player in AL history to hit for the cycle on Tuesday, nearly making it a natural cycle, by going single, triple, double, home run. After winning the 2012 AL Rookie of the Year and finishing second in the AL MVP voting, Trout is proving in 2013 that he is no one-year wonder.