SportsNation Blog Archives

Paul George
The field for the 2014 NBA dunk contest reportedly has been confirmed, with Paul George, Damian Lillard and John Wall hoping to join the list of stars who also won the event. But this competition, of course, isn't all about big names; last year's winner, Terrence Ross, is back to defend his title, Harrison Barnes and Ben McLemore round out the 2014 field, and the list of past winners certainly contains some eyebrow-raisers.
We gave you one already. How many of the past 15 champions can you name?
Note: There was no dunk contest in 1998 or 1999.
• Rank 'Em: 2014 dunk contest participants
More games from ESPN Arcade »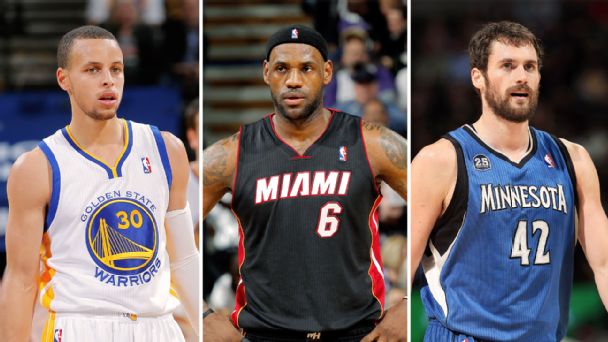 Getty Images
Love, Curry, Kobe All-Star starters
It will be a contest for the young -- and, in a couple of cases, the old -- when the 2014 All-Star Game tips off in New Orleans on Feb. 16. Or it could be, if everyone is healthy by then. The starters have been unveiled, with four first-time starters -- the Western Conference's Stephen Curry and Kevin Love and the Eastern Conference's Paul George and Kyrie Irving -- joining regulars such as LeBron James, Dwyane Wade, Carmelo Anthony, Kevin Durant and, yes, Kobe Bryant. (Blake Griffin was the other.) Wade and, especially, Bryant earned votes despite fighting through injuries this season. Who didn't deserve the call? Who did but must wait until next Thursday, when the reserves are announced? Cast your votes below!
Getty Images

NBA award predictions

The NBA's award predictions are out! Kevin Durant is our experts' MVP pick. Michael Carter-Williams topped the Rookie of the Year voting. And Roy Hibbert dominated the Defensive Player of the Year voting. But does SportsNation agree with our experts' predictions?

Heat get big win over Pacers

In what was as close to a must-win as one will see in an NBA December, the Miami Heat beat the Indiana Pacers 97-94 on Wednesday night in South Florida. And it was no back-and-forth affair; Indiana opened up a big first-half margin, led by as many as 15 in the third quarter, then watched as LeBron James, Dwyane Wade -- and clutch shot hitters Chris Bosh and Ray Allen -- rallied back.

In the end, a Paul George miss -- or was he fouled? -- gave Miami a one-all tie in the head-to-head series this year. The Heat also moved to within one game of the Pacers in the Eastern Conference standings. The two rivals play each other again on March 26, April 11 and -- barring a big surprise -- in the East finals. What does the future hold?