SportsNation Blog Archives

NBA
The Cleveland Cavaliers' J.R. Smith shoots 3-pointers. Often effectively, sometimes indiscriminately, but not always exclusively ... until Sunday, when all three of those factors converged for the most J.R. Smith game of all time.
In a 99-94 win over the Chicago Bulls, Smith had the following box score: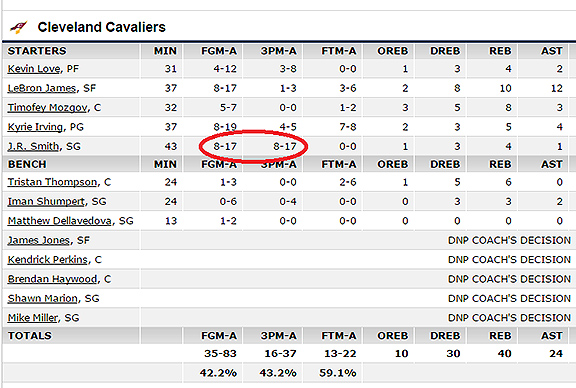 ESPN
Yes, that's 17 3-point attempts without shooting a 2. And that's an NBA record:
J.R. Smith has attempted 17 3-point shots, 0 2-pointers - an NBA record for most 3-pointers w/o a 2 (#Elias). (He's made 8.)

— ESPN Stats & Info (@ESPNStatsInfo) April 5, 2015
The previous record, according to Elias, was 13, done three times before (Ryan Anderson in 2012-13, Voshon Lenard in 1996-97 and Mookie Blaylock in 1995-96).
Smith also contributed to LeBron James' first triple-double in more than a year, knocking down five 3s from James passes.
Oh, and one of Smith's eight 3-point makes was this halftime buzzer-beater from 40 feet: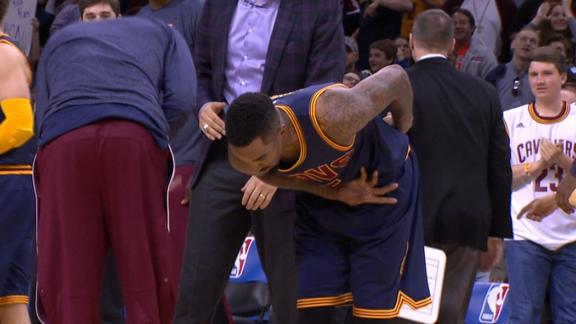 In short: Cleveland is probably happy it acquired Smith from the New York Knicks this season.
On Wednesday we asked fans: Who, among the top four choices, is your pick for 2014-15 NBA MVP?
As of Thursday evening, the results were nearly unanimous: Stephen Curry, the prodigious point guard who has led the Golden State Warriors to be the best team in the NBA, is the one.
Unless you're an Oklahoman: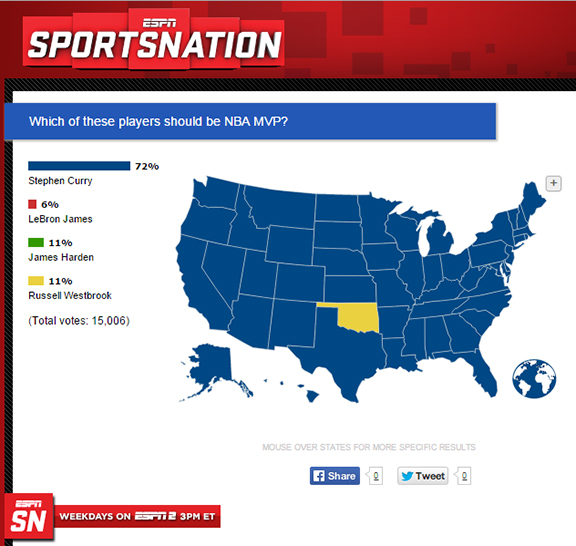 ESPN
Yes, Texas chose Curry over Houston Rockets star James Harden and, even more surprisingly, Ohio picked Steph over homecoming king LeBron James. But the Sooner State is standing with its own point guard: Russell Westbrook, whose recent triple-double binge has helped keep the Oklahoma City Thunder in playoff position despite the absence of Serge Ibaka and reigning MVP Kevin Durant.
If you haven't yet voted, now it's your turn: Do you stand with Oklahoma, or the rest of America?
It's been an eventful 24 hours for Chris Paul.
In Tuesday's loss, the Los Angeles Clippers guard got victimized by a sick Stephen Curry move, to which even CP3 tipped his figurative cap.
During Wednesday's win, Paul got into the following scuffle with Portland Trail Blazers center Chris Kaman, which started with a hit by Paul below the belt. Accidental? You be the judge.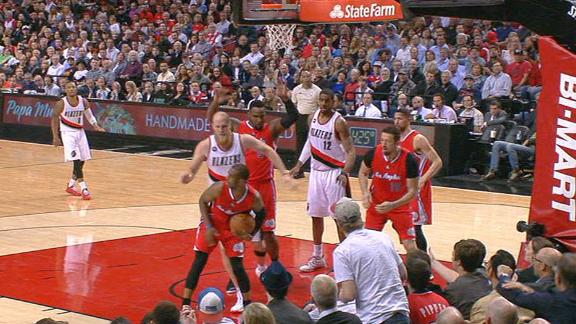 Kaman drew a flagrant foul for shoving Paul, which itself drew the attention of Glen "Big Baby" Davis. This led to a slight tangle-up with LaMarcus Aldridge, during which Davis, shall we say, embellished things just a bit.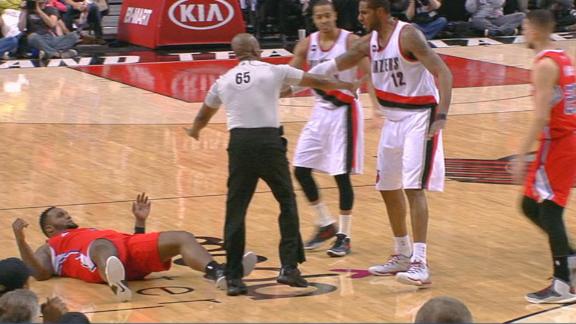 After the game, Paul addressed the scuffle -- but didn't exactly think a whole lot of it: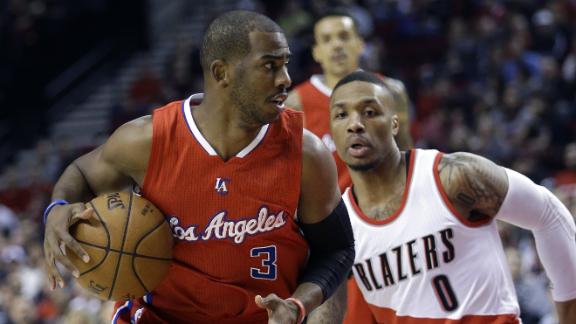 This is going to be some Western Conference playoffs.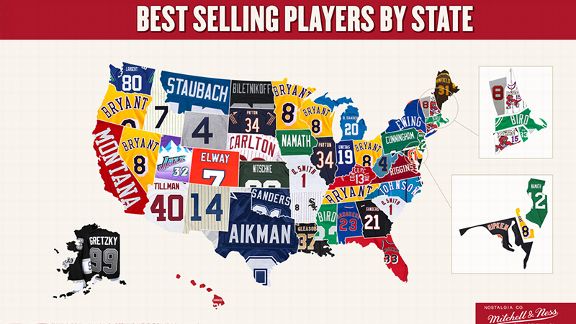 Courtesy Mitchell & Ness
Recently a vintage apparel company crunched its sales numbers for throwback pro sports jerseys, then created the fascinating map above (click here for a larger version).
Important note: These are numbers for specific jerseys (e.g. John Elway's 1994 authentic jersey), not all jerseys for a specific player. Now, some thoughts:
• The Kobe Bryant rookie-year No. 8 is the best-seller in seven states, and its popularity is the first thing that stands out ... especially when you note where it moves well (Oregon, Minnesota, Wisconsin and Ohio, which all have their share of successful retired pro athletes) and where it doesn't dominate (California, where Bryant's No. 24 is, shall we say, still a rather common sight).
• Another surprise: Michael Jordan did not win Illinois; instead, that honor goes to late and beloved former Chicago Bears running back Walter Payton, whose 1985 jersey outsold anything having to do with No. 23.
• Off-field factors clearly influenced Arizona and Louisiana. In the former, Pat Tillman, who left the Arizona Cardinals to join the U.S. Army and was later killed in Afghanistan, outsold Phoenix Suns legends such as Steve Nash and Charles Barkley. For the latter, Steve Gleason, the former New Orleans Saints safety/special-teamer who is battling ALS and raising awareness for the disease, beat out other ex-Saints and LSU/New Orleans Jazz star Pete Maravich.
• Our favorites: The seemingly random picks from states without major pro sports teams, such as Oklahoma-native New York Yankees legend Mickey Mantle in Idaho, New Yorker through-and-through Lou Gehrig in Wyoming, Pennsylvania native and Florida State/Oakland Raiders-tied Fred Biletnikoff in North Dakota, Pittsburgh-to-Tuscaloosa-to-New York-to-Los Angeles Super Bowl star Joe Namath in Iowa, and Minnesota native Dave Winfield's San Diego Padres jersey in Maine -- which is about as far from San Diego as you can get in the continental U.S. Perhaps there's a small-sample situation here?
Check out the map and full jersey breakdown on Mitchell & Ness' website.
H/T For The Win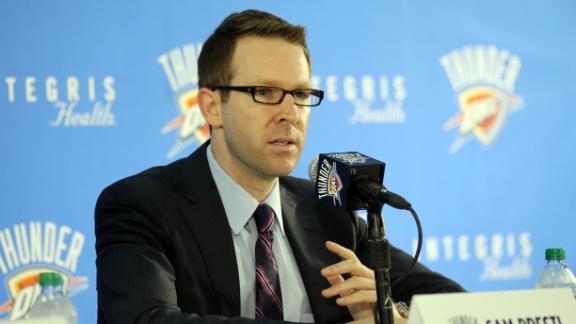 There's talk that the Oklahoma City Thunder possibly would trading Kevin Durant before he leaves in free agency. Thunder general manager Sam Presti has dismissed it. But should he be worried about losing the reigning NBA MVP?