SportsNation Blog Archives

NCW
Connecticut coach Geno Auriemma is knocking on history's door. With his eighth NCAA championship, he has tied former Tennessee coach Pat Summitt for the all-time women's basketball record and is only two titles from tying John Wooden's 10 at UCLA. And as long as players such as freshman Breanna Stewart keep going to Storrs, records that once seemed untouchable appear to be within reach. Will Auriemma win three more titles and pass the Wooden for the most NCAA basketball championships ever?
---
Measure of success
For years, Pat Summitt and Geno Auriemma were the benchmark for excellence in women's college basketball -- and their rivalry showed it. Is Auriemma now the best women's coach ever?

---
The Program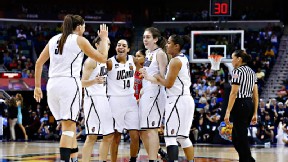 Now that UConn has matched Tennessee's eight NCAA titles, are the Huskies the team that comes to mind first when you think of women's college basketball?

Baylor and Notre Dame will face off on Tuesday night in a battle for supremacy in women's college basketball. The past 10 years have seen a few runs of dominance by different teams, broken up by the occasional sleeper champion. We've gathered the recent women's tourney winners here so you can have a go at testing your tournament knowledge. Can you name them all?
More games from ESPN Arcade »
---
A battle of the point guards?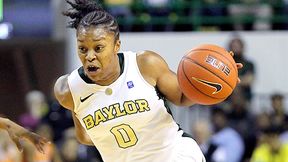 Brittney Griner is literally and figuratively the biggest star when No. 1 Baylor hosts No. 2 Connecticut, but does Odyssey Sims (above) give Baylor a big edge at point guard?

---
Who leads No. 2 Connecticut?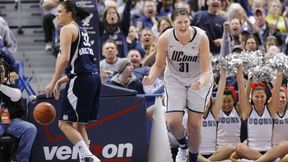 The unbeaten Huskies have a talented center of their own in sophomore Stefanie Dolson (above), but is she the best player on a team long defined by Maya Moore?

---
Just how good is Brittney Griner?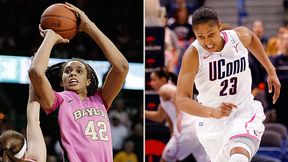 Speaking of Moore, she had a pretty good run with two titles and a record winning streak. But is Griner already a more dominant player?

---
Who is the Big 12's best coach?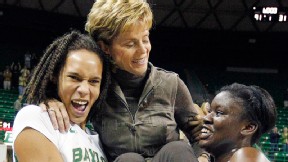 Baylor's Kim Mulkey already has one national championship, but is she the best coach in a conference with no shortage of big names?