SportsNation Blog Archives

Manny Machado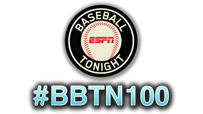 How do the top third basemen in Major League Baseball stack up? That question has been answered by our experts in the latest installment of the Baseball Tonight 100 (#BBTN100), a project to rank the top players across all 30 teams. We'll reveal a new position each day and unveil the overall 1-100 rankings March 27.
Do you agree with the experts' take on third basemen? Simply click on the images of the top 10 below to submit your ballot.


Rank: #BBTN100 Top Third Basemen
Pedro Alvarez

Pedro Alvarez
Pittsburgh Pirates
BBTN Rank: 10
Adrian Beltre

Adrian Beltre
Texas Rangers
BBTN Rank: 3
Matt Carpenter

Matt Carpenter
St. Louis Cardinals
BBTN Rank: 6
Josh Donaldson

Josh Donaldson
Oakland A's
BBTN Rank: 4
Chase Headley

Chase Headley
San Diego Padres
BBTN Rank: 9
Evan Longoria

Evan Longoria
Tampa Bay Rays
BBTN Rank: 1
Manny Machado

Manny Machado
Baltimore Orioles
BBTN Rank: 5
Pablo Sandoval

Pablo Sandoval
San Francisco Giants
BBTN Rank: 8
David Wright

David Wright
New York Mets
BBTN Rank: 2
Ryan Zimmerman

Ryan Zimmerman
Washington Nationals
BBTN Rank: 7
Your Rankings
1.

2.

3.

4.

5.

6.

7.

8.

9.

10.

Tom Pennington/Getty Images
Chris Davis' power outage?
Chris Davis looked like he was on pace to challenge Roger Maris' old home run record, but that was before he participated in the Home Run Derby. Davis has gone 31 plate appearances without a home run, and since June 1 has only put up a .320 OBP. He was a major reason why the Orioles were in the hunt in the first half, but a Davis without power isn't going to help Baltimore hold on to a playoff spot. Meanwhile, teammate Manny Machado (.271/.293/.397 with 41 strikeouts since June 1) isn't picking up Davis' slack.