SportsNation Blog Archives

Alabama Crimson Tide
There might come a time when the sports fan world at large is familiar with the name Eddy Pineiro.
Here's why:
Yes, that's Pineiro -- who has committed to the University of Alabama -- hitting a 73-yard field goal. The NFL record is 64.
All the usual caveats apply here, of course: This is the Internet, so we can't trust anything to be 100 percent real. It's also a non-competition moment, so we aren't suggesting Pineiro will one day get the Crimson Tide three points from their own end zone. And then there's this: The kick took place in Davie, Florida, and likely aided by winds from one of South Florida's notorious storms.
Still, wow.
Not bad for a guy who, according to AL.com, originally was set to play soccer at Florida Atlantic, ended up at ASA College in his native North Miami Beach, Florida, because of NCAA clearance issues, recently switched to football, has yet to kick in a college game ... and was a virtual unknown to major college coaches until a kicking camp earlier this month.
H/T Bleacher Report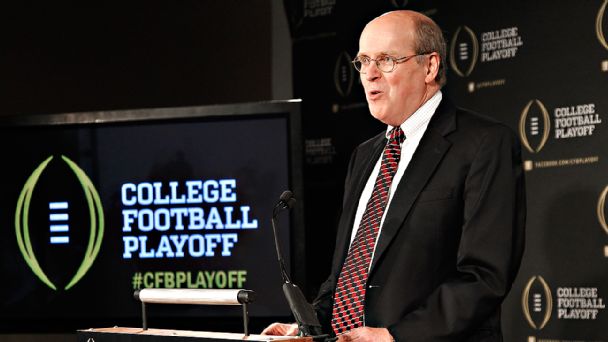 AP Photo/Tony Gutierrez, File
First CFB Playoff rankings released
The first College Football Playoff rankings have been released, and already we have controversy. The SEC placed three teams in the top four, but none is Alabama (No. 1 is Mississippi State, No. 3 Auburn and No. 4 Mississippi). Florida State is second and Oregon fifth, while Notre Dame is all the way down in 10th. What do you make of it all?