SportsNation Blog Archives

Washington Huskies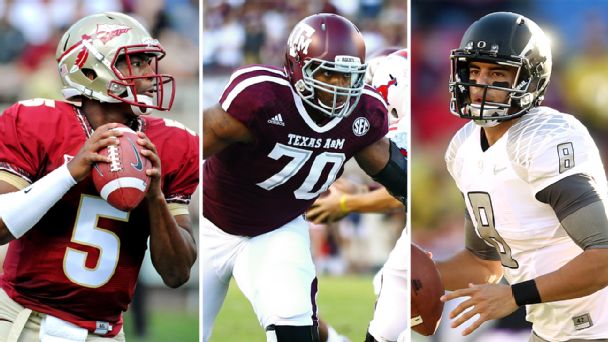 USA TODAY Sports
2014 college football predictions
The 2014 college football season -- aka Year 1 of the College Football Playoff -- is upon us, with Texas A&M thumping South Carolina on a night of Thursday kickoffs. Johnny Manziel is gone, but reigning Heisman Trophy winner Jameis Winston still is here. So are a good number of other Florida State Seminoles who helped the team to last season's national championship. Will they repeat? Who will win the conferences? Cast your votes below!
More: Rank: Top 25 | Rank: Conferences | Rank: Heisman candidates | Rank: QBs
Washington hires Chris Petersen

The coaching carousel turns, and it's Boise State's turn to lose a head coach. Chris Petersen, who brought the Broncos to national relevance during his tenure, has reportedly been hired as Washington's head coach, replacing new USC coach Steve Sarkisian. Petersen takes over a program that has been respectable in the past few years, but will he be able to turn them into a true contender?

Who stood out in college football?

We've still got one big game on the college football Week 1 slate -- No. 11 Florida State heads to new ACC rival Pittsburgh on Monday night -- but the vast majority of business is done. And it featured far more than Johnny Manziel's antics. Clemson made a statement by beating Georgia. The FCS similarly stood out, beating seven FBS opponents. A pair of Heisman-eyeing quarterbacks showed this could be quite a race. Who won the weekend?