SportsNation Blog Archives

Rutgers Scarlet Knights
Rutgers' AD problem?
Rutgers hired athletic director Julie Hermann to fix its image after the Mike Rice scandal, but Hermann may have baggage of her own. The Newark Star Ledger reported on Saturday that Hermann quit her job as head coach of Tennessee women's volleyball 16 years ago after her players accused her of verbally abusing them. Hermann officially starts in June, but should Rutgers cut ties with her before she takes charge?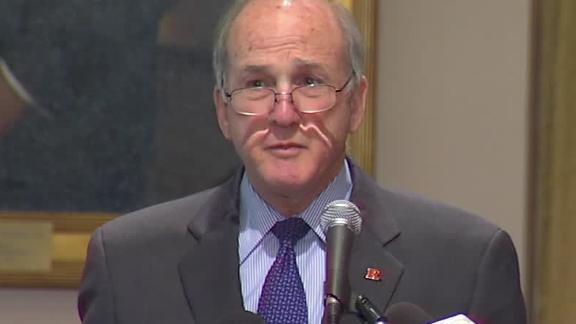 Rutgers has been getting rid of many of the major players in its recent videotaped abuse scandal. Coach Mike Rice has been fired, while assistant Jimmy Martelli and athletic director Tim Pernetti have resigned, but Rutgers president Robert Barchi remains. Barchi claimed that he hadn't seen the videotape of Rice pushing, throwing basketballs and cursing at his players until this week, and that he would have recommended Rice's firing if he had. He's characterized the entire situation "a failure of process," but is he part of the problem?
transfixed___34: "I bet the president saw the video. I don't believe him."
jsuswaram: "President of Rutgers goes next! Why would he not want to view the video tape...he DID NOT WANT TO VIEW THE TAPE!"
ajbttact: "I don't have an issue with Pernetti being fired but the President should be fired too. I am not sure I really believe he didn't see the video, but if I take him at his word that he didn't, then I have to ask "why not". In the end, he signed off on what Perenetti did in regards to the suspension."
neilymon: "Not firing Rice in November was completely ridiculous."
jorge193806: "Division One Sports run many Universities. School Presidents do not have all the power. "
Robs555555: "After they decided to suspend him three games and dock him $75,000, it's surprising that the President didn't think, maybe I should check out this video."
Join the conversation or respond by signing in or creating a profile and blogging.
Though neither school is particularly close to the Midwest, both Maryland and Rutgers have accepted invitations to join the Big Ten conference. Which team is a better fit for the rapidly expanding Big Ten?
Flocka625: "being from Maryland and growing up watching those games against Duke, Carolina, and even UVA, I have to say it's a sad day for Maryland and a sad day for college traditions."
ContinentalAve: "As a Big Ten fan still getting used to Nebraska (I wholeheartedly welcome the Huskers), I think we have stable conference with a good family of schools. I don't think it's prudent to weaken our family by breaking up another stable family. The Terps' ties, traditions and cultural affinity are with the ACC, which is a fine conference. It'll take a long long time before Maryland can be integrated into the Big Ten (just look at how hard it is for the ACC to absorb BC, VTech, and Miami). "
UWBadgers442: "Nebraska made perfect sense... these two do not. I would have much rather had Missouri."
Bloodbath66: "As for Rutgers, this is like driving around in a Kia and being ask to swap with a Mercedes."
Whooseria: "This is great. The conference with the ugliest football will now have the team with the ugliest uniforms. A perfect fit."
okpocalypse_xx: "The addition of these two schools will DOUBLE the media footprint of the Big Ten. You think B1G Teams made good revenue these past years off the BigTen Network. Wait until you renegotiate."

Join the conversation or respond by signing in or creating a profile and blogging.
Rushing for 1,000 yards as a college player is noteworthy. Doing it twice puts you in a category all your own. In the Big East, 14 workhorses have achieved such a feat and one-third of them come from West Virginia. Put on your college football thinking caps and see if you can name them all by taking the quiz below.
More games from ESPN Arcade »