SportsNation Blog Archives

Pittsburgh Panthers
---
Did Todd Graham make a wise choice?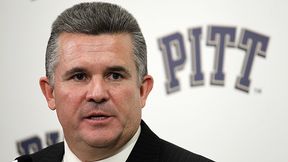 After just one season at Pitt, Todd Graham left the program of Dan Marino and accepted the head coaching job at Arizona State.

---
OMG, did he really send a text?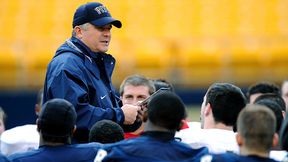 This is not how Graham said goodbye to his players at Pitt. Instead, having already resigned, he sent them a text message.

---
Can we get a ruling from Lane Kiffin?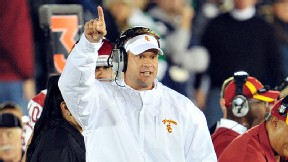 Graham isn't the first coach to jump ship after one season (although he's now done it twice after leaving Rice in similar fashion). Is the model also employed by Kiffin OK?

---
What about June Jones?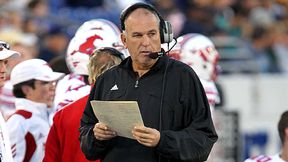 Some will say Graham is the second coach Arizona State hired for this opening. It's tough to know exactly what happened to scuttle June Jones' plans, but was he a better choice?

Not a great deal changed on the field in college football this past weekend, where Oklahoma solidified its hold on No. 1 with a win over Florida State. Off the field? Yeah, about that. It appears Florida State will soon have more company in the ACC after the conference approved Pittsburgh and Syracuse as new members. Is this the biggest domino to fall thus far in conference realignment? More: Rank the Top 25 in college football.
"Geez, I go out to Los Angeles to watch Syracuse play USC and I come back to find out Syracuse is now a member of the ACC. Didn't see this one coming." -- SN commenter gsgriffin4
"I think what's important here is we may finally be done listening to Big East fans talk about how much better they are in basketball than everyone else. It's a good day." -- SN commenter sharar09
---
Which school is a bigger prize?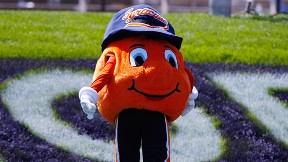 When it comes to January road trips, we're not sure either Pittsburgh or Syracuse is much of a prize, but which school is a bigger addition?

---
Where does the ACC go from here?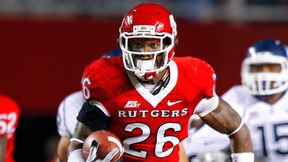 Rumors already are swirling about the ACC adding Connecticut and Rutgers to reach the apparently magical total of 16 teams.

---
Biggest move to date?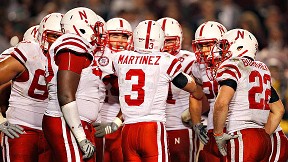 Colorado, Nebraska and Utah are the only schools actually competing in new conferences at the moment, but Pitt and Syracuse joined Texas A&M in securing the blessing of new partners.

---
What about the bigger picture?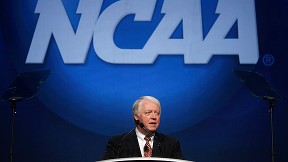 The height of greed and hypocrisy? A fresh look and new rivalries? Much ado about nothing that matters? What's your take on the state of conference realignment?

---
Which leftovers go bad first?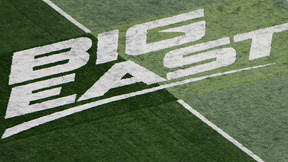 In addition to rumors about UConn and Rutgers, reports have talks again heating up between the Pac-12 and Texas and Oklahoma.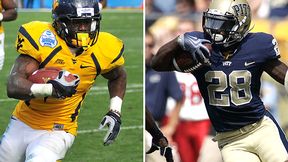 We're only a week away from life once again having purpose and meaning. That's right, college football season is a mere seven days away -- or 168 hours or 10,080 minutes, assuming you read this at precisely 6:30 p.m. ET, the time Wake Forest and Presbyterian are scheduled to kick off on Sept. 2 (live on ESPN3.com).
It may not take long for both the Heisman and national title races to kick into gear either. Boise State and Virginia Tech are getting a lot of love for their Labor Day clash, but next Thursday brings Pitt and star running back Dion Lewis playing on the road at Utah.
But is Lewis even the best back in a conference Big East blogger Brian Bennett says may offer unparalleled depth at the position? Check out the tale of the tape.
hh (Destin)
Is Running Back the deepest position in the Big East this year?
Big East blogger Brian Bennett
Far and away. Not sure there's a better RB league in the country in '10. Full transcript
Submarine Mike (Jackosnville Fl)
Is Noel Devine a sleeper in the Heisman race and is he a possible late 1st rounder
Mel Kiper
I think he is a Heisman candidate. I don't think he's a sleeper. He commands leadership in the lockerroom. He has that explosive first step. Pound for pound, he's the best football player in the country. This is a team that has a chance to win the Big East. Geno Smith is the key. He is the next QB in line. If you look at the defense, all three DL are seniors. The defense would be really good. They have two studs on this defense in Chris Neild and Robert Sands, who is clearly their best NFL prospect. Full transcript
Lynn (Monticello, FL)
Hi Ivan, I like Pitt to win the Big East this season and looking at their schedule I feel they could run the table at having a shot at the National Championship. Your thoughts.
Ivan Maisel
I agree on both counts. The Panthers are ranked high enough at the outset that a climb to the top is plausible. That would be a great story. I pull for the great stories. Full transcript
Rushing for 1,000 yards as a college player is noteworthy. Doing it twice puts you in a category all your own. In the Big East, 14 workhorses have achieved such a feat and one-third of them come from West Virginia. Put on your college football thinking caps and see if you can name them all by taking the quiz below.
More games from ESPN Arcade »