SportsNation Blog Archives

Kent State Golden Flashes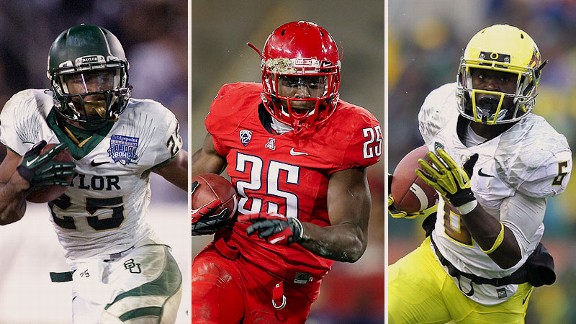 The Year of the Quarterback? Might be. But that doesn't mean the college football landscape is lacking for running backs; quite the contrary, as a number of ball carriers find themselves fighting for supremacy -- and perhaps even a spot at Heisman's grand table.
Rank 'Em: Heisman | Quarterbacks | Wide Receivers | Top 25


Rank: College football's best RBs
Ameer Abdullah

Ameer Abdullah
Nebraska
2012: 226 carries, 1,137 yards, 8 TDs
Dri Archer

Dri Archer
Kent State
2012: 159 carries, 1,429 yards, 16 TDs
Ka'Deem Carey

Ka'Deem Carey
Arizona
2012: 303 carries, 1,929 yards, 23 TDs
Todd Gurley

Todd Gurley
Georgia
2012: 222 carries, 1,385 yards, 17 TDs
Duke Johnson

Duke Johnson
Miami (FL)
2012: 139 carries, 917 yards, 10 TDs
Venric Mark

Venric Mark
Northwestern
2012: 226 carries, 1,366 yards, 12 TDs
Silas Redd

Silas Redd
USC
2012: 167 carries, 905 yards, 9 TDs
Bishop Sankey

Bishop Sankey
Washington
2012: 289 carries, 1,439 yards, 16 TDs
Lache Seastrunk

Lache Seastrunk
Baylor
2012: 131 carries, 1,012 yards, 7 TDs
De'Anthony Thomas

De'Anthony Thomas
Oregon
2012: 92 carries, 701 yards, 11 TDs
James White

James White
Wisconsin
2012: 125 carries, 806 yards, 12 TDs
T.J. Yeldon

T.J. Yeldon
Alabama
2012: 175 carries, 1,108 yards, 12 TDs
Your Rankings
1.

2.

3.

4.

5.

6.

7.

8.

9.

10.

11.

12.

We really do feel bad for Kent State linebacker Andre Parker, whose wrong-way run is already going viral. Is running the wrong way really the most embarrassing thing you can do in sports?
Mutuum: "The Defensive players couldn't just let him run because he could have turned around and gone the right way. When the player has the ball, he needs to be brought down. His teammates blocking for him? That I can't explain."
DenverBroncos9899: "Everything about this play is hilarious. The Towson guy had no bussiness touching that ball. The dude grabs it runs the wrong way, with his teammates blocking for him. The Towson players are chasing him the wrong way and force him out. AND THEN, he celebrates like he just made the best play of his career. To funny."
ParrotHdBE: "Feel bad for Parker. Does he normally return punts for them, too? Looks like when the ball started bouncing, he just took on the mindset of a punt returner. With trick plays these days, I guess everyone on the field was confused and didn't know what to make of it and thought the best thing to do was just tackle him."
DashWsk: "It really shouldn't all be on this kid. Not only was Towson trying to tackle him, I'm pretty sure you can see a couple of Kent State players laying blocks for him in the replay."
skrullTRUBLU4BSU: "He's got a nickname with a cool story because it cost them nothing. 'Wrong Way Parker!'"

Join the conversation or respond by signing in or creating a profile and blogging.