SportsNation Blog Archives

Tampa Bay Rays
Yasiel Puig took MLB by storm in 2013 -- and wasn't even voted best rookie in his league. That honor went Monday to Jose Fernandez, the Miami Marlins ace who went 12-6 with a 2.19 ERA and 187 strikeouts, and received 26 of 30 first-place votes. The American League, strangely, saw its top votes more divided, with Tampa Bay Rays outfielder Wil Myers (.293/.354/.478, 13 HR in 88 games) taking 23 of 30 first-place votes to beat out fellow finalists Jose Iglesias and Chris Archer. What do you make of the picks? What does the future hold for these honorees and finalists?
---
Best in NL?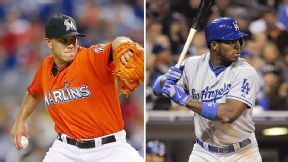 Puig posted a .319/.391/.534 line, but his performance tailed off late in the season.

---
Best in AL?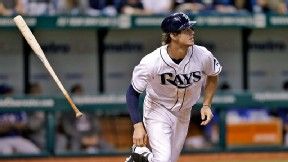 Myers went up against a defensive shortstop (Iglesias) and a starting pitcher (Archer).

---
Brightest future?
Myers and Puig are 22, while Fernandez is just 21. But pitchers aren't always durable ...

Jared Wickerham/Getty Images
David Price's future in Tampa?
David Price has been the Rays' franchise starter for years, but given the team's habit of trading star players before they become unaffordable, he thinks he'll be wearing a different uniform in 2014. Price may make $13 million next season, and despite his Cy Young Award in 2012, the frugal Rays may think it prudent to start up another youth movement. Despite a rough start in the American League Division Series, Price is still one of the best pitchers in the league, but would it be worth keeping him in Tampa?
AP Photo/Tony Dejak

How will MLB playoffs play out?

The division series are set, with the Pittsburgh Pirates and Tampa Bay Rays earning best-of-five shots at the St. Louis Cardinals and Boston Red Sox, respectively. Meanwhile, we'll see two meetings between division winners -- Atlanta Braves vs. Los Angeles Dodgers and Oakland A's vs. Detroit Tigers. How will it all play out?