SportsNation Blog Archives

Roger Clemens
Won't this year's Hall of Fame ceremony be grand? We can't wait to go and watch absolutely no one give a speech -- because the Baseball Writers' Association of America let no one in this time around. Only Craig Biggio and Jack Morris came close to the 75 percent threshold necessary to get one's face on a plaque in Cooperstown. Clearly, the issue of performance-enhancing drugs is tainting the process in some way; Roger Clemens and Barry Bonds would have been surefire first-time inductees had they not been connected to steroids. The spectacle of an empty induction year might force the Hall of Fame into making some sort of change.
Ballot: Which top vote-getters from this year's class will eventually make it in?
Vote: Will more worthy candidates create a Hall of Fame logjam?
---
A different process?
Some voters submitted blank ballots. Other voters picked single, strange candidates. Others didn't vote at all.

---
A minimum requirement?
We could theoretically see a year in which there were no deserving candidates, but several exceptional players were on this ballot.

---
Destigmatize PEDs?
Mark McGwire was on 17 percent of ballots this year, but he won't be the last player connected to PEDs to be on the Hall of Fame list.

---
New definitions?
Voters have expressed some confusion over how to treat players with possible connections to PEDs, which may explain Roger Clemens and Barry Bonds' low numbers.

September 11, 2012
Sep
11
On Tuesday, "First Take" discussed Roger Clemens' desire to come back to pitch for the Astros, preferably against a team in playoff contention. Hugh Douglas thinks Clemens wants to pitch in order to stop his Hall of Fame clock, in order to prevent steroid accusations from derailing his path to Cooperstown. Stephen A. Smith barely wants to talk about the whole thing, but Skip Bayless applauds Clemens for wanting to play baseball at a high level again. What's your take?
Roger Clemens has signed with the awesomely named Sugar Land Skeeters, believing that, at 50 years old, he could still pitch in professional baseball. Could Clemens still get outs in the big leagues?
DileepP: "The Sad thing is, at 87 his fastball is not much slower then Josh Beckett's."
MauiDano: "Roger is just having some competitive fun. No big deal. It's not like he's trying to get back into the major leagues. Why not? No big deal, just having fun. Would there be this big of a story if it was the local beer softball league Have fun Roger!"
philmnm: "Eh If he misses baseball and his pitches are working, then good for him. As long as its not in the MLB I see nothing wrong with it."
gorillabaseball22: "I could see this as Clemens own personal attempt to prove to himself his success wasn't all from steroids. Unfortunately, this proves nothing and it will eat at him for the rest of his life."
gatoralumn1950: "I'll bet that he throws a no-hitter."

Join the conversation or respond by signing in or creating a profile and blogging.
On Tuesday, "First Take" debated Roger Clemens' Hall of Fame credentials now that he has been acquitted of perjury. Clemens would be an obvious first-ballot Hall of Famer without the suspicion of steroid use hanging over his head, but Stephen A. Smith doesn't think that he should be in. Skip Bayless disagrees; he would put Clemens in for his career in Boston alone. What's your take?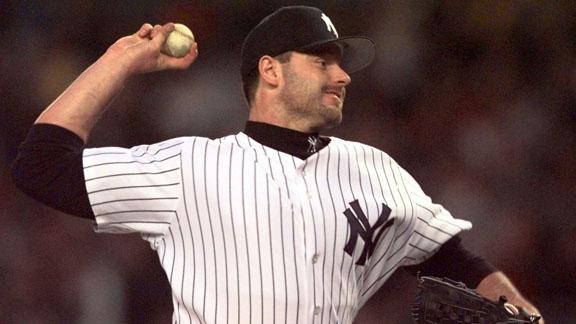 Now that Roger Clemens has been found not guilty on all six counts in his federal perjury trial, should he be enshrined in baseball's Hall of Fame? Clemens has solid baseball credentials for enshrinement with seven Cy Young awards and 354 career wins. But his appearance before Congress, in which he denied accusations of performance-enhancing drug use made in the Mitchell report on PEDs in baseball, and his subsequent trial took their toll on his reputation. How should the baseball writers vote when Clemens first appears on the ballot for Cooperstown next year?
Kdawgg60: "Next up: Hall of Fame debate.....this will go on forever."
hopelena05: "Clemens not guilty on all charges except public perception of him."
Jerry52790: "Still won't make into the Hall!"
igotunow70: "The Hall of Fame called and asked for the jury verdict form. Gotta explain why he's in the Hall of Fame in a couple of years."
zipclassic: "Not like it really matters at this point. His HoF chances and public perception are already ruined."
eckesg1: "This verdict really doesnt matter. The Eight Men Out in Chicago 1918 were acquitted too. The court of public opinion still will hold that he took steroids."



Join the conversation or respond by signing in or creating a profile and blogging.
Brett Favre flying back to the Vikings after a recruiting trip from teammates. LeBron James talking in GQ magazine about the motivation he gained from Cavs owner Dan Gilbert's comments. And now Roger Clemens, Congress and a federal indictment, all in one neat package. Admit it, you've got Andy Williams singing "It's the Most Wonderful Time of the Year" running on a loop in your head, right?
The Clemens story has more or less reached soul-crushing status at this point, but while the legal experts debate what the indictment means, what is Clemens' legacy as a pitcher? SportsNation blogger JSchnootz thinks he's a Hall of Famer no matter what.
"Roger Clemens' career is the perfect example of why some steroid users should be entered into the Hall of Fame. I don't believe that Roger Clemens used steroids his entire career or that any type of PED was the main reason he was such a great pitcher. Before his obvious steroid usage (obvious only because of the belief that Congress knows more about it than we do) Roger Clemens was one of the best pitchers of 'this generation'." -- Check out the evidence in JSchnootz's post
"

Dan Duquette was right all along: Clemens WAS in the twilight of his career

"

-- NoEscapingGravity
"

Ok, really, who cares at this point? He'll never get into the HOF so lets move on, and worry about more pressing issues.

"

-- teamjordan_2345
"

Bud Selig is to blame. Frauds like Clemens should have their ill-gotten fortunes taken away. And his teams should have their records adjusted to forfeit his wins. Wake up MLB.

"

-- GravityKing
As befitting a profession in which one must hurl a ball at ludicrous speeds toward gentlemen who could potentially send it hurtling back at even more ludicrous speeds, pitchers in major league baseball can be a bit emotional.
Witness Roger Clemens throwing a bat at Mike Piazza, or Carlos Zambrano destroying a water cooler, or Francisco Rodriguez pointing to the sky after a big strikeout. Or, if you want a more recent example, consider that of Matt "Big Game" Garza. Garza has seen Evan Longoria's tower buzzed before, so when Joba Chamberlain threw at the talented third baseman, Garza felt he had to respond. Down went Mark Teixeira in the next inning, and both benches were warned. Significantly, Garza admitted to
throwing at Teixeira on purpose
, which is either refreshing or dumb, depending on your temperament and affiliation. Beanball wars aren't a new thing in baseball, but they're usually couched in some semblance of denial ("My hand slipped"/"It just got away from me"/"I was distracted by a wave of ennui"). Garza's straightforwardness may be bold or dumb, but one thing is for certain: it'll cost him some spending money.
"

Overall, I love the affect this has on the AL East. We need to see more blood boiling rivalry.

"

-- jasonbye
"

IT IS NOT COOL TO THROW AT SOMEONE'S DOME PIECE...

"

-- rex_aau_coach
"

What a baby. If you he was going to throw in retaliation, he had ample opportunity to hit Jeter at the top of the inning. That pitch barely grazed Teixeira. If that was retaliation, perhaps that is the reason that the Rays are floundering in third place and look hapless, much like last night.

"

-- yankeejoe225
Sometimes we all need a little extra space to vent. ESPN profiles give fans space to post their own blog entries and go toe-to-toe with commenters.
SportsNation is pretty definitive that a lot of players with big numbers won't be making induction speeches in Cooperstown. But as more and more names are crossed off the list due to performance-enhancing drugs, will the plaque-making industry go under entirely?
It appears fans tired of disappointment are turning to Ken Griffey Jr. as a beacon of legitimacy. Among the four active players who either have 500 career home runs or are within striking distance, Griffey is the only player with anything close to unanimous support for the Hall of Fame.
SportsNation's Hall of Fame Approval Ratings
Ken Griffey Jr.: 97 percent
Jim Thome: 64 percent
Gary Sheffield: 50 percent
Carlos Delgado: 50 percent (if he reaches 500 home runs)
And what about Ivan Rodriguez, who Wednesday night set a record for career games caught? A guy with double-digit totals in Gold Gloves and All-Star appearances, Pudge has the support of a healthy -- but far from unanimous -- 67 percent of SportsNation.
"

if Pudge is the greatest catcher of all time I guess we have to say Bonds and Clemens are the gretest at their positions.

"

-- fmc132
"

Pudge is not only the greatest Pudge of all time, but the greatest catcher of all time as well. The fact that there are no substantial accusations, or even anecdotal evidence, linking him to steroids makes him all the more impressive. Congrats, Pudge Rodriguez, on a great achievement.

"

-- LL316