SportsNation Blog Archives

New York Giants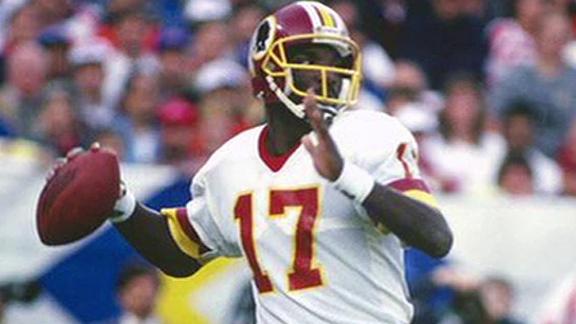 Every so often, a Super Bowl matches or exceeds the hype, giving football fans something to remember with an improbable upset, a superlative performance or a closely matched battle that remains in doubt until the final whistle. Which of these memorable Super Bowls is your favorite? Cast your ballot by clicking on the images below.


Best Super Bowls
Jets 16, Colts 7

Jets 16, Colts 7
First win for AFL in Super Bowl III validates Joe Namath's "guarantee."

Steelers 16,
Vikings 6

Steelers 16,
Vikings 6
Dominant Steelers defensive performance In Super Bowl IX allows Vikings just 119 yards.
Steelers 21,
Cowboys 17

Steelers 21,
Cowboys 17
Lynn Swann's catch highlights Super Bowl X, a matchup of the best teams of the '70s.
Steelers 35,
Cowboys 31

Steelers 35,
Cowboys 31
Terry Bradshaw throws four TDs as Steelers hold off Cowboys comeback in Super Bowl XIII rematch of '70s dynasties.
Giants 39, Broncos 20

Giants 39, Broncos 20
Phil Simms completes a record 22 of 25 passes In Super Bowl XXI as Giants pull away from Broncos in second half.
Redskins 42,
Broncos 10

Redskins 42,
Broncos 10
Redskins' Doug Williams throws 4 TDs in 35-point second quarter, wins Super Bowl XXII MVP.

49ers 26, Bengals 21

49ers 26, Bengals 21
Joe Montana leads 92-yard scoring drive late as 49ers edge Bengals in Super Bowl XVI.
Giants 20, Bills 19

Giants 20, Bills 19
Giants hold Bills' explosive offense at bay, win Super Bowl XXV as Buffalo's game-winning FG attempt sails wide right.
Broncos 31,
Packers 24

Broncos 31,
Packers 24
John Elway outduels Brett Favre in Super Bowl XXXII as Broncos claim first SB win in five tries.
Rams 23, Titans 16

Rams 23, Titans 16
Kurt Warner, Rams take early lead, withstand Titans comeback that ends 1 yard short on final play in Super Bowl XXXIV.
Patriots 20, Rams 17

Patriots 20, Rams 17
Underdog Patriots slow Rams' "Greatest Show On Turf," win Super Bowl XXXVI on last-second FG.
Patriots 32,
Panthers 29

Patriots 32,
Panthers 29
Panthers roar back to tie Super Bowl XXXVIII in fourth quarter, but Patriots win on late FG.
Giants 17, Patriots 14

Giants 17, Patriots 14
Underdog Giants drive late for winning TD, spoiling Patriots' quest for undefeated season in Super Bowl XLII.
Steelers 27,
Cardinals 23

Steelers 27,
Cardinals 23
Santonio Holmes' TD catch caps see-saw fourth quarter as Steelers outlast Cardinals in Super Bowl XLIII.
Your Rankings
1.

2.

3.

4.

5.

6.

7.

8.

9.

10.

11.

12.

13.

14.

While the Giants have a 14.4 percent chance of making the playoffs, according to ESPN.com's playoff predictor

, the critics will tell you the Giants don't deserve to make the playoffs after posting a first-half record of 6-2 and then going 2-5 down the stretch. Giants fans, however, will kindly remind you of the 2007 season, when the team went through stretches of 0-2, 6-0 and 4-4 in the regular season on the way to a Super Bowl victory. So maybe it doesn't matter how you get there, as long as you get there. The Giants will be thinking about that on Sunday as they try to take care of business against the Eagles at 1 p.m. ET and then turn their attention to the scoreboard, since New York needs assistance from the Lions, Packers and Redskins.
---
The hardest part?
The Giants have no one to blame but themselves for needing help in the final week, especially after being outscored 67-14 in the last two weeks.

---
Giants at Eagles?
The Giants are seven-point favorites, but they lost to the Eagles 19-17 in Week 4. The Eagles also will have Michael Vick at QB.

---
Cowboys at Redskins?
The Redskins are three-point favorites and have won six straight games; they defeated the Cowboys 38-31 on Thanksgiving.

---
Packers at Vikings?
The Packers are three-point favorites; they defeated the Vikings 23-14 in Week 13. Adrian Peterson will play with a strained abdominal muscle.

---
Bears at Lions?
The Bears are three-point favorites; they defeated the Lions 13-7 in Week 7. The Lions have lost seven in a row and were outscored 69-28 in their last two.

On Friday, ESPN's "First Take" debated which team would win the matchup between the Giants and Ravens this weekend. The game has playoff implications for the Giants, and the Ravens are trying to halt a disturbing free fall. Stephen A. Smith and Christian Fauria tentatively have the Giants winning, though the team is something of an offensive mess. Skip Bayless sees it as a contest of which team can lose the least, and he's not totally loving what he's hearing from the Giants, but he has no confidence in Joe Flacco. What's your take?
The Redskins' close win Monday night over the Giants made the NFC East race a lot more interesting. Robert Griffin III's heroics (along with a little bit of luck -- he's pretty darn good, but when one of your teammates turns your fumble into a touchdown, you can't exactly attribute that to proper preparation) brought the Redskins to 6-6, with the Giants just barely ahead at 7-5. That's not even taking into account the Cowboys, who are suddenly competitive at 6-6 after defeating a disorganized Eagles squad.
---
Playoff-bound?
The Redskins have looked only barely competent at times this season, but they're in position to challenge for a playoff spot.

---
NFC East shake-up?
Don't look now, but even the supposedly hapless Cowboys could end up on top in the NFC East.

---
Griffin or Luck?
Andrew Luck led his team to a dramatic victory over the Lions this past weekend, but has his season been better than Griffin's in Washington?

How does one go about campaigning for a trip to the Pro Bowl besides showing up on Sundays? Catching a football dropped out a plane is a start. New York Giants wide receiver Victor Cruz did just that, and wouldn't you know, it was caught on video! Watch and vote!
On Wednesday, ESPN's "First Take" debated whether Eli Manning is an elite quarterback. Former Giants QB Phil Simms was critical of Manning's play, saying that he wasn't a player who could make an unbelievable play by himself. Skip Bayless thinks Simms is out of bounds, as Manning's résumé (two Super Bowl wins in which he made a number of excellent clutch plays) stands on its own. Rob Parker thinks Simms has something of a point, but believes he's overreacting to Manning's less-than-spectacular past two games. What's your take?
On Monday, "First Take" discussed the Giants' 24-20 loss to the Steelers. The Giants had been on a bit of a roll lately after wins over the Redskins and the Cowboys, but looking back, they just eked out a victory in both games. Stephen A. Smith isn't too worried, as the Giants won the Super Bowl last year after losing four straight games, and they're still in first place in a division in which every other team has serious problems. Skip Bayless disagrees -- he thinks the Giants should be very concerned, as he's only seen them play one impressive game on the road, and they haven't even been all that good at home. What's your take?
No one was really happy at the end of the Giants' 29-24 win over the Cowboys on Sunday. Jason Garrett wasn't happy because his team lost. Tony Romo wasn't happy because he threw four interceptions. Dez Bryant wasn't happy because his game-winning touchdown was negated because his pinkie finger was out of bounds. Tom Coughlin wasn't happy because Tom Coughlin is rarely happy, but mainly because his team blew a 23-point lead. All in all, it seemed like this game was one of those matchups that could tell you an awful lot about both teams -- it's just that, as a fan of either, you might not want to hear it.
---
Should the Giants be worried?
The Giants looked like an all-world team in the first half, but if Dez Bryant's finger was an inch farther in, we'd be writing much different headlines today.


pettsmagee: "that game characterized both teams so well: cowboys finding new ways to come up just short, giants barely winning on a lucky play"
jeffrey talkington: "I just wonder when Dallas don't make the playoffs this year what is Jerry Gonna do? Get rid of Garrett? Get rid of Romo? or both? or just keep being delusional and think they are the best he can find as Coach and QB, cause this is getting old and played out. I'm beginning to think Jerry don't care about winning than he does about making billions his Stadium can generate?"
bumeri: "This game did more damage to the Giants than the Cowboys ..... Cowboys exposed the Giants badly ... The secondary can't cover anything, the linebackers can't cover tight ends and wait once they play all those passing teams "
rgctx: "Same old song and dance. Cowboys beat the Giants in every phase except the scoreboard. This team has a knack for snatching defeat out of the jaws of victory. It is getting old."
ScratchMeh: "Cowboys need to fire their coach they had the ball in the red zone on 2nd and 1 with a minute left with timeouts to burn and they throw the ball 3 times and Romo ends up getting intercepted I'm not a fan of either team but the cowboys coach lost them that game."

Join the conversation or respond by signing in or creating a profile and blogging.
On Friday, "First Take" discussed the marquee matchup between the Giants and the Cowboys this Sunday. Dallas won the last matchup, but the fortunes of the two teams have diverged since then. Stephen A. Smith doesn't believe there's any way the Giants lose for a second time to the Cowboys, even if they have to go on the road -- in fact, he doesn't even expect it to be a thriller. Skip Bayless is hanging on to the fact that Tony Romo outplayed Eli Manning in their first meeting this season. What's your take?
On Monday, "First Take" discussed the Giants' status after a dominating win over the 49ers. Stephen A. Smith thinks the Giants are the best team in the league, at least if they keep playing defense the way they did in San Francisco. Skip Bayless had the 49ers barely winning this game, but he definitely thinks the Giants are tops in the league right now. That's even taking into account the Falcons, who remain undefeated through six weeks. What's your take?