SportsNation Blog Archives

Eli Manning
On Wednesday, ESPN's "First Take" debated whether Eli Manning is an elite quarterback. Former Giants QB Phil Simms was critical of Manning's play, saying that he wasn't a player who could make an unbelievable play by himself. Skip Bayless thinks Simms is out of bounds, as Manning's résumé (two Super Bowl wins in which he made a number of excellent clutch plays) stands on its own. Rob Parker thinks Simms has something of a point, but believes he's overreacting to Manning's less-than-spectacular past two games. What's your take?
A quarterback is usually pretty safe when he takes a knee at the end of a game, but the Buccaneers don't appear to subscribe to that philosophy, as they knocked Eli Manning to the ground on the final play in their loss Sunday to the Giants. Tampa Bay was still just a touchdown away, but did the move's classlessness outweigh its potential benefits?
ChicagoD247: "I like the passion of playing through the whistle and for 60 minutes but c'mon Schiano, that is just bush league!"
Garboy46: "What a rookie move. Embarrassing. Finally get to the pros and prove you are not ready yet. Ouch."
ROCbleedsORANGE: "as a giants fan, i have absolutely no issue with schiano having his guys do this. be prepared on every single play until the final whistle blows. that's how these guys have been playing their whole lives."
OPENLYUGLY: "Coughlin does want his players to show up early to meetings, maybe he wants games in his favor to be early to end as well?"
MartyMcFly1885: "When I first heard about this play, I figured that a Bucs player had hit Manning after he kneeled down. However, then I saw the play and all I saw was the Bucs linemen pushing the Giants' O-Line, who then fell backwards into Manning. So what? You are allowed to go after the QB and the ball until the whistle blows. What if there had been a fumble on the snap? "

Join the conversation or respond by signing in or creating a profile and blogging.
---
The most impressive NFC quarterback?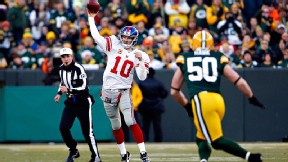 Most of SN expected this to be a debate about Aaron Rodgers and Drew Brees. Was Eli Manning beating Rodgers in Lambeau more impressive than Alex Smith beating Brees at home?

---
Does either team have an edge?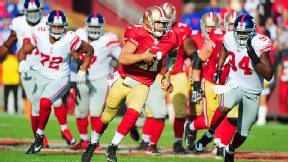 Going back to the regular season, Smith ranked ninth in the NFL with a 90.7 passer rating, two spots behind Eli Manning at 92.9.

---
Did Alex Smith win you over?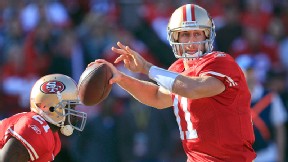 How much of a difference did one game make in how you define Alex Smith, he of the 68 career touchdowns and 58 career interceptions?

---
The clutch brother in the family?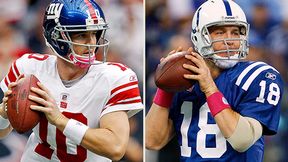 Eli Manning won't match a lot of Peyton Manning's numbers, but he's two wins away from passing his older brother in rings and beat both Brett Favre and Aaron Rodgers in Lambeau Field.

---
Who had bigger cleats to fill?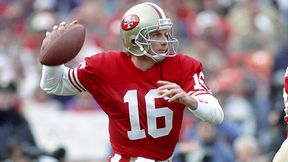 Smith had to live with the comparisons to Joe Montana (above) and Steve Young throughout his time in San Francisco, but Manning has been Peyton's brother his whole life.

Eli Manning beat Tom Brady in their one matchup in the playoffs, but very few people would take that to mean they're equally talented. Apparently, Manning is one of those people; he told Michael Kay on Tuesday that he is in a class with his counterpart on the Patriots. It remains to be seen how they compare this season, but Brady's stats over the past few years have dwarfed Manning's. Are the Giants even in competition in their own division with Manning behind center? Rank 'Em: Where do Brady and Manning stack up?
"He was responded to a Catch 22 question, and he responded appropriately. If he says he's NOT in the same class as Brady, then critics say he lacks the confidence to lead the Giants. If he says he IS in the same class as Brady, critics say he is delusional and not taking accountability for his poor 2010 season. QBs are paid to be leaders; he answered it the right way." -- SN commenter rhuff1118
"The only way these two were in the same class is if they took driver's ed together. Brady's better than your brother, and you're not even in HIS class." -- SN commenter bablyon_paladin
---
What was Manning thinking?
It's tough to answer questions comparing yourself to other players. Be humble, and you appear weak. Brag, and you provide the other team with bulletin board material.

---
Is Manning among the elite?
Eli Manning has put up some very good numbers in his career, but he threw far too many interceptions last season.

---
What is Manning's future?
Manning said that he'd like his next seven years to be better than his first seven. Do you see him getting better as he ages?

1. Is Philip Rivers better than the guys with rings?
Eli Manning took a proverbial punch to the gut with an ill-timed fumble against the Eagles. Ben Roethlisberger took a less proverbial punch to the face against the Steelers. And Philip Rivers? He keeps delivering blows, this time leading the Chargers past the Broncos. But which product of the 2004 draft is the best QB? Power Rankings.
"'Sorry Rivers, no MVP for you! Great numbers but you need to inspire the rest of the team to play at a higher level if you want the MVP." -- SN commenter laspina.anthony
It's not Stephen Strasburg arriving like the second coming of Walter Johnson and quickly departing as the second coming of Kerry Wood. It's not the Capitals turning the NHL's best regular season into a first-round disaster against the Canadiens. It's not even Gilbert Arenas bringing some unwanted show-and-tell items to work.
Did we mention it's a lousy time to be a sports fan in the nation's capital?
But pardon Redskins fans if they're a little skittish about news Donovan McNabb may not be healthy for a Week 1 showdown with the rival Cowboys. The NFC East isn't short on big-name quarterbacks, but do any of them mean more to a team than McNabb?
SportsNation offers multiple opinions.
"If Donovan had the luxury to sling the ball around the field without worrying about what happened after he threw it, he, too, could be Brett Farve. But, see, Donovan values the ball, as he was taught to do. Meaning he will never LOSE the game for his team. Shanahan is licking his chops thinking about the possiblites with McNabb once he gets a running game, something McNabb has never really had." -- SN commenter yodaspeaks
"You make a good point. McNabb typically will not be the reason you lost a game, I agree. Unfortunately, he rarely is the reason you win a game either. He is a good quarterback, and a safe quarterback. But with 2 minutes left in the game, ball on your own 20, I can think of a lot of QBs Id rather have in than McNabb. MAYBE that was just the Eagles, I dont know." -- SN commenter ChevyRulerSS69
Omar (Toronto)
Should Andy Reid be worried if this kolb experiment does not go according to plan. It's not as if mcnabb was traded because his performance dropped off, mcnabb was playing at a high level. Reid and company compared mcanbbs amazing career to kolbs two good games.
NFC East blogger Matt Mosley
It's quite that simple. You had three quarterbacks heading into the final year of their respective contracts. It wasn't like Andy Reid sat there and compared two games to McNabb's excellent body of work. He just looked at the roster and had to make a tough call. I think it will be the right thing long term, but there will be some bumps along the way. Full transcript
Pete (NY)
Is this the year Eli breaks out and plays like an elite QB not just a very good one?
Scouts Inc.'s Matt Williamson

Bro, he was great last year. He really was. I would expect I higher run % than last year, as the Giants D will be stronger in 2010, so there will be less catch up. Full transcript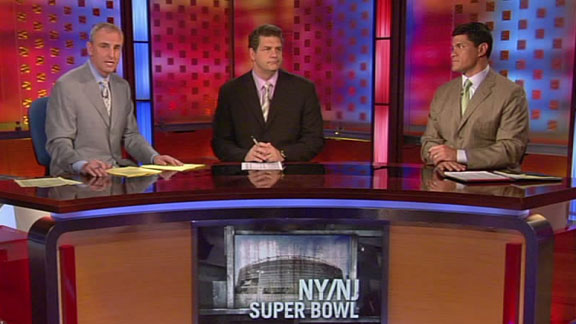 Three seasons is an eternity in the NFL -- just ask former Browns starter and current Cardinals retread Derek Anderson. But once all the talk dies down about the weather for Super Bowl XLVIII (and at this point, anything less than a scene out of "The Day After Tomorrow" is going to be a letdown), talk could shift to a pair of quarterbacks in their primes in 2014. And at least Eli Manning and Mark Sanchez will be used to the conditions.
For the first time since the Rams and Raiders occupied Los Angeles, the prospect exists for a pair of hometown quarterbacks to square off in the Super Bowl. But will Manning or Sanchez be the toast of the town in the Big Apple by the 2013 season?
lawrence (stowe vt)
is Manning gonna step up this year, or is he gonna continue to play second fiddle to his big bro, and now Sanchez?
ESPN New York's Ohm Youngmisuk
L, I think Eli will always kind of play second-fiddle to Peyton until Peyton declines. This season, I see the Colts beating the Giants in that second game of the year. I do think Eli will be better than Sanchez though. Mark's time will come. Not just now. Eli did well last season. He raised Steve Smith's game didn't he? Give him the running game again and I think Eli can do damage. Full transcript
Fireman Ed (New York)
Tim, what are your thoughts on Sanchez and his game? Do you see the Jets implementing him more now as a passing QB than giving touches to RB? Or do you think it might be split 50/50?
AFC East blogger Tim Graham
Rex Ryan has said the Jets will remain a run-oriented team, although I doubt the play calling will be as lopsided in 2010. Full transcript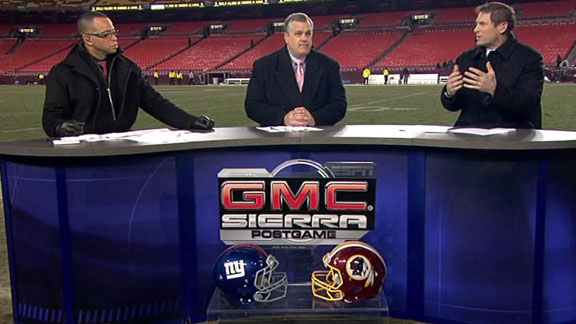 It took until the final game of Week 15, but at least something went as expected in the NFC wild-card race. Two days after the Cowboys knocked the Saints from the ranks of the unbeaten in New Orleans and a day after the Packers lost to the Steelers on a last-second touchdown pass, the Giants embarrassed the Redskins on "Monday Night Football."
Aside from possibly making new Redskins president Bruce Allen reconsider his career choice, Monday's result kept the Giants one game behind the Cowboys and Packers in pursuit of the NFC's two wild-card bids. The NFC East title isn't done and dusted for the Eagles just yet, but among the three current wild-card contenders, which group of fans should feel best about the guy they have leading the way?
Look at how each quarterback has fared so far in December.
Eli Manning: 57-for-89 passing, 900 yards, 8 TD, 1 INT, 122.9 QB rating

Aaron Rodgers: 68-for-112 passing, 826 yards, 6 TD, 2 INT, 93.8 QB rating

Tony Romo: 82-for-119 passing, 953 yards, 6 TD, 0 INT, 109.7 QB rating
And then consider the changing fortunes of SportsNation's quarterback rankings.
Jason R. (Orlando)
So is the "Dallas can't win in December" thing dead forever thanks to beating the Saints?
Scouts Inc.'s Gary Horton

Yes, until this weekend. I don't buy the December fade thing. It just happened. This is a good football team. The problem I see is they don't put back to back games together. How many times this season have we loved them and then the next week they lay an egg? It may be different with their backs to the wall, but they are capable of winning their next two or losing them. Full transcript
Tom (NYC)
Are the Giants' struggles on defense this year entirely a schematic (read: Bill Sheridan) problem? That's the conventional wisdom out there. But it seems to me they've also had personnel issues (for example, Kenny Phillips' injury) and Umenyiora not playing up to form among others.. what are your feelings on the matter?
Football Outsiders' Bill Barnwell
Where to begin? Scheme. Misuse of personnel. Attitude and respect issues across the board. Injuries to key players, and a lack of depth when those players went down, especially with Phillips (remember how well the rookies played in 07 during the Super Bowl run?) and the execrable C.C. Brown. The idea was to build up a ton of depth up front and make the pass rush unbeatable. Instead, the rushers have still been disappointing, Canty's been hurt, Rocky Bernard's been a total non-factor, and the secondary minus Ross and Phillips has been exposed. Full transcript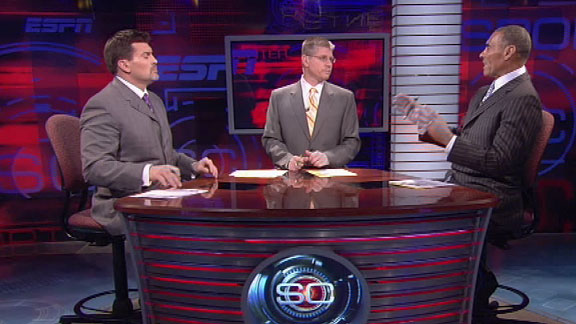 It's not a good morning to be Ben Roethlisberger. You just got beat by Brady Quinn, a quarterback who completed six passes in 60 minutes of football (granted, that's three times as many passes as Derek Anderson completed in the Browns' only other win this season). Your team scored a grand total of six points against the Browns, a team that gave up 38 points to the Lions less than three weeks ago.
And according to common sense and 90 percent of SportsNation, your team is done.
All of four months ago, here's how SportsNation sized up the quarterback class of 2004.
And after the Steelers lost to the Chiefs, Raiders and Browns in the last month? Well, vote at the end of the post and see for yourself. It's not pretty for Big Ben.
matt (florida)
what do u think about the san diego chargers, phillip rivers really starting to come tru
Matt Williamson
He's awesome. Elite QB. Great player. In his prime. Fantastic deep passer. Very good feeling for coverages. Intelligent. Competitive. Moves well in the pocket. Good-underrated-arm. Very quick release. Extremely productive. One of the best in the business and very rarely has a down day -- comes at you every week. Full transcript
Bobby (Seattle)
Big Ben seems like an easy target in the pocket, standing upright like a frozen otter pop, is it because he is so strong he can shake off would be tacklers??
Matt Wiiliamson
What's an otter pop? I am from the Burgh as well-never heard of that. I couldn't disagree more though. He is incredibly strong in both his upper and lower body and can shrug off D-linemen, but he also is very mobile -- especially for such a big man. Has a good feel for pressure as well. Of course he takes a lot of sacks still, but that stems from him wanting to hold the ball extra long to make a play for his team. Full transcript
It wasn't so very long ago that Eli Manning was one of the five most valuable players in the NFL. No, seriously. It was just a month ago that SportsNation ranked the younger Manning No. 5 in its MVP Watch. And now? Well, he's presumably still better than Jason Campbell.
Manning's fall from grace has coincided with an overall resurgence for the NFC East. When Manning hit his MVP peak, the Giants were the only NFC East team SportsNation ranked in its top 10. A month later, the Giants are out of the top 10, but the Eagles and Cowboys square off this weekend as top-10 teams. So is Manning just riding through some bumps in the NFL's toughest division, or is this evidence of something else?
Matt (Philly)
Eli has thrown 82 INTs in 81 games ... his career passer rating is under 80. Let's get real about him. If his name wasn't Manning, he would have no support in the NFL.
Chris Mortensen
Yeah, yeah. Heard that before. Did you know that under Dan Reeves, John Elway's stats were just one-plus on the TD and Ints? And no matter how you want to cut it, Giants Stadium is the toughest venue in the NFL for a quarterback because of the wind factor.
Matt (Philly)
That's a cop out... Eli tossed 2 more interceptions at home than on the road, so you can't really throw wind at Giants stadium into the equation.
Chris Mortensen
I was speaking more on the career perspective. And the fact is, he did win a Super Bowl. I also saw receivers dropping balls in some of those losses and running game so-so. And I do wonder, having suffered from plantar fascia injury myself, if it's affected him enough to throw him off. But he hasn't played well in most of these losses. Full transcript