SportsNation Blog Archives

Josh Smith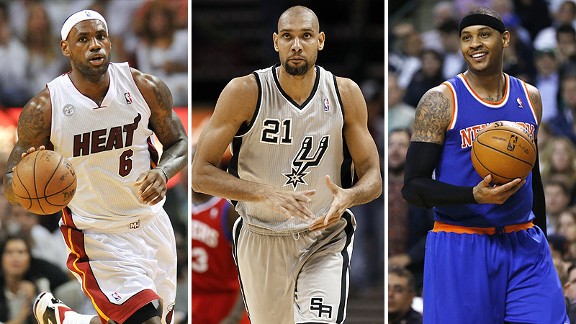 A power forward's job is to control the low block area -- they are able to play with their backs to the basket as well as step out to nail a mid-range jumper. Tim Duncan and Kevin Garnett are known to have that skillset. Some are also known for their ability to intimidate with powerful dunks, like Blake Griffin. Then you have the Carmelo Anthony and Dirk Nowitzki types who can pretty much do it all, from inside the paint to outside the arc. How do you round out the NBA's best at the four position? NBA insider Bradford Doolittle had his say and so did the NBA 5-on-5 crew, but now it's time for SportsNation to weigh in.
Rank 'Em: Point guards | Shooting guards | Centers | NBA teams' under-25 talent


NBA Power Forwards

LaMarcus Aldridge

LaMarcus Aldridge
Portland Trail Blazers
2012-13: 21.1 PPG, 9.1 RPG, 1.2 BPG

Ryan Anderson

Ryan Anderson
Pelicans
2012-13: 16.2 PPG, 6.4 RPG, 0.4 BPG

Carmelo Anthony

Carmelo Anthony
Knicks
2012-13: 28.7 PPG, 6.9 RPG, 2.6 APG

Anthony Davis

Anthony Davis
Pelicans
2012-13: 13.5 PPG, 8.2 RPG, 1.8 BPG

Tim Duncan

Tim Duncan
Spurs
2012-13: 17.8 PPG, 9.9 RPG, 2.7 BPG

Kenneth Faried

Kenneth Faried
Nuggets
2012-13: 11.5 PPG, 9.2 RPG, 1.0 APG

Derrick Favors

Derrick Favors
Jazz
2012-13: 9.4 PPG, 7.1 RPG, 1.7 APG

Kevin Garnett

Kevin Garnett
Nets
2012-13: 14.8 PPG, 7.8 RPG, 0.9 BPG

Pau Gasol

Pau Gasol
Lakers
2012-13: 13.7 PPG, 8.6 RPG, 1.2 BPG

Blake Griffin

Blake Griffin
Clippers
2012-13: 18.0 PPG, 8.3 RPG, 0.6 BPG

Al Horford

Al Horford
Hawks
2012-13: 17.4 PPG, 10.2 RPG, 1.1 BPG

Serge Ibaka

Serge Ibaka
Thunder
2012-13: 13.2 PPG, 7.7 RPG, 3.0 BPG

LeBron James

LeBron James
Heat
2012-13: 26.8 PPG, 8.0 RPG, 7.3 APG

David Lee

David Lee
Warriors
2012-13: 18.5 PPG, 11.2 RPG, 0.3 BPG

Kevin Love

Kevin Love
Timberwolves
2012-13: 18.3 PPG, 14.0 RPG, 0.5 BPG

Paul Millsap

Paul Millsap
Hawks
2012-13: 14.6 PPG, 7.1 RPG, 1.0 BPG

Dirk Nowitzki

Dirk Nowitzki
Mavericks
2012-13: 17.3 PPG, 6.8 RPG, 0.7 BPG

Zach Randolph

Zach Randolph
Grizzlies
2012-13: 15.4 PPG, 11.2 RPG, 0.4 BPG

Josh Smith

Josh Smith
Pistons
2012-13: 17.5 PPG, 8.4 RPG, 4.2 APG

David West

David West
Pacers
2012-13: 17.1 PPG, 7.7 RPG, 0.9 BPG
Your Rankings
1.

2.

3.

4.

5.

6.

7.

8.

9.

10.

11.

12.

13.

14.

15.

16.

17.

18.

19.

20.

Tags:
SportsNation Rank, NBA, NBA, LaMarcus Aldridge, Ryan Anderson, Carmelo Anthony, Anthony Davis, Tim Duncan, Kenneth Faried, Derrick Favors, Kevin Garnett, Pau Gasol, Blake Griffin, Al Horford, Serge Ibaka, LeBron James, David Lee, Kevin Love, Paul Millsap, Dirk Nowitzki, Zach Randolph, Josh Smith, David West
Josh Smith has a strained tendon in his left knee, and may miss Game 3 against the Celtics. Can the Hawks win without him?
Thats_How_I_Troll: "If Boston can do it without Ray and Rajon, then Atlanta can be competitive without Smith. "
Reague5122: "Celtics were going to win that game even if Smith finished the game, they have outplayed the Hawks in 6 out of 8 qaurters, won without Rondo and Ray Ray, C's get to rest until Friday."
PP Owns Rondo: "Not good for Atlanta. They're already in bad shape without Al and Zaza. No way do they win this series without Josh. I think Boston wins in 5 anyway with Josh or not."
Delta_Hedge: "no big deal---he's not that good anyway. He just jacks up 3s."
b00chtron: "the hawks were not winning this series anyways"
fee.forbin: "With Josh Smith out the C's might get some rest before the next round."



Join the conversation or respond by signing in or creating a profile and blogging.