SportsNation Blog Archives

Tracy McGrady
Tracy McGrady's pro basketball career may not be over -- there's always Europe or China -- but his time in the NBA has ended. McGrady announced his NBA retirement on Monday morning's "First Take," closing his 16-year career. His résumé notably lacks a championship, but McGrady was a scoring force for quite a while, and his career averages (19.6 points, 5.6 rebounds and 4.4 assists per game) would be the envy of many a player.
Here's a sampling of what readers had to say in our Facebook conversation on the story:
Eric L Gwin: "Sad to see him go. But all good things must come to an end. Would have loved to see him stay in Orlando to play with Dwight Howard. Things may have been different for him. 5 years later they got to the finals without a legitimate number two guy."
Mek Greene: "T-Mac for a while was the player who could legitimately challenge Kobe Bryant for best player in the league. Wish he could've had a team to play with in Orlando."
Derrick Mindt: "Sad to see him go out like this..in his prime he truly was one of the great players of his generation..would have been nice to see what would have been if it hadn't been for knee injuries hampering his career."
Kyle McCaffrey: "Coulda been better than Kobe if not for numerous knee injuries."
Jeremy Augustin: "If T-Mac NBA was consistent and had gotten a couple of rings. He'd be definitely right behind Jordan and Kobe as greatest SG of all time!"
What do you think? Leave your comments below.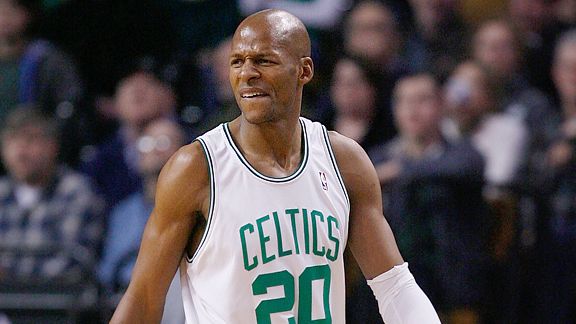 Ray Allen has never been one for controversy -- the last time we can recall him doing something out of the ordinary was when he starred in He Got Game. That's why it's such a surprise that one of the league's most businesslike players is taking on an unusual target: the fans.
Allen is of the opinion that fans have too much influence in voting for the All-Star game. Specifically, Allen takes issue with the likely inclusion of Allen Iverson and Tracy McGrady, both of whom are in position to start the game despite having sub-par seasons. Is Allen suggesting that, just maybe, the fans don't know what they're talking about? Perhaps. More likely, there's an element of favoritism involved -- it's difficult to seperate logic from emotion when it comes to evaluating players. Does Allen have a point?
"

No the format doesn't need to be changed. Why? Because All-Star weekend is about just that. ALL STARS. If a player is having a great season in the NBA, sometimes he'll get voted to an All-Star game, HOWEVER, the real reward of recognition comes at the end of the season, with the All NBA voting. Being on the All NBA 1st, 2nd, or 3rd teams, or the All NBA Defensive 1st, 2nd, or 3rd teams is where you get recognized career wise moreso than All-Star appearances, but this obviously isn't just about performance, but also about MONEY.

"

-- vgametime
"

I agree guys like Iverson and McGrady aren't wothy to be All-Stars based on their play this season, but it's the fans' game. They should be able to vote for whoever they wanna see. Period.

"

-- steinhardt711
Back during the depths of summer, we called on names like Bo Jackson, Sam Bowie and Sterling Sharpe in speculating on Yao Ming's basketball future. As it turns out, between the Rockets' two most recognizable names, he might have actually had the rosier outlook.
Yao won't play until at least next season, but will that be sooner than Tracy McGrady dons the uniform again after the team gave him a leave and will reportedly try to trade him?
When McGrady returned to the active roster recently, 56 percent of SportsNation said he wouldn't play a significant role this season. That majority may have included Rockets coach Rick Adelman, but it didn't include the aging (former?) star. He only turned 30 last spring, but with all the NBA miles already on the odometer, are we watching an Iverson-like frustrated farewell?
Oh, and those Rockets that 54 percent of SportsNation predicted would
fall out of the playoff mix
? They seem to be doing just fine at 18-13 entering tonight's game against the Hornets.
"

I'm sick of his "me first" act and his inability to stay healthy. When the team wanted him last season he decided he'd try micro-fracture surgery against team wishes. Then the team is in the playoffs and he predicts they'll lose...he was still a member of the team, whether he believed it or not you don't predict your team will lose.

"

-- Atreyeu