SportsNation Blog Archives

St. Louis Rams
The Pittsburgh Steelers might be below .500 on the season, but they looked the better team in their 30-20 win over the Cincinnati Bengals on Sunday night. And they weren't the only losing squad to come up big on Sunday. Both the Minnesota Vikings and St. Louis Rams handed stunning losses to division leaders. Still, every sub-.500 team is eliminated -- or close to it -- from playoff contention this year, meaning it's not too early to look toward 2014. Which teams are best set up for a bounce-back next season? Click on the images below to set your rankings!


2014 bounce-back teams
Bills

Browns

Buccaneers

Buccaneers
2013 record: 4-10
Falcons

Giants


Jaguars

Jets

Raiders

Rams

Redskins

Redskins
2013 record: 3-11
Steelers

Texans

Titans

Vikings

Vikings
2013 record: 4-9-1
Your Rankings
1.

2.

3.

4.

5.

6.

7.

8.

9.

10.

11.

12.

13.

14.

When you've got a good quarterback, you've got a chance to win in the NFL. When you don't, you change starters. Maybe you sign a free agent off the street as insurance. And maybe you take inspiration from Batman and illuminate the night sky with the Brett signal -- as in Brett Favre -- like the Rams reportedly did.
Now, don't expect live reports from Hattiesburg, Miss., as Favre says he's retired. For good. Really. But it makes us wonder how confident the Rams are in backup Kellen Clemens replacing the injured Sam Bradford. The Rams aren't alone in this boat -- not when the Browns are about to trot out their third starting QB of the season and the Vikings are choosing between Josh Freeman and Christian Ponder.
---
Meet Me In St. Louis?
Brett Favre gained a reputation for wavering on retirement, but he was firm Thursday that his career is over.

---
Is that Brett Favre's music?
The Rams reportedly reached out to Favre despite the fact it's been nearly three years since he has played in an NFL game.

---
Valhalla I am coming
Matt Cassel, center, quarterbacked the Vikings' only win of the season. But Christian Ponder, right, is set to start if Josh Freeman can't.

---
Opportunity knocks
Jason Campbell was passed over the first time the Browns changed quarterbacks. He'll get his chance Sunday against the Chiefs.

---
Hard times
Campbell is replacing Brandon Weeden, who has struggled mightily this season in Cleveland.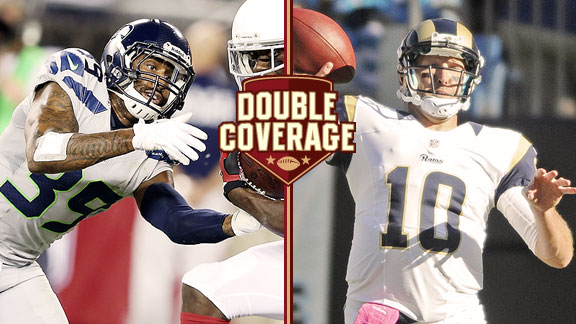 AP Photo
NFL Week 8 -- Seahawks at Rams
This isn't exactly a Broncos-at-home-versus-Jaguars situation, but things sure could get ugly on "Monday Night Football" in St. Louis. The Rams are a deceptive 3-4, and just lost quarterback Sam Bradford for the season. The Seattle Seahawks (6-1) aren't cruising every Sunday, but they're getting it done -- and have a fearsome defense just ready to exploit a weak QB (Kellen Clemens, in this case). How bad will it be?
September 26, 2013

Sep

26

Michael Thomas/Getty Images

No more panicking in S.F.?

That didn't last long. Just four days after the San Francisco 49ers looked a shell of last season's NFC champions, the Bay Area's team traveled to the Midwest, shook off its defensive absences, and thrashed the St. Louis Rams 35-11. Is the crisis over in San Fran? Or are the Rams just that bad?

SportsNation SportsNation
In honor of the Charlotte Hornets return next year ... http://t.co/3OTRZfHBft
about 6 hours ago

SportsNation SportsNation
!!! RT @bobcats Introducing the new #CharlotteHornets brand identity! WELCOME HOME, HUGO! #BuzzCity #PurpleAndTeal http://t.co/mEdnyeVx8c
about 6 hours ago

marcelluswiley Marcellus Wiley
RT @espn: Announcing our #ESPNTHEPARTY lineup: @RobinThicke, @KendrickLamar, and @JermaineDupri! Your move, other Super Bowl parties.
about 7 hours ago

marcelluswiley Marcellus Wiley
Santa is going to have a lil black helper when he comes to our crib. Hope he's not… http://t.co/s8nZxwzvkE
about 8 hours ago

marcelluswiley Marcellus Wiley
"@InTheCut218: Clownin with @marcelluswiley http://t.co/XKdyUOpDAI" Thanks for taking care of your boys!
about 15 hours ago

marcelluswiley Marcellus Wiley
Bumpin 'Ain't No Thang' right now....Been my favorite group since I heard them in 92! http://t.co/L5trHTRY5r
1 day ago

marcelluswiley Marcellus Wiley
Thank God for Spotify!
1 day ago

Max_Kellerman Max Kellerman
Turning back time: ageing reversed in mice - health - 19 December 2013 - New Scientist: http://t.co/RSYUUVefsO
1 day ago

SportsNation SportsNation
Awesome! RT @ESPN_Numbers NNL Presents... The year in sports for 2013 "RAP-UP" http://t.co/AaMtiH8YNu
1 day ago

Max_Kellerman Max Kellerman
RT @theScore: How Lou Gehrig used sabermetrics in the 1920s. http://t.co/tTMFzU7JwD
1 day ago

marcelluswiley Marcellus Wiley
Back where it all started, Los Angeles already knows what it is....best in the world! #Slauson http://t.co/Ae9JR1clbj
1 day ago

marcelluswiley Marcellus Wiley
Broadcasting 'Max & Marcellus' today at 3pm from "In the Cut" Barbershop on 220 E. Regent St. in Inglewood. Come win Lakers tickets!
1 day ago

SportsNation SportsNation
Will Kobe ever be the same? We discuss. ESPN2 now!
1 day ago

SportsNation SportsNation
Dr. J says he was a better dunker than MJ & LeBron. He also had more to say. - http://t.co/VypRlpdYOz
1 day ago

Max_Kellerman Max Kellerman
RT @MarkKriegel: The 6 Jews who changed the world: Jesus, Moses,Freud, Marx, Einstein and Al #Goldstein.
1 day ago

SportsNation SportsNation
Jerry West hasn't shot a basketball in years and he is still LIGHTS OUT at 75! - http://t.co/41MiPeDwbM
1 day ago

marcelluswiley Marcellus Wiley
RT @ProFootballDoc: @marcelluswiley is right. Related injury. Strong Achilles helps prevent knee hyperextension. May have contributed to @k…
1 day ago

SportsNation SportsNation
The North Sac Canes youth football team has some interesting jerseys (via @uniformswag) http://t.co/aeE1wAiW9Z
1 day ago

marcelluswiley Marcellus Wiley
Not a bad day when you can hang with Dr. J #sportsnation http://t.co/CBY5X5iqv7
1 day ago

marcelluswiley Marcellus Wiley
Hey Kickers, once you kick the ball & try to make a tackle, you are now a defender & I've never heard of a 'Defenseless Defender' #NoFineNFL
2 days ago