SportsNation Blog Archives

Ian Kinsler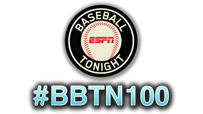 How do the top second basemen in Major League Baseball stack up? That question has been answered by our experts in the first installment of the Baseball Tonight 100 (#BBTN100), a project to rank the top players across all 30 teams. We'll reveal a new position each day and unveil the overall 1-100 rankings on March 27.
Do you agree with the experts' take on second basemen? Simply click on the images of the top 10 below to submit your ballot.


Rank: #BBTN100 Top Second Basemen
Robinson Cano

Robinson Cano
Seattle Mariners
BBTN Rank: 1
Aaron Hill

Aaron Hill
Arizona Diamondbacks
BBTN Rank: 10
Howie Kendrick

Howie Kendrick
Los Angeles Angels
BBTN Rank: 9
Ian Kinsler

Ian Kinsler
Detroit Tigers
BBTN Rank: 4
Jason Kipnis

Jason Kipnis
Cleveland Indians
BBTN Rank: 3
Dustin Pedroia

Dustin Pedroia
Boston Red Sox
BBTN Rank: 2
Brandon Phillips

Brandon Phillips
Cincinnati Reds
BBTN Rank: 7
Chase Utley

Chase Utley
Philadelphia Phillies
BBTN Rank: 6
Neil Walker

Neil Walker
Pittsburgh Pirates
BBTN Rank: 8
Ben Zobrist

Ben Zobrist
Tampa Bay Rays
BBTN Rank: 5
Your Rankings
1.

2.

3.

4.

5.

6.

7.

8.

9.

10.

USA TODAY Sports
Trade: Prince Fielder to Rangers
A big trade hit baseball on Wednesday night, and when we say "big," we don't just mean the implications. The Detroit Tigers' Prince Fielder, one of MLB's more sizable stars, is moving to the Texas Rangers, along with $30 million, in exchange for second baseman Ian Kinsler. The deal on the field seems like a win for Texas; they get Fielder, still a solid hitter even if his power has waned of late, and also clear a spot for promising youngster Jurickson Profar. But Detroit saves more than $70 million, potentially allowing them to sign reigning Cy Young winner Max Scherzer.