SportsNation Blog Archives

Detroit Tigers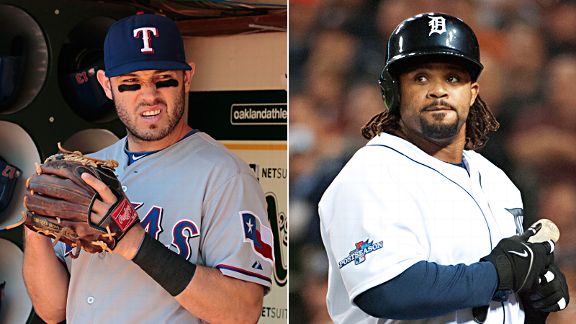 USA TODAY Sports
Trade: Prince Fielder to Rangers
A big trade hit baseball on Wednesday night, and when we say "big," we don't just mean the implications. The Detroit Tigers' Prince Fielder, one of MLB's more sizable stars, is moving to the Texas Rangers, along with $30 million, in exchange for second baseman Ian Kinsler. The deal on the field seems like a win for Texas; they get Fielder, still a solid hitter even if his power has waned of late, and also clear a spot for promising youngster Jurickson Profar. But Detroit saves more than $70 million, potentially allowing them to sign reigning Cy Young winner Max Scherzer.
For the second straight year, traditional numbers beat out advanced metrics on the American League Most Valuable Player ballot, with the Detroit Tigers' Miguel Cabrera receiving the award over Mike Trout of the Los Angeles Angels. The scrape played out differently in the National League, where the Pittsburgh Pirates' Andrew McCutchen -- he of better modern numbers (but also more team wins) -- beat Paul Goldschmidt of the Arizona Diamondbacks. Do you agree with the picks?

---

AL MVP?

Miguel Cabrera posted dazzling traditional numbers (.348 avg., 44 HRs, 137 RBIs) on a winner, while Mike Trout offered a better WAR.

---

NL MVP?

Andrew McCutchen won the WAR with Paul Goldschmidt, but didn't slug as well (the latter had a 36-21 edge in homers and 125-84 in RBIs).

---

Who's No. 1?

Could a 22-year-old really be the premier player in the sport? Or is one of the MVPs better?

The Detroit Tigers' Max Scherzer won the American League Cy Young Award on Wednesday. In the NL, the Los Angeles Dodgers' Clayton Kershaw took the honor. Neither is a big surprise, though, as each had a stellar season while leading his team to a division title.

Can you name the previous 10 recipients in both leagues? We'll give you a hint: One of Wednesday's winners is not a first-timer.

More games from ESPN Arcade »

AP Photo/Matt Slocum

Jim Leyland leaves the Tigers

Jim Leyland managed the Detroit Tigers to two World Series appearances in eight years, but now they'll have to move forward without him. Leyland, who won a World Series as manager of the Marlins, reportedly will step down today, two days after Detroit was eliminated in the ALCS. The team is still loaded, but the core group hasn't been able to get over the hump yet. Losing Leyland might make things that much more difficult.

AP Photo/Paul Sancya

Sox one game from World Series

One night after watching a huge second inning propel the Detroit Tigers, the Boston Red Sox heated up for their own big second frame, going up 3-0 in an eventual 4-3 win. They never trailed. Now Boston stands one win away from the World Series -- but the Red Sox must get past Detroit hurler Max Scherzer first.