SportsNation Blog Archives

LaMarcus Aldridge
It's been an eventful 24 hours for Chris Paul.
In Tuesday's loss, the Los Angeles Clippers guard got victimized by a sick Stephen Curry move, to which even CP3 tipped his figurative cap.
During Wednesday's win, Paul got into the following scuffle with Portland Trail Blazers center Chris Kaman, which started with a hit by Paul below the belt. Accidental? You be the judge.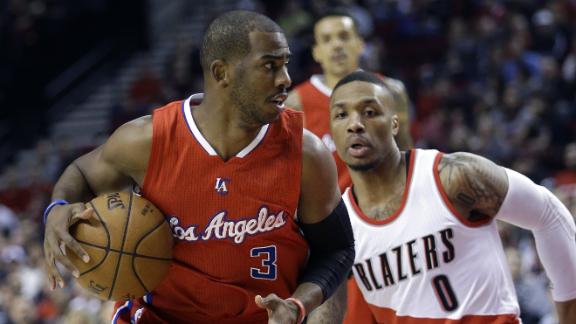 Kaman drew a flagrant foul for shoving Paul, which itself drew the attention of Glen "Big Baby" Davis. This led to a slight tangle-up with LaMarcus Aldridge, during which Davis, shall we say, embellished things just a bit.
After the game, Paul addressed the scuffle -- but didn't exactly think a whole lot of it:
This is going to be some Western Conference playoffs.
LaMarcus Aldridge goes off
Normally, it would be worth talking about a 32-point, 17-rebound performance from Dwight Howard, but not today. Instead, we're marveling at LaMarcus Aldridge scoring 31 points and grabbing 25 rebounds in a 111-104 win over the Rockets. Aldridge has really come into his own this season; through 23 games, he's averaging 23.5 points and 10.6 rebounds per game, both far above his career averages. If he keeps this up -- and the Trail Blazers remain atop the tough Western Conference -- he might be in line for the NBA's top award.
AP Photo/Matt York

Just how good are Trail Blazers?

While their neighbors to the north were making noise in the NFL, the Portland Trail Blazers stepped up themselves Monday night, beating the previously one-loss Indiana Pacers 106-102 -- on the second night of a back-to-back. For those not paying attention, that pushes Portland to 15-3, with two of those losses, strangely, coming against the 9-8 Phoenix Suns. Are these Pacific Northwesterners legit contenders in the Western Conference?

Sam Forencich/NBAE/Getty Images

NBA 5-on-5: Trail Blazers

They've got reigning NBA Rookie of the Year Damian Lillard. They've also got a potentially disgruntled LaMarcus Aldridge, and a supporting cast with as many questions as answers. Which makes one ponder: What exactly will we see from the Portland Trail Blazers this season? The NBA 5-on-5 guys had their say and now it's time for SportsNation to weigh in.