SportsNation Blog Archives

Ricky Williams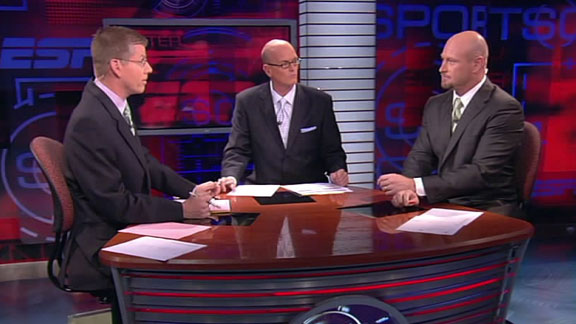 It's not that the Dolphins didn't have a passing game in Monday's win against the Jets. Chad Henne completed 20 passes and put balls where even Ted Ginn Jr. couldn't drop them. Heck, Ronnie Brown had half as many completions as the Browns' Derek Anderson did Sunday. But it's not images of Chad Henne that are casting doubts on SportsNation's contention last week that the Jets were the eighth-best team in the league. (Even if 77 percent of SportsNation is convinced Henne is the guy the Dolphins can build around).
No, Monday's lasting image was Rex Ryan's vaunted defense getting pushed around, specifically by Ronnie Brown, Ricky Williams and the Wildcat offense.
So what's a more miserable way to spend three hours watching football -- knowing there's nothing your defense can do to stop a guy like Peyton Manning from picking you apart through the air or watching Brown and Williams (or Adrian Peterson -- did we mention he's chatting today at 12:15 ET?) churn up yards and clock?
From posing in a wedding dress with Mike Ditka to one of the 12 most prolific rushing seasons in NFL history to the CFL and back again, Ricky Williams has authored arguably the most interesting careers in memory.
But after suggesting he'll retire again at the end of his latest contract extension (negotiated without an agent, of course), can we say Williams had a great career?
Eagles fans booed when their team picked Donovan McNabb ahead of Williams in the 1999 draft, but the former Longhorn wasn't even the first running back selected, courtesy of the Indianapolis Colts and Edgerrin James. More than a decade later, both are backing up younger runners, but will either or both make it to Canton?
"

The only thing missing from RW's stats is a NFL title. Other than that, he will be considered in the mix with the best when discussing the greats. The only thing that could possibly keep him outside the looking glass is if anyone wants to throw his personal issues in the hat to gauge his worth to the NFL.

"

-- raske42