SportsNation Blog Archives

North Carolina State Wolfpack
Colt McCoy has thrown five interceptions in four games. Tim Tebow has completed 19 passes against non-FCS opponents. And yet it's not all that easy to argue against the two of them splitting all 15 first-place votes in this week's ESPN.com Heisman Watch.
SportsNation tried to branch out in its rankings last week, giving the Heisman nod to Cal running back Jahvid Best, only to see him go silent in a bad loss at Oregon. Voters also ranked Jacory Harris third a week ago, ahead of McCoy. Miami's quarterback rewarded that faith by floundering at Virginia Tech.
So will this be strictly a two-person race, or is there room for more at the top?
Chaz (Chicago)
Is it possible that Jimmy Clausen is underrated? His numbers are amazing. His performance has been top drawer in every game this year. And he's proving to be one tough competitor playing w/ a tough injury for QBs. Yet, no one is talking about him for the Heisman-- when he should be in the conversation.
Mark Schlabach
He earned a lot of my respect Saturday night by going back into the game with the toe injury and throwing the winning TD. His numbers have been great. He'd probably be in my top five today, but the Irish couldn't lose another game for him to stay there. Full transcript.
"

Mardy Gilyard for heisman, how many diffrent ways does the kid has to score to get some heisman buzz. Do they want him to teleport to the endzone? He is by far the most exciting player to watch since young & bush.

"

-- lazarre11
"

Tebow has less than impressive numbers and is a runaway Heisman favorite? The Gators would be dominant with or without him. He is getting far too much credit for the talent around him.

"

-- bodhisamaya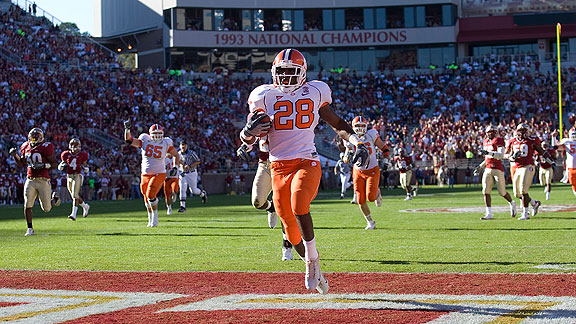 ESPN.com's college football writers and bloggers will be going conference by conference in the coming weeks to preview the season ahead, and we're looking for your rankings along the way. Things roll on with the ACC, where blogger Heather Dinich's rankings suggest an injury to running back Darren Evans may not prevent Virginia Tech from maintaining control.
1. Virginia Tech
2. Georgia Tech
3. Florida State
4. NC State
5. North Carolina
6. Miami
Check out Dinich's complete ACC rankings.