SportsNation Blog Archives

Tom Brady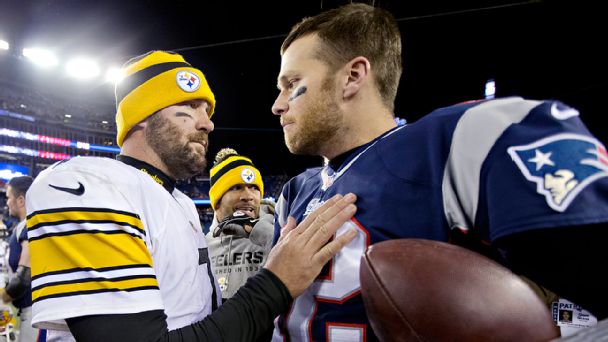 Matthew J. Lee/Getty Images
Big days for Ben and Brady
Sunday was a big day for multiple Super Bowl-winning quarterbacks from the AFC. Tom Brady went 30-for-35 with 354 yards and five touchdowns in the New England Patriots' 51-23 win over the Chicago Bears. Ben Roethlisberger had an even more memorable day, becoming the first QB in NFL history to notch a second 500-yard passing game (he went 40-for-49 with 522 yards and six touchdowns in a 51-34 win over the Indianapolis Colts). Not bad for a pair of players whose teams were considered done just weeks ago.
September 29, 2014

Sep

29

Dilip Vishwanat/Getty Images

End of Patriots' success?

Since 2001, the New England Patriots have been a portrait of consistent success. Just one season with fewer than 10 wins. Just two seasons outside the playoffs. Five Super Bowl trips. Three Super Bowl wins (albeit none since 2004). So when said team falls behind 41-7 to a Kansas City Chiefs squad that three weeks earlier lost 26-10 to the Tennessee Titans ... one tends to notice. Bill Belichick's and Tom Brady's squad hasn't quite been the same since losing the Super Bowl in the 2011 season, but could Monday's 41-14 loss be the tipping point?