SportsNation Blog Archives

Miguel Montero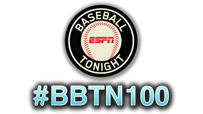 How do the top catchers in Major League Baseball stack up? That question has been answered by our experts in the latest installment of the Baseball Tonight 100 (#BBTN100), a project to rank the top players across all 30 teams. We'll reveal a new position each day and unveil the overall 1-100 rankings March 27.
Do you agree with the experts' take on catchers? Simply click on the images of the top 10 below to submit your ballot.


Rank: #BBTN100 Catchers
Yan Gomes

Yan Gomes
Cleveland Indians
BBTN Rank: 8
Jonathan Lucroy

Jonathan Lucroy
Milwaukee Brewers
BBTN Rank: 9
Russell Martin

Russell Martin
Pittsburgh Pirates
BBTN Rank: 10
Brian McCann

Brian McCann
New York Yankees
BBTN Rank: 3
Yadier Molina

Yadier Molina
St. Louis Cardinals
BBTN Rank: 2
Miguel Montero

Miguel Montero
Arizona Diamondbacks
BBTN Rank: 7
Salvador Perez

Salvador Perez
Kansas City Royals
BBTN Rank: 4
Buster Posey

Buster Posey
San Francisco Giants
BBTN Rank: 1
Carlos Santana

Carlos Santana
Cleveland Indians
BBTN Rank: 6
Matt Wieters

Matt Wieters
Baltimore Orioles
BBTN Rank: 5
Your Rankings
1.

2.

3.

4.

5.

6.

7.

8.

9.

10.

A backlash against Yasiel Puig?
Yasiel Puig is exceptionally good at baseball. This much is not in dispute -- the man is hitting .394 and keeps doing the kind of things that would have inspired whispered legends before the days of Internet video. Anyone who's this good this fast is bound to experience a pushback, however, and it appears to have already started for Puig. Miguel Montero (appropos of nothing, currently hitting .219) criticized him for being aloof and said he was creating a bad reputation around the league. Is it all just sour grapes?