SportsNation Blog Archives

Joey Votto
Reds All-Star first baseman Joey Votto will miss 3-4 weeks with a torn cartilage in his left knee. Will Cincinnati, leaders of the NL Central, have a winning record without their best hitter in the lineup?
BigBlueMachine8: "27 of the Reds' next 30 games are agains sub .500 teams. Reds will be fine. Plus they got Todd Super Frazier."
pastelpaul: "'Tough break for Reds, because Votto is the ONLY reliably dangerous player in their lineup. He's an awesome clutch hitter and true MVP-type player. Who else do they have? Time for Pirates to get hot and get a lead. Go Bucs!!"
The Land Shark: "I wish nothing but a full recovery for Votto. As for our playoff chances, I think we still have a chance to get there. We have great players like Phillips, Bruce, Rolen, Stubbs, Cueto, Bailey, Latos, and Chapman to help us."
BURNER8585: "Reds are screwed. Their only offensive player just went down, now the Reds will slip into 4th-5th place in that span. BOOK IT."
RedsLvr21: "Even without Votto, the Reds are a better team than anyone they face during his absence, including the Pirates."



Join the conversation or respond by signing in or creating a profile and blogging.
The Reds have locked up Joey Votto for the next decade, signing the young slugger to a 10-year, $225 million extension. Did they give him too much money for his production?
sharkey5885: "it's nice to see another star lined up in a Reds jersey for the long haul. It's also great that a smaller market can keep their superstar."
UI571: "Reds just shot themselves in the foot, they are not going to sign these players to long term deals (bruce, stubbs, phillips) They can't even afford this contract to begin with."
snoogins51fu: "These massive contracts are great for the players that get them, but these 7-10 year deals aren't necessarily good for the teams that make them. Tying that much money to one player for the next decade is silly."
dodgertodd88: "Glad he's staying with the Reds. But 10/225m is enough for two Joey Vottos, in dollar amount and years."
buckywaters1: "So almost 30% of the payroll dedicated to one player.... Good luck in the future reds fans."
mavericksfan071: "as a fan of baseball I'm happy for him and the Reds. Votto just seems like an all around great guy. Will be cheering for him as long as it is not agaisnt the Rangers!"



Join the conversation or respond by signing in or creating a profile and blogging.
---
Where will Fielder sign?
Prince Fielder's reign in Milwaukee will likely come to an end soon, as the free agent has been rumored to be meeting with the Nationals. Will 2012 find him hitting home runs in Washington?

---
Fielder's rank?
Fielder's hitting prowess is beyond question, but it's a pretty good era for first basemen. Is he really one of the best in baseball?

---
Fielder or Votto?
Teams looking for a first baseman of the future have two attractive options: sign Prince Fielder now, or wait two years and go after the Reds' Joey Votto. Who would you go for?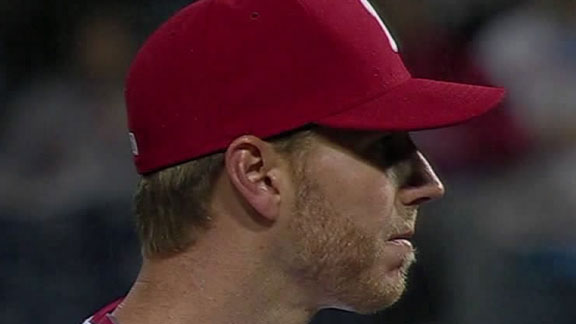 Unlike the increasingly heated AL Cy Young debate, the NL MVP seems like a bit of a foregone conclusion. Albert Pujols is doing what he usually does, but the Cardinals aren't going to the postseason. The Rockies made a run, but without a playoff berth, neither Carlos Gonzalez nor Troy Tulowitzki appear likely to pick up enough votes. Joey Votto, on the other hand, ranks second in batting average and third in home runs and RBIs for a team going to the playoffs for the first time in 15 years. That's what we call an MVP resume.
But what about Roy Halladay?
The Phillies ace is close to a lock for NL Cy Young, but does he belong in the MVP debate? No National League pitcher has won the award since Bob Gibson in 1968, but five AL pitchers won MVP more recently than that. So has Votto really created more wins for his team than Halladay has for his?
Rick (Philly)
Should Halladay get some MVP consideration? He is the best player on the best team in the NL
Rob Neyer
The MVP has unofficially been redefined to exclude starting pitchers who don't win 25 games, and of course nobody wins 25 games anymore. Based purely on wins and losses and impact on pennant races, Halladay is obviously a wonderful candidate. And he won't finish in the top 5. Full transcript
Derek (Toronto)
Hi Jerry, i've had the pleasure of watching Roy Halladay pitch from day one and to see him get the recongition and accolades he deserves is great. However, what he has done this year doesn't come as a surprise to those of us who followed him his whole career. He has preformed this well year in and year out but while he was in Toronto it seemed like he always took the back seat to other pitchers ie. Johan Santana. Do you think the fact that he played in Toronto is the reason he didn't get all the fanfare that he's getting now?
Jerry Crasnick
Derek, Part of it was playing in Toronto, and part of it is his media-shyness. Halladay is a good guy, but he's so busy watching video, lifting weights, doing stretching and cardio and all the other stuff he needs to prepare, he's almost invisible in the clubhouse. He doesn't reveal a whole lot of himself for public consumption. That's never been a priority for him, and it never will be. Full transcript