SportsNation Blog Archives

Hunter Pence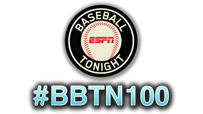 How do the top right fielders in Major League Baseball stack up? That question has been answered by our experts in the latest installment of the Baseball Tonight 100 (#BBTN100), a project to rank the top players across all 30 teams. We'll reveal a new position each day and unveil the overall 1-100 rankings March 27.
Do you agree with the experts' take on right fielders? Simply click on the images of the top 10 below to submit your ballot.


Rank: #BBTN100 Top Right Fielders
Jose Bautista

Jose Bautista
Toronto Blue Jays
BBTN Rank: 4
Carlos Beltran

Carlos Beltran
New York Yankees
BBTN Rank: 8
Ryan Braun

Ryan Braun
Milwaukee Brewers
BBTN Rank: 1
Jay Bruce

Jay Bruce
Cincinnati Reds
BBTN Rank: 7
Jason Heyward

Jason Heyward
Atlanta Braves
BBTN Rank: 5
Wil Myers

Wil Myers
Tampa Bay Rays
BBTN Rank: 6
Hunter Pence

Hunter Pence
San Francisco Giants
BBTN Rank: 10
Yasiel Puig

Yasiel Puig
Los Angeles Dodgers
BBTN Rank: 3
Giancarlo Stanton

Giancarlo Stanton
Miami Marlins
BBTN Rank: 2
Jayson Werth

Jayson Werth
Washington Nationals
BBTN Rank: 9
Your Rankings
1.

2.

3.

4.

5.

6.

7.

8.

9.

10.

The Phillies have begun trading off some of their component parts, sending Hunter Pence to the Giants and Shane Victorino to the Dodgers before the trade deadline. Which outfielder will have a bigger effect on the National League West pennant race?
dm_schulte: "Love this move by the Dodgers. Gives us a lot of versatility in our lineup. Also liked getting League from the Mariners. Another hard throwing righty to shorten the game."
mrbez27: "I'm staying in my seat when they introduce Victorino. He needs to make an impact to ease my hatred for him. He was the only player I felt the urge to boo at ballgames."
RonTuna: "Victorino will ROCK with the winning Dodgers. Pence won't hit squat in huge Giants yard vs. Philly short porches and short right field."
There is no crying in ESPN: "finally someone to get the Giants over the offensive hump. Pennant anyone?"
KB358: "Pence has 17 home runs in 400 at bats, which means he averages about 1 home run a week, the Giants need a lot more power than that."



Join the conversation or respond by signing in or creating a profile and blogging.