SportsNation Blog Archives

Brady Quinn
Tim Tebow may have fallen way down the depth chart for the Denver Broncos, but for fans on Monday night, he was No. 1 in their hearts. Broncos players are starting to get irritated over the debate between Tebow and Kyle Orton (and, nominally, Brady Quinn, although we doubt anyone's taking him seriously as an option. Still, No. 2 on the depth chart!), and it looks like Denver has a legitimate quarterback controversy on its hands.
Vote: Where will Tim Tebow have the brightest future?
"Orton didn't do entirely bad. You can't blame too much on him when the running game could only produce 38 yards of offense. No-gain Moreno was terrible. McFadden saved us late in the game and Janikowski's bomb of a field goal kept us ahead." -- SN commenter rvidaurr
"No one debates Kyle Orton as a top 10 quarterback, but honestly, Tom Brady couldn't have won that game. The offense line play was horrid and Denver straight out abandoned the running game" -- SN commenter blingmojo27
---
Who should start for the Broncos?
The options are as follows: Kyle Orton, Brady Quinn, Tim Tebow. Orton has the experience, Tebow the pedigree. Quinn is an unknown factor.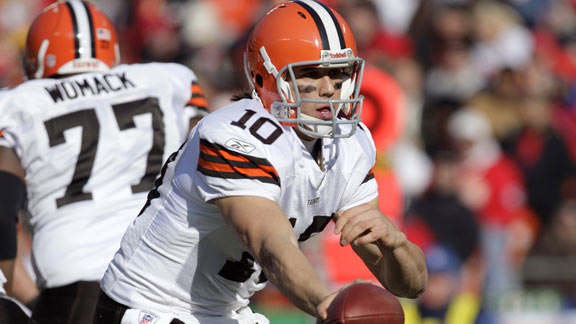 Not many people can pull off a neck beard and successfully play quarterback in the National Football League. Actually, let's reword that: Not many people can pull off a neck beard, period. As Dr. Aaron Perlut (a friend of SportsNation) would put it, beards are compromises for those not committed enough to wearing a mustache.
Obviously, Dr. Perlut has never met Kyle Orton. He's been able to do both quite well in the past year, heading a surprisingly competitive Broncos squad and rocking a thick and extensive beard. The Broncos don't seem to be totally confident in him, however, as they've acquired clean-shaven Brady Quinn as a backup plan. Sure, Orton is starting now, but how long will that last? For certain, he can sympathize with Marion Barber (soul patch), Flozell Adams (mustache/beard combo) and Matt Leinart (stubble). One day, you've got a starting position and a full beard -- the next, nothing. At least Orton can take solace in the fact that SportsNation sees him as the starter for the majority of the Broncos' games this season. Is that the right choice?
"

Look Orton wasn't the total problem with this team, his numbers speaks for themselves...had the running game been a lil better and the D played a lil better no one would have questioned Orton ability...I think his arm decent to throw downfield had McDaniels allowed him too (see Redskins game to Marshall). Quinn is only an upgrade of Simms who stunk and looked terrified to be out there.

"

-- lbmore33
"

Do it. Jones starting, Barber closing. ...don't forget to use Choice.

"

-- blueliner2k3
"

Flozell is a cheap-shot tackle who only gets by on his garbage tricks. He cannot handle the better ends in the league. You will not win with his blocking.

"

-- sauce1977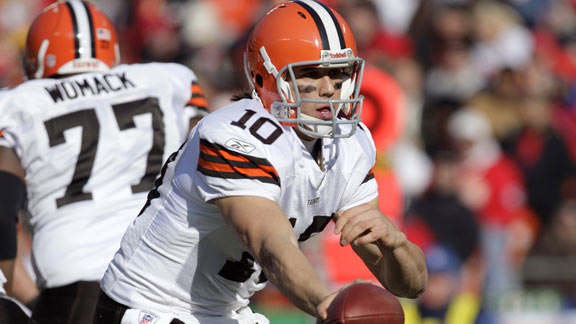 The Jets sign a future Hall of Famer in LaDainian Tomlinson, and he might not even be the best player they got from the Chargers this month. The Browns? Well, we imagine season tickets are just flying off the shelves with Seneca Wallace and Jake Delhomme in the house.
Mike Holmgren is in charge of the Browns, but a Browns fan says the faithful in Cleveland are used to channeling Norman Dale when it comes to authority figures. As in, "I would hope you would support who we are -- not who we are not." So is Eric Mangini Shooter?
"Then they traded for Seneca Wallace, who seemed to be good at little more than keeping the curtain up. Fine. A backup. All right. Then came Jake Delhomme, a veteran who's best days are likely behind him. A better backup, maybe? Put Brady on the trading block to keep him on his toes, or if someone can be duped into overpaying for him. ... But this? A sixth in next year's draft, a conditional pick in 2012 and a fullback? What are you going to get with that sixth round pick? A backup safety? That's what our hopes were worth?" -- Read SNight322's full post.
"

Statistically, Tim Couch was a better QB over his first 14 games than Quinn has been. Sad but true.

"

-- Henta469
"

LT is a much better receiver out the backfield than TJ and it would not surprise me if he gets most of the downs as the lone back on passing plays. I can only imagine how much more damage he can do given the chance to work behind the Jets O-line.

"

-- heyjacleu
Pending decisions from guys like Jimmy Clausen and Jake Locker, it remains to be seen exactly how plentiful the potential first-round quarterbacks will be in next spring's draft. But it seems safe to say it will have more to offer than the class of signal callers that came out of the 2007 draft.
Derek Anderson needed four games to complete a total of 29 passes, and it's only now that 2007 draftee Brady Quinn apparently gets another shot. JaMarcus Russell can't stop throwing interceptions and some of Trent Edwards' teammates are eager to bring in Michael Vick. Is there still hope for any of these guys, or is Kevin Kolb the class' only hope for redemption?
"

Welcome to the side show that is the Cleveland Browns. Trust me Browns fans, I know it seems bad, but it is only going to get worse. Mangini is clueless - are you sick of the "consistent" talk yet? Get him out of there before you lose next season as well. - A Jet fan

"

-- choochmmm9
Mike (Akron)
Hey Mel, if you were head of scouting for the Browns and you had 11 draft picks in the upcoming draft, how would you fix this team? Where would you start first?
Mel Kiper
First you have to assess the QB situation. Hopefully Brady Quinn will start the remaining of the season. You have 8 games left. See what you have in Quinn. You know what you have in Anderson. You have to see what Quinn has. He's been called too strong, too powerful to be an accurate consistent thrower. He needs a chance to prove that wrong. They need to develop some WRs. They need help on the defensive side of the ball. With the picks, you try to mortgage them for more. I'm a fan of moving down and getting more. They also need an heir apparent to Jamaal Lewis. Obviously, these young receivers, they need to develop the ones they drafted last year. Secondary help. Front seven help. The biggest thing this organization has to figure out is if Brady Quinn is the QB moving forward. The only way to find out is to play him. Full transcript
We're going to go out on a limb and suggest firing Phil Savage wasn't the best move the Browns could have made after last season. True, we don't know Phil Savage from Phil Spector (other than that Savage is the one who isn't incarcerated) or the stunningly bad musical catalogue of Savage Garden. But the product in Cleveland without Savage stinks. And as Eric Mangini takes time away from fining people for bottled water mistakes to bench Brady Quinn, SportsNation turned to a pair of experts to figure out what went wrong.
CJ (Michigan)
Hey Mort!! What are your thoughts on the Browns quarterback situation?
Chris Mortensen
I think Derek Anderson and Brady Quinn can both be quality starting QBs, but a lot of people question the scheme. Bottom line - Browns owner Randy Lerner shot himself in the foot by firing GM Phil Savage. He was very capable in personnel and had a plan. Good franchises don't panic like Lerner did. And then you compound it by maybe making the wrong hire. It's not the quarterbacks, not at all. Full transcript
Alan (East Lansing)
Do you think it was a strike?
Mel Kiper

Oh boy, that's a great question. I think they have some major issues. I think this: The big mistake was completely changing the organization. Phil Savage is a great friend of mine and is one of the best evaluators in the NFL. He's done a great job. They were well on their way. Last year, they had a ton of problems. Phil inherited Kellen Winslow. They had a ton of injuries last year. To pull the plug on the organization that was just putting his imprints on this team. To cut the cord on Phil Savage was mind boggling to me.
Obviously, with Romeo Crennel, there were some questions if he was the right man for the job. All of that and the shift away from the Phil Savage regime is what you have now. Phil drafted Brady Quinn. I've said before that if the coach and GM are no longer there who drafted you, you're all by yourself. That's dangerous for the QB. You didn't draft him. You don't have confidence that he's the right man for the job. When you pull the plug on Phil Savage, you pull the plug on Brady Quinn. Now Derek Anderson is the QB. He's a guy that Savage had in Baltimore. Full transcript
Has a quarterback controversy ever gone on for this long? It seems like we've been asking "Brady Quinn or Derek Anderson? Anderson or Quinn?" ever since young Brady was drafted. You could practically set your watch by it at this point.
Still, as we are all sports fans, the bare fact that this is still an issue means that we are bound to debate it. To wit: In August, it was Quinn. In May, it was Quinn. In March, it was Quinn. Back in November, it was still Quinn.
So, Eric Mangini, the question is: Are you a man of the people? Will you heed their cries and start Mr. Brady Quinn, now and for the foreseeable future? Or is it as we feared? Are you an autocrat whose word is law? If so, that's cool. We think that's in the job description for "NFL head coach."
"

I realize that most of the time once they choose they stick w the same guy but in this situation.. Play both.. Unless one Truely stands out significantly more consistant and better in the entire Preseason.. play them both 1 half at a time..

"

-- CLIPTNYTE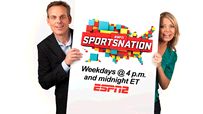 Michelle Beadle and Colin Cowherd think "SportsNation" TV fans and detractors should voice their opinions on billboards in Bristol.
Argue the hot topics of the day and vote on the biggest stories from the world of sports. The show airs on ESPNEWS at 4 p.m. and ESPN2 at midnight ET.
Note: Broadcast voting results as of this afternoon (ET).

What do you think of Devin Aromashodu sending flowers to Bears coaches?
The wide receiver may be buttering up coaches in advance of final cuts, but last time we checked, cupcakes might be a better bribe for many headset wearers.
Do you approve or disapprove of Roger Goodell's handling of Michael Vick?
The commissioner is expected to let the Eagles know by Saturday when their backup quarterback will be eligible to play this season.
Whose side are you on?
Are you siding with Notre Dame coach Charlie Weis or the critical fans who bought a billboard near campus to express their displeasure?
Who should start for the Browns at quarterback?
Coach Eric Mangini hasn't named a starter. Brady Quinn, Derek Anderson and the entire fan base wait expectantly for the intrigue to be resolved.
Would you let Shaq spank you on your birthday?
In a hands-on interview, Shaq administered the birthday spanking for radio host "Money" from the "Petros & Money Show."
What is "SportsNation" TV, and how do you make your voice heard? Read about the new ESPN show that features fan opinions with calls, tweets, polls, rankers and more.
It's one thing to look good throwing passes in seven-on-seven drills or posing in the pocket while wearing a red jersey (we see you, Matt Stafford). Any quarterback can look good in a red jersey -- well, maybe not Jared Lorenzen.
The real test for a quarterback trying to earn a starting job comes when the whistle blows for real and defensive linemen are trying to do things to him that would make Brock Lesnar wince. And you thought preseason games were a waste of money. Well, actually, you're right about that, but they do play a role in settling quarterback duels.
While the opening exhibition game between the Titans and Bills didn't offer much in the way of quarterback drama (no matter what Vince Young thinks), the first full weekend of games will be a different story. One of the biggest auditions comes with Brady Quinn, Derek Anderson and the Browns visiting Lambeau Field. SportsNation ranked Quinn No. 2 when it came to quarterbacks battling for jobs, behind only Oakland's Jeff Garcia. The bad news for the former Golden Domer is voters also ranked Anderson No. 3.
Hey, look at that. A post about quarterbacks that didn't mention Brett Favre or Michael Vick ... until now. Our bad.
"

I was never a huge Sanchez fan until he started coming into the restauraunt that I worked at as a night job. He is the most respectful and mature kid out of any football player I have seen come out of college in years. Im not just saying that because I have met him a few times. Im saying that because anyone who is in his shoes now a days seems to get soooooo big headed and lose focus of why they are where they are. I did not get this vibe from Sanchez at all.

"

-- jryanfrink
"

Rosenfels is HANDS DOWN better than T Jackson. If Childress will swallow his ego and let him start the Viks will win the division, if not then I feel Green Bay will win the division. Cutler is a spoiled baby and it will take him two years (at least) to become a man in the NFC North.

"

-- 3hypocycloids4cusps
Some quarterback battles are worthy of Bruce Lee. Others more closely resemble Larry, Moe and Curly. But through it all, we're talking about summer entertainment. And when the other option is figuring out which punter a team will go with, we'll go with the contrived quarterback drama, thank you very much.
Browns coach Eric Mangini says he doesn't have a timetable for naming a starting quarterback. And the truth of the matter is that it probably doesn't really matter whether Mangini decides to start Derek Anderson or follows SportsNation's advice and goes with Brady Quinn when the Browns open the regular season at home against the Vikings (and their own quarterback to be named later).
Pick the right guy and maybe the Browns go 8-8. Pick the wrong guy and maybe they go 4-12 again. By December, people on the shores of Lake Erie may all be talking about Colt McCoy or Sam Bradford anyway.
But at least the Browns are choosing from two seemingly viable options, if only compared to how voters feel about the battles in Minnesota (Tarvaris Jackson and Sage Rosenfels) and San Francisco (Alex Smith and Shaun Hill).
"

Mangini will be under alot of presser. I think he goes w/ Quinn, because Mangini will get less grief is he doesn't work out compared to going with Anderson.

"

-- justsandmann
"

has this ever worked? waiting until the last minute to decide on a starting qb? they must have their reasons, but if i was a browns fan. i would want this figured out and soon..

"

-- jaredlawson