SportsNation Blog Archives

Adrian Peterson
It must be frustrating as a superstar athlete to be stuck on a bad team. You might put up stellar statistics and dominate every game, but your best efforts are buried as the rest of your team gets run over. That has been Adrian Peterson's life for much of his NFL career, and although he doesn't want to go to another team, he says he would understand if the Vikings decided to trade him for draft picks. It might not be a bad idea for Minnesota. Its 2-7 record means its playoff hopes this season are pretty much nil, and a fresh start could do wonders for both sides.
Here's a sampling of what readers had to say in our Facebook conversation on the story:
Luke Tufte: "Trading AP would be the dumbest move...he can practically carry the team by himself...just need a QB and some work done to the defense."
Dan Blumhoff: "Peterson is the heart and soul of the Vikings, I would hope this is all just media speculations and that Spielman and Wilf have not actually considered trading him."
Brian Lammyeaux: "Team turnarounds can happen very very quickly in the NFL. The Vikings did it themselves last year before regressing this year and just look at KC. You get a good coaching staff and draft a QB and this team has the weapons to be very good. He shouldn't leave Minnesota just because of one bad year. He isn't going anywhere so people can just keep dreaming."
John Warmkessel: "Take a guess on when the last time a team built around a running back has won anything in the NFL. You might need to look this one up, I'll wait. Hopefully AP will jump ship and get a chance to win something before he retires."
David L. Mosher: "AP's gotta bail on Minnesota if he wants to get a ring or two. Go for broke with the Patriots or Broncos. Seattle and San Fran are pretty much good to go."
What do you think? Leave your comments below.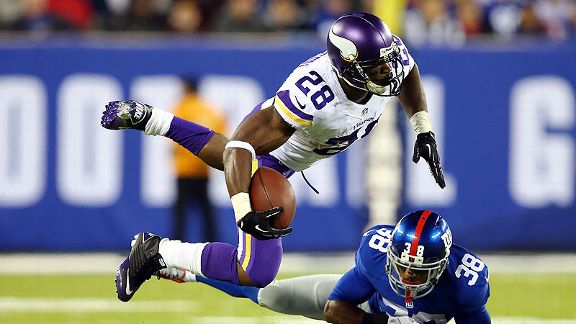 Elsa/Getty Images
Peterson's injury a big deal?
Quarterback carousel aside, another thing appears to be plaguing the Minnesota Vikings: Adrian Peterson's hamstring, which he says has been ailing him for more than a month. The reigning MVP and 2,000-yard rusher doesn't expect to miss time, but he seems to have been slowed by the whole thing (just 511 rushing yards in seven games). Will he bounce back? Is a top ball carrier even that critical in today's NFL?
US Presswire

NFC North Preview -- 2013

Adrian Peterson ran all over the NFL. Calvin Johnson caught everything. But the Green Bay Packers emerged on top of the NFC North last season. Will Aaron Rodgers & Co. do it again? And will those superstars match their production from a year ago?

More: NFC East | NFC South | NFC West | AFC East | AFC North | AFC South | AFC West

Compensation for college athletes?

Two defenders have emerged in the Johnny Manziel autograph scandal: Texas A&M chancellor John Sharp and Vikings running back Adrian Peterson. Both made the point that they think college athletes should be allowed to earn money off their names and through other methods. The NCAA holds up the amateur status of its athletes as an important factor, but considering the amount of money it makes off said athletes' performance, that argument might not hold water for much longer.

Adrian Peterson came tantalizingly close to breaking Eric Dickerson's single-season rushing record last season, but he's not paying attention to that this year. Peterson said that his goal in 2013 would be to rush for 2,500 yards -- a full 395 yards past Dickerson's record of 2,105. Peterson would have to average 156.25 yards rushing per game to accomplish that goal -- he managed 131 per game this past season. It won't be easy, but neither was coming back less than a year after reconstructive knee surgery, and that worked out pretty well for him.

ughleft: "I wouldn't want to be the one to tell AP that he can't do something. Guy is a monster. 2500, probably not, but he will break the record."
kyleharris55: "AD might be even more dangerous if the Vikings had more of a passing threat. Defenses wouldn't be able to defend the run every play like last season."
Gruden_Grinder: "With today's NFL... I think we'll see a QB throw for 6,000 yds before a RB runs for 2,500 yds."
Aaron Rodgers OMG: "Good luck with 2,500 yards. You won't even come close to it. Huge let down year for Peterson."
Cam Newtons Suggestion Box: "I hope he does it. The passing game is exciting but smash-mouth football is awesome. Need some more dynamic RBs to get the balance back a little to at least 60-40."
Jamartian: "He averaged 160 YPG over the last 10 weeks of the season. Over that time everybody knew they had no reason to focus on anybody but him and he still did it. Why does he have any doubters?"

Join the conversation or respond by signing in or creating a profile and blogging.