SportsNation Blog Archives

Patrick Willis
So the San Francisco 49ers have good linebackers -- four of the best in the league, in fact. No wonder the team finished third in the league in yards allowed per game and third in points in 2012. Where do these Bay Area aces rank among all of the league's LBs? Click the images below to set your rankings!
Rank 'Em: MVP | QBs | RBs | WRs | TEs | DLs | DBs | Offensive ROY | Defensive ROY


NFL linebackers in 2013
NaVorro Bowman

NaVorro Bowman
49ers
2012: 148 tackles, 2 sacks, FF, INT
Lance Briggs

Lance Briggs
Bears
2012: 103 tackles, 1.5 sacks, 2 FF, 2 INT
Ahmad Brooks

Ahmad Brooks
49ers
2012: 46 tackles, 6.5 sacks, 2 FF, INT
Brian Cushing

Brian Cushing
Texans
2012: 30 tackles, FF, INT
Tamba Hali

Tamba Hali
Chiefs
2012: 51 tackles, 9 sacks, FF
Derrick Johnson

Derrick Johnson
Chiefs
2012: 125 tackles, 2 sacks, 3 FF
Luke Kuechly

Luke Kuechly
Panthers
2012: 164 tackles, 1 sack, 2 INT
Sean Lee

Sean Lee
Cowboys
2012: 58 tackles, FF, INT
Clay Matthews

Clay Matthews
Packers
2012: 43 tackles, 13 sacks, FF
Jerod Mayo

Jerod Mayo
Patriots
2012: 147 tackles, 3 sacks, 4 FF, INT
Von Miller

Von Miller
Broncos
2012: 68 tackles, 18.5 sacks, 6 FF, INT
Brian Orakpo

Brian Orakpo
Redskins
2012: 5 tackles, sack, FF
Terrell Suggs

Terrell Suggs
Ravens
2012: 22 tackles, 2 sacks
Aldon Smith

Aldon Smith
49ers
2012: 66 tackles, 19.5 sacks, 3 FF, INT
Patrick Willis

Patrick Willis
49ers
2012: 120 tackles, 0.5 sacks, 2 FF, 2 INT
Lamarr Woodley

Lamarr Woodley
Steelers
2012: 38 tackles, 4 sacks, FF, INT
Your Rankings
1.

2.

3.

4.

5.

6.

7.

8.

9.

10.

11.

12.

13.

14.

15.

16.

Tags:
SportsNation Rank, NFL, San Francisco 49ers, NaVorro Bowman, Chicago Bears, Lance Briggs, Ahmad Brooks, Houston Texans, Brian Cushing, Tamba Hali, Kansas City Chiefs, Derrick Johnson, Carolina Panthers, Luke Kuechly, Sean Lee, Clay Matthews, Jerod Mayo, Von Miller, Green Bay Packers, Dallas Cowboys, New England Patriots, Denver Broncos, Brian Orakpo, Washington Redskins, Baltimore Ravens, Terrell Suggs, Aldon Smith, Patrick Willis, LaMarr Woodley
The Super Bowl XLVII matchup is set with the Ravens and 49ers squaring off in New Orleans on Feb. 3. Ray Lewis will be there for the final game of his storied 17-year career with the Ravens, as will Colin Kaepernick making just his 10th career start at quarterback for the 49ers. Throw in some top-notch wide receivers (Anquan Boldin, Michael Crabtree), tight ends (Vernon Davis, Dennis Pitta) and running backs (Frank Gore, Ray Rice) and we've got a pretty even matchup, with SportsNation giving the slight edge to the Niners. How do the best players in the Super Bowl stack up? Click the images to cast your votes.


Super Bowl XLVII players
Anquan Boldin

Michael Crabtree

Vernon Davis

Joe Flacco

Frank Gore

Colin Kaepernick

Ray Lewis

Dennis Pitta

Ray Rice

Aldon Smith


Torrey Smith

Patrick Willis

Your Rankings
1.

2.

3.

4.

5.

6.

7.

8.

9.

10.

11.

12.

We may not have the Tom Brady vs. Peyton Manning matchup in the AFC Championship Game much of SportsNation wanted to see, but both championship games are loaded with talent. Ravens linebacker Ray Lewis and Falcons tight end Tony Gonzalez are hoping to end their careers on top, 49ers quarterback Colin Kaepernick is two games away from winning a Super Bowl in his 10th career start, and Falcons quarterback Matt Ryan's 0-for-3 record in the playoffs is history after a thrilling 30-28 victory over the Seahawks. How do the best players remaining in the NFL playoffs stack up? Click the images to vote.


Super Bowl XLVII players
John Abraham

Anquan Boldin

Tom Brady

Michael Crabtree

Vernon Davis

Joe Flacco

Tony Gonzalez

Frank Gore


Julio Jones

Colin Kaepernick

Ray Lewis

Brandon Lloyd

Jerod Mayo

Dennis Pitta

Ray Rice


Stevan Ridley

Matt Ryan

Aldon Smith


Torrey Smith

Michael Turner

Wes Welker

Roddy White

Patrick Willis

Danny Woodhead

Danny Woodhead
Patriots RB
Your Rankings
1.

2.

3.

4.

5.

6.

7.

8.

9.

10.

11.

12.

13.

14.

15.

16.

17.

18.

19.

20.

21.

22.

23.

24.

Tags:
John Abraham, Matt Ryan, Roddy White, Michael Turner, Tony Gonzalez, Julio Jones, Tom Brady, Stevan Ridley, Wes Welker, Jerod Mayo, Brandon Lloyd, Danny Woodhead, Colin Kaepernick, Frank Gore, Michael Crabtree, Aldon Smith, Vernon Davis, Patrick Willis, Joe Flacco, Ray Rice, Anquan Boldin, Torrey Smith, Ray Lewis, Dennis Pitta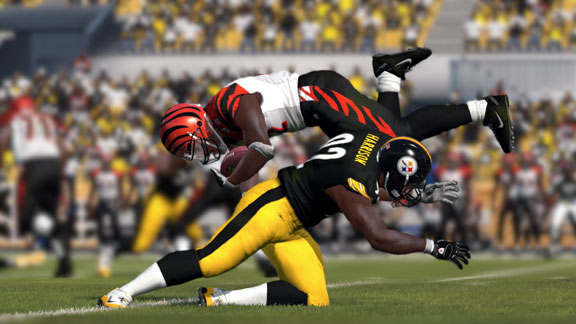 Madden ratings are often the most contentious topics in sports video games. Should Michael Vick have a 99 in agility? Which wide receiver gets top marks for speed? Is my team's linebacker tougher than your team's? All week long, SportsNation is ranking the players with the top marks at each position. Today, we're taking a look at the best linebackers in Madden 2012. James Harrison, DeMarcus Ware, and Patrick Willis all have 98 ratings, but are they Madden's best? Cast your vote now!
"Patrick Willis should def be the best linebacker in this game. He's the cornerstone of the 49ers and he's just getting into his prime. Dude should be a 99 overall" -- SN commenter CardiacCats85
"Demarcus Ware = Overrated. He is a pass rushing specialist that's all. James Harrison is better then him. Ware just got hyped for his pass rushing ability." -- SN commenter Lions20AkP
"How is Clay Matthews not higher than a 95? Should be 98 instead." -- SN commenter AELawrence80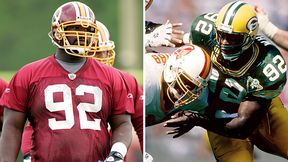 When a player who signed for $41 million in guaranteed money earlier in the year is sitting out practices and talking about normal "wear and tear" during the first week of August, well, it's not the kind of thing that will help comparisons to Reggie White. But Albert Haynesworth returned to practice earlier this week after sitting out a few rounds of training camp, averting the kind of health-care crisis that would capture D.C.'s attention more than anything on Capitol Hill.
Aside from Clinton Portis, Haynesworth is the player SportsNation feels the Redskins could least afford to lose to serious injury, no small feat of public recognition for a guy who plays on the defensive line. But if Haynesworth is the Redskins' best defensive player, is he the league's best defensive player? He's not a pure pass-rushing force like DeMarcus Ware, or a shut-down corner like Nnamdi Asomugha, but it's tough to put a guy who closes down the middle of the line anywhere other than No. 1.
"

Haynesworth is a Beast.. I don't know if I've seen one Person make such a diffeence on the defensive side of the ball, since Reggie White.

"

-- galyssa427
"

you guys paid way to much for big al watch out he's going to get injuryed right away.

"

-- titans_freak23
BEST OF THE BEST
Best dancers?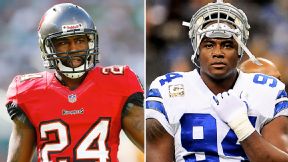 Which player has a brighter NFL future: Darrelle Revis, or DeMarcus Ware? Vote! »