SportsNation Blog Archives

Tim Lincecum
For a few years, Tim Lincecum was one of the most exciting players in baseball, a fireballing ace with long hair and an odd delivery. His fastball has petered out, however, and his struggles the past few seasons have made him something of a liability to the Giants. They're apparently counting on him turning it around, however, as the team signed him to a two-year, $35 million contract on Tuesday. The Giants listed re-signing Lincecum as one of their top priorities, but do they know something we don't?
Here's a sampling of what readers had to say in our Facebook conversation on the story:
Bill Young: "He's a below average pitcher, now. This is a terrible contract, regardless of the length. I doubt anybody else was giving him $20 million for two years."
Paul Kacera: "Clayton Kershaw has to see this and licking his chops. Forget 10 years 300 million. Aim for 500 million Clayton! And people want to know why baseball salaries keep rising. Deals like this are the reason."
Vineet Dhiman: "I'm love Lincecum, but man, this is a lot of money going to a pitcher clearly on the decline and just not pitching well. I guess the saving grace is that it's only a 2-year deal, so its no like the Giants are locked in."
David James: "As a lifelong Giants fan....this seems too high. Then again another team probably would have gave him that same amount . He did pitch decently this season(including a no hitter), but nothing like his prime. At the end of the day though good to see Lincecum still in orange , and black."
Joshua Patrick Beuregard: "I love Lincecum and hope he can regain his former dominance, but this is a boat load of money for a #4 or #5 starter!"
What do you think? Leave your comments below.
---
Worth it?
Lincecum's fastball rarely cracks 90 miles an hour these days, which limits his options and, consequently, his effectiveness.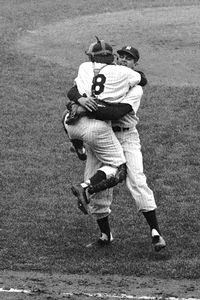 Now that we have a few days to catch our breath before the start of baseball's postseason (and thanks to the Padres for that), what are we to make of the teams still worrying about pitching rotations? Well, for the most part, SportsNation isn't exactly shocked by the playoff field.
Five of the eight active teams were ranked in SportsNation's top 10 on Opening Day, and the Giants were knocking on the door at No. 11. Only the Rangers (No. 16) and Reds (No. 23) really came out of nowhere.
But if either the Rangers or Reds are going to keep surprising, Cliff Lee and Edinson Volquez will likely need to break out their best Don Larsen impersonation. Lee rebounded from a weak August to dominate three of his final four starts, while Volquez missed the first half of the season but gets the first postseason start for the Reds after posting a 1.95 ERA in September. It's the time of year for aces to shine, but which teams have the best arms?
It took a guy flirting with a perfect game, Toronto's Brett Cecil, to prevent Ubaldo Jimenez from laying undisputed claim to Monday's best pitching line -- and Jimenez's ERA still went up after he allowed one earned run in seven innings against the Padres. After six starts, Jimenez isn't just sharing the stage with two-time defending Cy Young champ Tim Lincecum and high-profile import Roy Halladay -- he's upstaging them.
We've come a long way from the days of David Nied and Marvin Freeman.
On the flip side, Monday's game marked the third time in four games that Jimenez has thrown at least 120 pitches, and the fourth time in five games he reached at least 115. So putting aside Tim Tebow, is Jimenez's arm the one Denver fans should worry about? Vote!
Jerry Crasnick
Coug, For what it's worth, I picked Adam Wainwright as my NL Cy Young this year (over Roy Halladay, believe it or not). The guy is a horse. Full transcript
Rodney (Philadelphia)
Hamels seem to be struggling alot early on in the season. He's making the same mistakes he was last year and he's getting hit just like he was last year. Is it his head or did the 2008 season blow his arm out?
Jayson Stark
Blow his arm out? There are only a handful of pitchers in the whole sport who have gotten a higher percentage of swings and misses than he has this year. He's gotten more than Ubaldo Jimenez, more than Felix Hernandez. So his stuff is still great. It's how he's used it that's been the problem. He's still fiddling with how to incorporate the cutter and curve ball. So get back to me in two months on this. Full transcript
Tim Lincecum won the National League Cy Young for the second consecutive season, just as SportsNation voters suggested he should at the All-Star break and after the season.
So why are Chris Carpenter and Javier Vazquez at the center of a Cy Young controversy?
Lincecum won a close vote, edging the Cardinals duo of Carpenter and Adam Wainwright. That's noteworthy because two voters, including ESPN.com's Keith Law, didn't include Carpenter on their three-person ballots. Instead, Law put Vazquez second. Never one to bow to conventional wisdom or duck a question, Law explained on "AllNight" on ESPN Radio. But for SportsNation chatters, the news was hardly a surprise.
Jeremy (California)
I know you're not going to reveal your Cy Young ballot before the results are announced, but will you reveal it after the fact? I'm really curious. I know how I'd vote, but honestly I would be neither surprised nor angry at any three of Lincecum, Vazquez, Haren, Jimenez, Wainwright, and Carpenter, in any order.
Keith Law
That's pretty much my view. It's not a 3-man race; it's at least a 4-man race (Vazquez) and you could make a serious case for Haren. Full Oct. 1 transcript
John (AZ)
When you are voting for the Cy Young what is one stat that you highly value?
Keith Law
I'm looking at a mix -- VORP, FIP, xFIP, etc. At the end of the day, I'm not comfortable rewarding a pitcher for playing in front of a great defense, which ERA and even VORP do to some degree. Full Oct. 1 transcript
"

A starting pitchers job is to win games. That's it. Great pitchers win alot of games because they are great. I'm still shocked ANYONE would ever say wins aren't important. Look, Greinke and Lincecum are really good young pitchers. If they were on teams that could hit and score runs, they both would've probably won 20 games anyway. But I still believe if one of the contenders won 21,22 games this year, they would've won the CY in either league.

"

-- bigbluepete
Sure, Zack Greinke isn't going to get to 20 wins. But the guy made a late September game against the Red Sox meaningful -- for the Royals. That's downright superhuman. Greinke's six shutout innings earned him win No. 15. Only 23 percent of SportsNation thought he had the Cy Young wrapped up before that effort, but another 34 percent -- more than enough to push him over the top -- thought last night clinched it.
When it comes to MVP, Albert Pujols' grip on the award makes "Mad Men" envious, but the AL race still has some intrigue. Most people seem to think it's down to Joe Mauer and Derek Jeter, but SportsNation blogger brianRuberti -- a Yankees fan, no less -- has Jeter fifth, Mauer second and another time at the top of his ballot.
"If Miguel Cabrera wasn't in that lineup every night, do you thing that Minnesota would only be 2 games back? Try being 5 games up instead. He does it all in run production, and having a .994 fielding percentage doesn't hurt either." -- read the full post.
Darrell (Tennessee)
Please tell me that my Mariners King Felix will win the Cy Young. I'm tired of hearing about CC cause he plays in New York, this is a two horse race between Felix and Grienke.
Rob Neyer
You're not hearing about CC because he plays in New York. Well, maybe a little bit. But w/r/t to the Cy Young, you're hearing about him mostly because he's got a shot at winning 20 games; in fact he's the only pitcher who's got a shot at winning 20 games. Voters have always liked 20-game winners, and some of them still do. Full transcript
Nora (St. Louis)
Carpenter has given up 4 or more runs in a start only once. Lincecum has done that five times. I know Lincecum strikes everyone out, but Carp's only really had the one bad start. He's been so good so consistently.
Buster Olney

Nora: And Carpenter has made fewer starts, too, because of that early-season injury. But believe me, I'm not saying there is a clear-cut choice... If Carpenter throws well in his last couple of outings, and Lincecum has another stinker, I think Carpenter will win. If Lincecum and Carpenter labor the next two times out and Wainwright throws well and finishes with 20 wins, I think that'll really help Wainwright's chances. Total toss-up right now. Full transcript