SportsNation Blog Archives

Buffalo Bills
You know how the NFL goes: One shouldn't assume anything. But -- despite losses by the Indianapolis Colts and Kansas City Chiefs on Sunday -- the top five playoff spots in the AFC have seemed locked up for some time. That last berth, though? The race continues to be heated. Six teams (New York Jets, Miami Dolphins, Pittsburgh Steelers, Baltimore Ravens, Tennessee Titans and San Diego Chargers) currently are tied for that position, with 5-6 records. Three (Buffalo Bills, Cleveland Browns, Oakland Raiders) trail by just one game. Of those nine teams, which is most likely to make the playoffs? Least likely? Click on the images below to set your rankings!


AFC wild-card contenders
Bills
Browns
Chargers
Dolphins
Jets
Raiders
Ravens
Steelers
Titans
Your Rankings
1.

2.

3.

4.

5.

6.

7.

8.

9.

September 18, 2013
Sep
18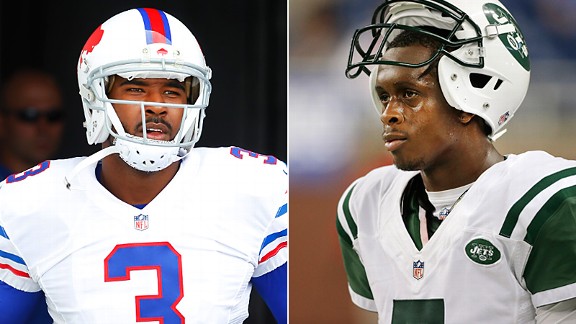 AP Photo
NFL Week 3: Bills at Jets
The winner of the Jets-Bills game in Week 3 will cling to the belief they have a shot at winning the AFC East. The loser will secure a familiar position in the bottom of the standings. Each team is led by a rookie quarterback who has shown flashes of what makes a starting quarterback a lasting one, but which will come out on top in this game? And is this the most intriguing quarterback matchup of the week?
Red Sox rout Tigers with 8 HRs

A lot happened in last night's 20-4 Red Sox win over the Tigers. David Ortiz got his 2,000th career hit. The Red Sox blasted eight home runs. Shane Victorino dove into the stands to catch a ball, and then courteously returned a phone a fan had dropped on the field. Most importantly, the balance of power between the Red Sox and Tigers may have been irrevocably altered. We'll see how much of Boston's offensive outburst carries over when it heads to New York to take on a suddenly resurgent Yankees team.

Smith, Manuel named starters

Two AFC East teams will sport different looks at quarterback in Week 1 of the 2013 season. The Bills have officially named EJ Manuel their Week 1 starter, while the Jets will be going with Geno Smith in place of the injured Mark Sanchez. Both teams have struggled to find long-term solutions at quarterback, so there's a lot of pressure on both Manuel and Smith to at least be competent, much less excel.