SportsNation Blog Archives

Ryan Braun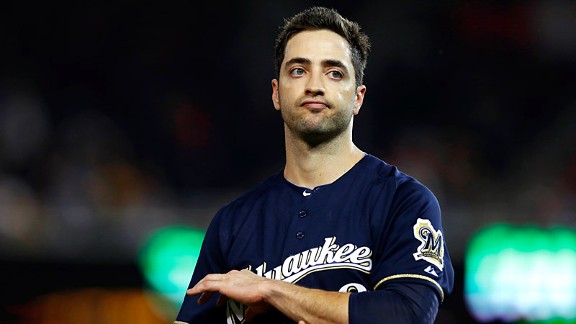 AP Photo/Jacquelyn Martin
Ryan Braun offers another apology
Ryan Braun has apologized once again for his positive drug test as part of Major League Baseball's Biogenesis doping scandal and his subsequent lies about the urine collector contaminating his sample. He says he is "deeply remorseful" and that he has made amends with the sample collector, Dino Laurenzi Jr., but does not want to go into any further details. Asked why he lied, Braun began his statement with "Obviously I've been through a lot" which leads one to wonder whether Braun is sorry about what he did or sorry that he got caught. SweetSpot blogger David Schoenfield thinks it is the latter.
There are a lot of reasons not to do performance-enhancing drugs -- reasons of health or morality or simply a fear of needles -- but perhaps the best reason is that, if you're caught, you'll have to do a series of mortifying apologies if you ever hope to regain any credibility. Ryan Braun is finding this out firsthand, as he's personally calling Brewers season-ticket holders to apologize for violating the league PED policy and for his role in the Biogenesis scandal. The Brewers say most of the responses from fans whom Braun has called has been positive, but is this enough to get Braun back in your good graces?

Here's a sampling of what readers had to say in our Facebook conversation on the story:

Anthony Mirecki: "Get over it. You people are always gonna complain. He's not gonna give you his salary and that's the only way you'll ever forget this. Get over it and just enjoy the sport. Especially you who aren't brewers fans. "
Nicholas Kersten: "The guy is trying to make amends. When was the last time you ever heard of anyone calling a fan to apologize for anything? Surely there are other sins committed by athletes worse than taking some steroids which demanded more than a canned apology. If you want to torch Braun, fine. But realize that you're torching him for doing more than most other athletes do."
Rick Barnes: "Give your MVP to Matt Kemp...then I might believe you are sincere."
William Babishoff: "The fans only want you to tell the truth and stop lying. No excuses, no blames, no apologies, just the truth, for once. Can you do that Mr. Braun?"
Andrew Distler: "What Braun did was terrible, but not unforgivable. This by no means fixes what he did (especially to that lab guy he got fired) but it's a start."

What do you think? Leave your comments below.

Ryan Braun admits PED use

It might not have been the tearful apology some wanted, but Ryan Braun finally admitted to using performance-enhancing drugs by issuing a statement Thursday. Braun said he took an unspecified cream and lozenge in 2011 while trying to overcome an injury, calling it a "huge mistake" for which he is "deeply ashamed." Is this admission good enough?

Ryan Braun's reputation took a huge hit as a result of his suspension for allegedly using performance-enhancing drugs. One piece of the fallout concerns his ownership of the 2011 National League MVP award, which runner-up Matt Kemp thinks should no longer be Braun's. In addition to Braun, can you name the past 10 players to win the NL MVP award? Take our quiz now!

Check out more quizzes in our Quiz Archive!

You could forgive Matt Kemp for being a little bitter over Ryan Braun -- the man did beat out Kemp for the 2011 NL MVP award while allegedly using performance-enhancing drugs -- but stripping Braun's MVP award? That's what Kemp thinks should happen to the recently suspended Braun when asked about it on Tuesday. Braun topped Kemp with 388 points and 20 first-place votes to Kemp's 332 and 10, a relatively narrow margin that could have easily gone the other way if Braun hadn't allegedly been using performance-enhancing drugs.

Justin Gordon: "Can we keep in mind that Kemp did not call a press conference to make a statement about the MVP award but rather was asked about it? Was he supposed to lie and say "great work Ryan you deserve it!" None of us think that, why should Kemp?"
Tim Dwighter: "If he expects Baun to be stripped then Sosa, McGuire and Bonds should be stripped of any honors they got when producing the guady numbers they did when they played. Just anothr resaon I don't follow baseball much anymore."
David Palmer: "Baseball needs to put an official asterisk on awards and records in which substantial evidence exists on being tainted by PED use. "
Brian Tidball: "He admitted to using PED's, Kemp is right in that he should be stripped of his award."
Christian Saporita: "Check the stats Kemp shouldve won it anyway."
Devin Lundey: "Did Ken Caminitti lose his MVP? Did Barry Bonds lose his? Did Sosa? MacGwire? no, so this is just asinine.."
Thomas McCaslin V: "The award has been given. It's over. It is what it is. However in everyone's mind, Kemp won it, which should be all that matters. It's a shame we're finding out now."

What do you think? Leave your comments below.