SportsNation Blog Archives

Duke Blue Devils
More than a year ago, Jahlil Okafor and noted Duke fan Tony Romo took a selfie together.
Okafor, then a highly touted Blue Devils freshman-to-be, posted it to Instagram, with details of a "deal" he made with the Dallas Cowboys quarterback:
That's right. Okafor, likely to be a top-two pick in the coming NBA draft, promised a Duke title and Romo promised a Cowboys championship.
It's unknown in these parts why the Chicago native Okafor would want a Cowboys championship (although the San Diego-born, Wisconsin-raised former Eastern Illinois player Romo doesn't have a direct connection to Duke, either), but that's no matter.
Also, "next year" could be referring to the 2014 season, in which case Romo came up short.
But we'll give Romo -- who did lead the Cowboys to the divisional round of last season's playoffs before their heartbreaking (and controversial) loss to the Green Bay Packers -- the benefit of the doubt. So over to you, Romo ... even if, without DeMarco Murray, it appears to be a long shot.
Hey, so was Kentucky not winning this year's national title ...
By
Brett Edgerton
| ESPN.com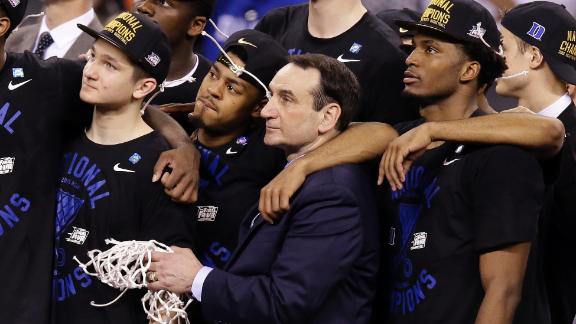 He did it again.
With Duke's 68-63 win over Wisconsin in Monday's title game, Mike Krzyzewski broke a tie with Adolph Rupp and is now second all-time with five national championships.
In a different era, the legendary John Wooden won 10 titles in a 12-year span. But with his latest triumph, Coach K joins Jim Calhoun as the only coaches to win Division I national titles in three different decades.
Let's take a quick look back at each of Krzyzewski's championships and marvel at the man's never-changing hair. ...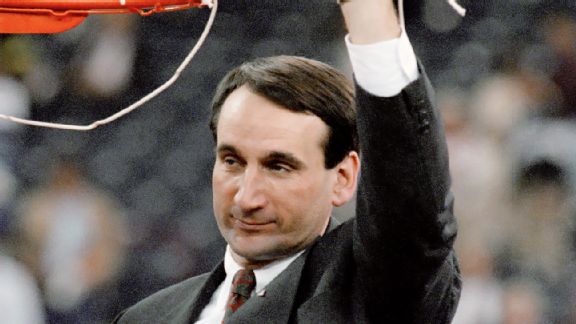 AP Photo/Ed Reinke1991: Indianapolis has been very good to Krzyzewski, who won the first of his three titles there with a 72-65 win over Kansas, just two days after stunning unbeaten UNLV.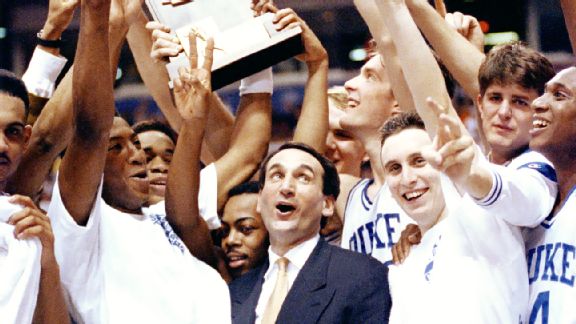 AP Photo/Jim Mone1992: After Christian Laettner's miracle against Kentucky in the Elite Eight, Duke knocked off a pair of Big Ten teams in Minneapolis. First it was Bob Knight and Indiana and then it was Michigan's Fab Five, which fell 71-51 to the Blue Devils.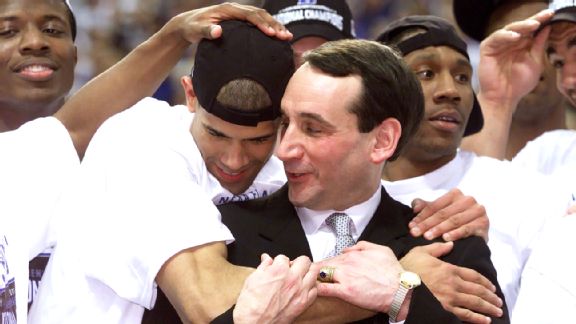 Brian Bahr/Getty Images2001: Duke returned to Minneapolis nearly a decade later and again brought home a championship, rallying to beat Maryland in the semifinals and then taking down Arizona 82-72 in the final.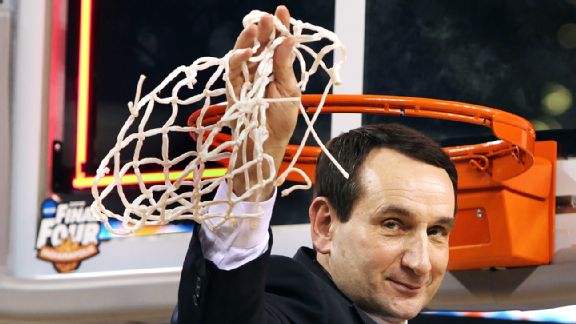 MCT via Getty Images2010: When Gordon Hayward's desperation heave clanked off the rim at the buzzer for hometown Butler, Krzyzewski secured his fourth national championship, and first in nine years. Title No. 2 in Indy.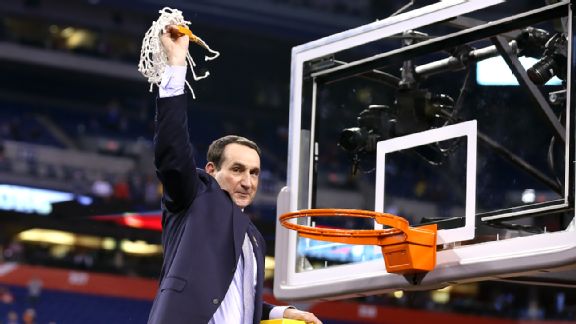 Streeter Lecka/Getty Images2015: Another title game in Indy, another title-game victory for Krzyzewski. Like in Minneapolis 23 years ago, the Blue Devils beat a pair of Big Ten teams, Michigan State and Wisconsin, and elevated their coach to second place alone in national titles.
After his latest championship, many of you might be debating where Krzyzewski now ranks among the greatest college basketball coaches of all-time. He has won more games (1,017) than any coach in Division I history and only one has more national titles.
Love him or hate him, vote here and have your voice heard:
By
Scott T. Miller
| ESPN.com
It has been five years since Duke's most recent Final Four appearance -- an eternity for the Blue Devils -- so a certain amount of uninhibited joy was to be expected after they beat Gonzaga 66-52.
But man, was Coach K pumped to be headed to Indianapolis.
GIF: Coach K goes nuts pic.twitter.com/2WVhhHd02Q

— Jamie O'Grady (@JamieOGrady) March 29, 2015
Believe it or not, that wasn't the most enthusiastic celebratory jig that took place in Houston on Sunday. That title goes to this band member who was quite pleased to get a high-five from Quinn Cook.
We're gonna go out on a limb and say that kid won't be washing his left hand any time soon.
H/T The Cauldron and Vinny Viner
Jeff Gross/Getty Images
NCAA tourney regional predix?
The first half of the Elite Eight is over and done with. Which teams will join Florida and Wisconsin in the Final Four? Cast your votes below!