SportsNation Blog Archives

Oakland Athletics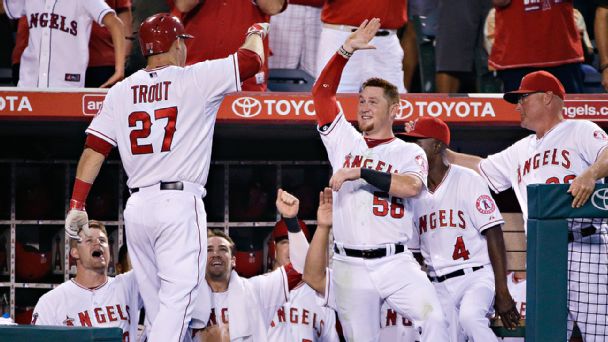 AP Photo/Jae C. Hong
Early MLB playoff predictions
MLB playoff-clinching season is here. The Los Angeles Angels snagged a playoff spot Monday and later locked up the AL West. The Baltimore Orioles and Washington Nationals cemented their respective division titles Tuesday. Meanwhile, it appears the wild-card races are the most competitive, with each league seemingly embroiled in a three-way scrape for two spots. How will it all play out?
Red Sox trade Lester to A's

Billy Beane may be going all-in this season. The A's have just acquired Jon Lester and Jonny Gomes from the Red Sox, in exchange for slugging outfielder Yoenis Cespedes. Lester joins a stellar A's rotation, recently bolstered by the acquisition of Jeff Samardzija, but will he be enough to bring Beane and the A's a coveted World Series title?

AP Photo/Jeff Roberson

Tony La Russa in the Hall of Fame?

Three-time World Series champion manager Tony La Russa will be inducted into the Baseball Hall of Fame on Sunday, albeit with some of the same criticisms and questions that surrounded the Hall of Fame campaign of his most prodigious player, Mark McGwire.

There is no debating that La Russa perfected the art of managing in leading three different teams to World Series titles (the A's in 1989, Cardinals in 2006 and 2011) while racking up 2,728 wins, the third-most all time. But 43 percent of those wins came via the likely chemically induced home run output of McGwire -- the same McGwire who has been denied entry into the Hall of Fame by voters who believe his accomplishments are tainted.

La Russa has said he believes steroid-tainted players should be in the Hall of Fame, but with an asterisk, and that managers should perhaps have the same fate. Do you agree?

Getty Images

MLB second half predictions?

The MLB's second half is upon us, and only two teams have leads of more than 1.5 games in their respective divisions. In other words, this should get intense. Who will win all the divisions? The leagues? The World Series? Cast your votes below!

Cespedes wins HR Derby

Yasiel Puig hit zero home runs. Giancarlo Stanton also posted a no-homer round. But when it all was over, the 2014 Home Run Derby went the same way as 2013: with Yoenis Cespedes the winner. The Oakland Athletics left fielder topped the Cincinnati Reds' Todd Frazier 9-1 in the final round, and became the first back-to-back winner of the contest since Ken Griffey Jr. in 1998 and 1999. The victory came under a new format, in which there were only seven outs, and the top hitter from each league got a bye into the finals, where they would face the winner of a playoff between the Nos. 2 and 3 hitters.