SportsNation Blog Archives

Connecticut Huskies
ESPN.com's Andy Katz is reporting that UConn head coach Jim Calhoun will announce his retirement at a news conference Thursday. He finishes his career with the sixth-most wins among Division I men's basketball coaches and three national titles (1999, 2004, 2011), while sending more than two dozen players to the NBA. However, NCAA sanctions and academic problems have plagued the UConn program in recent years, leaving Calhoun with a mixed legacy.
The Man Punted Baxter:" As someone whose family comes from Storrs and who's grandfather taught at UCONN, this is a very big goodbye to one of the best coaches of all-time"
WMHdog:"Calhoun won three national championships. That's incredible. There are some programs that consider themselves relevant (for some reason) despite only having one. Great job coach."
Sun Devils-Cardinals-Suns-Diamondbacks:"With UCONN not being eligible for the NCAA tournament next year,there was zero upside to coming back."
buckwargo:"This program came out of nowhere and will probably go back to being out of the limelight. It was all about Calhoun and now with a weakened Big East, they won't get the players they once did."
kvanderpool2:"Calhoun is a legend in CT.. He put UConn on the map and though he got caught up in some dirty stuff the past few years, he will be missed. Couldn't pick a better coach then Ollie to take over. Won't be long till you see uconn on top again."


Join the conversation or respond by signing in or creating a profile and blogging.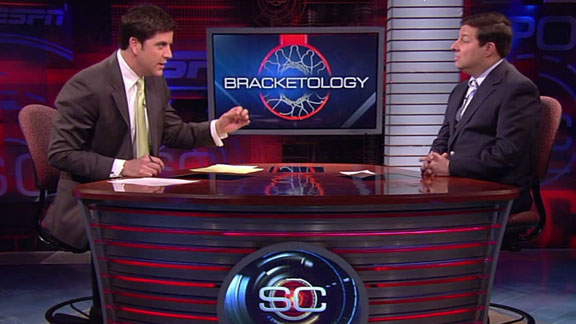 If this was the final week of competition before football bowl season, any discussion of a fifth-place team in the Big East would include names like Meinke Car Care Bowl, PapaJohns.com Bowl or St. Petersburg Bowl. Good times.
Thankfully it's March, which means Rick Pitino's so-so Cardinals have as much as the better part of a week on one of the biggest stages in the sport to vault themselves into national prominence and championship sleeper status. Notre Dame didn't even want a low-level bowl bid by the time its football season wrapped up, but the Fighting Irish will be playing like crazy for the chance to be at least No. 64 when the NCAA tournament comes out.
What we're saying is the Big East tournament is a pretty good gig. And with games on ESPN 360, it beats the heck out of real work. The big dogs (sorry, UConn) don't play until tomorrow, but which team has the best shot to knock off Syracuse?
Timothy (Morgantown)
Assume for a moment that WVU wins the Big East tourney... If that were to happen, then what else would the Mountaineers need to happen in order to move up to a #1 seed in the Big Dance?
Andy Katz

It's an interesting scenario. But the problem is that save the Villanova win it's not like WVA finished without any hiccups, losing to Pitt and Connecticut. I know the Mountaineers beat Ohio State but they did lose to Purdue. WVA is also the No. 3 seed in the Big East. I don't see it. Full transcript
David (CT)
Joe, here's the question that has captivated the country. If Uconn wins 3 are they back in?
Joe Lunardi

Well, David, it may have captivated one state. I think the rest of the country was tired of seeing UConn in my brackets. Three wins gets them back in the conversation. The rest is not knowable at this point. Full transcript