SportsNation Blog Archives

Wichita State Shockers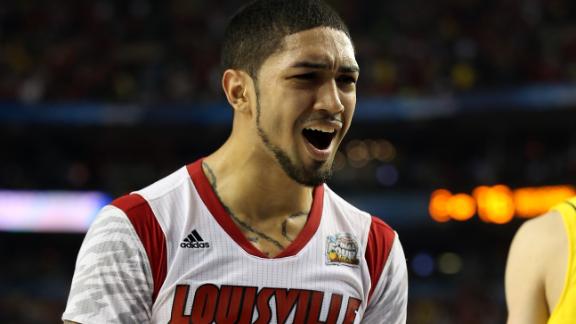 He might be playing for the Detroit Pistons, but that doesn't mean Peyton Siva has forgotten about his old team. On Tuesday, Siva told ESPN.com that the Louisville Cardinals "really aren't missing anything" and will be "better" and "more talented" than the group that claimed the 2012-13 NCAA title. How do the Cardinals stack up against the presumed contenders in 2013-14? Click on the logos below to set your rankings!


College hoops in 2013-14

Kentucky

Louisville

Michigan State

Arizona

Kansas

Duke

Florida

Ohio State

Syracuse

Michigan

Oklahoma State

North Carolina

Wichita State

VCU

Memphis

Marquette

New Mexico

Gonzaga

Baylor

Indiana

Connecticut

Colorado

UCLA

Tennessee

Iowa
Your Rankings
1.

2.

3.

4.

5.

6.

7.

8.

9.

10.

11.

12.

13.

14.

15.

16.

17.

18.

19.

20.

21.

22.

23.

24.

25.

Tags:
SportsNation Rank, NCF, NCF, Kentucky Wildcats, Louisville Cardinals, Michigan State Spartans, Arizona Wildcats, Kansas Jayhawks, Duke Blue Devils, Florida Gators, Ohio State Buckeyes, Syracuse Orange, Michigan Wolverines, Oklahoma State Cowboys, North Carolina Tar Heels, Wichita State Shockers, Virginia Commonwealth Rams, Memphis Tigers, Marquette Golden Eagles, New Mexico Lobos, Gonzaga Bulldogs, Baylor Bears, Indiana Hoosiers, Connecticut Huskies, Colorado Buffaloes, UCLA Bruins, Tennessee Volunteers, Iowa Hawkeyes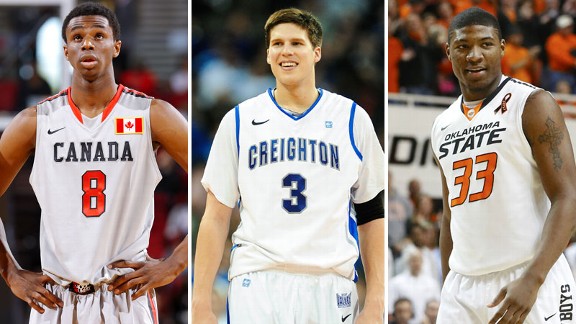 Getty Images, AP PhotosAndrew Wiggins. Doug McDermott. Marcus Smart. All are indispensable. But which one matters most?
Here we are in the quiet of the college basketball summer. That means rosters are set. And that also means that we can look ahead to 2013-14 and decide which players are the most important to their teams' success in the coming year. Myron Medcalf counted down his top 10 this week. Now you can make your picks. Click on the boxes below to set your rankings!


Rank: Hoops' most indispensable players
Jahii Carson

Jahii Carson
G, Arizona State
2012-13: 18.5 ppg, 3.7 rpg, 5.1 apg
Cleanthony Early

Cleanthony Early
F, Wichita State
2012-13: 13.9 ppg, 5.4 rpg
Davante Gardner

Davante Gardner
F, Marquette
2012-13: 11.5 ppg, 4.8 rpg
Alex Kirk

Alex Kirk
C, New Mexico
2012-13: 12.1 ppg, 8.1 rpg
Doug McDermott

Doug McDermott
F, Creighton
2012-13: 23.2 ppg, 7.7 rpg
Mitch McGary

Mitch McGary
F, Michigan
2012-13: 7.5 ppg, 6.3 rpg
LaQuinton Ross

LaQuinton Ross
F, Ohio State
2012-13: 8.3 ppg, 2.9 rpg
Marcus Smart

Marcus Smart
G, Oklahoma State
2012-13: 15.4 ppg, 5.8 rpg, 4.2 apg
Russ Smith

Russ Smith
G, Louisville
2012-13: 18.7 ppg, 3.3 rpg, 2.9 apg
Andrew Wiggins

Andrew Wiggins
F, Kansas
Freshman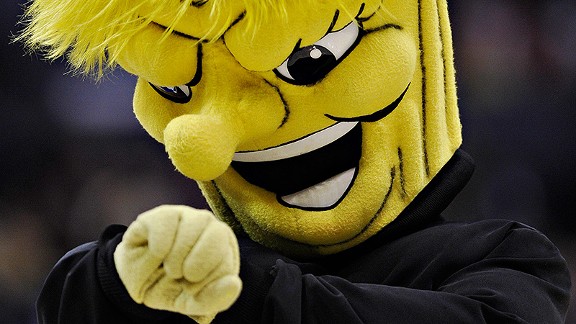 Robert Hanashiro/USA TODAY SportsWichita State shocked (sorry) college hoops by reaching the Final Four in 2013. Can it happen again?
Wichita State. VCU. Butler, twice. In the last four years, teams from non-power conferences have blasted through the brackets and into the Final Four -- and done pretty well while there. So, as we look ahead to the 2013-14 college hoops season, we're wondering: Which teams are most likely to repeat the feat come March? Jason King has his top 10. Where do they rank for you? Click on the boxes to make your picks!


March Mid-Major Sleepers
Boise State

Boise State
2012-13: 21-11 (lost in NCAA tournament First Four)
Florida Gulf Coast

Florida Gulf Coast
2012-13: 26-11 (lost in NCAA tournament Sweet 16)
Harvard

Harvard
2012-13: 20-10 (lost in NCAA tournament third round)
La Salle

La Salle
2012-13: 24-10 (lost in NCAA tournament Sweet 16)
Louisiana Tech

Louisiana Tech
2012-13: 27-7 (lost in NIT second round)
Saint Louis

Saint Louis
2012-13: 28-7 (lost in NCAA tournament third round)
Southern

Southern
2012-13: 23-10 (lost in NCAA tournament second round)
Towson

Towson
2012-13: 18-13 (ineligible for 2013 postseason due to academic performance)
VCU

VCU
2012-13: 27-9 (lost in NCAA tournament third round)
Wichita State

Wichita State
2012-13: 30-9 (lost in NCAA tournament Final Four)
Tags:
SportsNation Rank, Wichita State Shockers, VA Commonwealth Rams, Towson Tigers, Southern Jaguars, Southern University Jaguars, Saint Louis Billikens, Boise State Broncos, Harvard Crimson, Florida Gulf Coast Eagles, Florida Gulf Coast U Eagles, La Salle Explorers, Louisiana Tech Bulldogs, NCB, NCB