SportsNation Blog Archives

Jacoby Ellsbury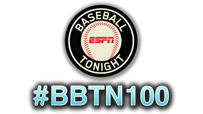 How do the top center fielders in Major League Baseball stack up? That question has been answered by our experts in the latest installment of the "Baseball Tonight" 100 (#BBTN100), a project to rank the top players across all 30 teams. We'll reveal a new position each day and unveil the overall 1-100 rankings March 27.
Do you agree with the experts' take on center fielders? Simply click on the images of the top 10 below to submit your ballot.


Rank: #BBTN100 Center Fielders

Michael Bourn

Michael Bourn
Cleveland Indians
BBTN Rank: 9
Coco Crisp

Coco Crisp
Oakland A's
BBTN Rank: 7
Jacoby Ellsbury

Jacoby Ellsbury
New York Yankees
BBTN Rank: 3
Dexter Fowler

Dexter Fowler
Houston Astros
BBTN Rank: 10
Carlos Gomez

Carlos Gomez
Milwaukee Brewers
BBTN Rank: 4
Austin Jackson

Austin Jackson
Detroit Tigers
BBTN Rank: 8
Adam Jones

Adam Jones
Baltimore Orioles
BBTN Rank: 5
Matt Kemp

Matt Kemp
Los Angeles Dodgers
BBTN Rank: 6

Andrew McCutchen

Andrew McCutchen
Pittsburgh Pirates
BBTN Rank: 2
Mike Trout

Mike Trout
Los Angeles Angels
BBTN Rank: 1
Your Rankings
1.

2.

3.

4.

5.

6.

7.

8.

9.

10.

Scott Rovak/USA TODAY Sports
Carlos Beltran to the Yankees
Have the Yankees of old returned? Even though the Bronx Bombers passed on spending $240 million on Robinson Cano, they still have spent nearly $300 million so far this offseason, with the latest acquisition being Carlos Beltran's three-year, $45 million deal. How are the new-look Yankees shaping up? Will it be enough?
Jacoby Ellsbury has gone to the Yankees, undoubtedly causing Red Sox fans some degree of consternation. That World Series championship should help, but Ellsbury is a unique talent; his speed is a huge weapon, and he has enough power to really threaten pitchers when he's hot. He's one of the few players in the 30-30 club since the turn of the century. Can you name the rest?

Red Sox's offseason questions

Beards have been shaved, duck boats have been put away, and the long offseason has begun for the world champion Boston Red Sox. The team extended qualifying offers to three key players today -- Jacoby Ellsbury, Stephen Drew and Mike Napoli. Ellsbury is likely to test the free-agent market, but Drew and Napoli seem far more likely to return after turning in unexpectedly solid seasons. The team also has to decide what to do at catcher -- they did not extend Jarrod Saltalamacchia a qualifying offer and could go for free agent Brian McCann to take up duties behind the plate.

SportsNation SportsNation
HOW?!?!?! RT @ESPN_Numbers BREAKING: The Bucks are winning a basketball game. http://t.co/OKDI7NiFqN
16 minutes ago

SportsNation SportsNation
Remember New Mexico State's Sim Bhullar? According to sources, the 7'5'', 355 lb GIANT is heading to the NBA » http://t.co/p8Jh6PgiZd
40 minutes ago

MichelleDBeadle Michelle Beadle
I found all the Ferraris. They're being driven by old dudes in Beverly Hills. #sadcarporn #la
about an hour ago

SportsNation SportsNation
Updated NBA scenarios: •Raptors clinch 3-seed with win vs Knicks •Knicks clinch being bad at basketball with win or loss vs Raptors
about 3 hours ago

MichelleDBeadle Michelle Beadle
What the?!?! i saw that! Sweet pants. RT @jeffsch10: @MichelleDBeadle Hi BEADS! *waves like you can see me* ;)
about 4 hours ago

MichelleDBeadle Michelle Beadle
Ummm @SARiverwalkFun that would be all kinda of awesome!
about 4 hours ago

MichelleDBeadle Michelle Beadle
Feeling good? Feel free to help out my friend @brentdougherty as he fights the good fight. http://t.co/I4CFNrbli1
about 4 hours ago

Max_Kellerman Max Kellerman
SportsNation today, @MarlonWayans: "@JHarden13, you won't shave your beard for $5 million? How ugly is your face?"
about 5 hours ago

SportsNation SportsNation
The Jets now have Mike Vick & Chris Johnson ... which is essentially a really good Madden backfield... http://t.co/o2LUVAbD5j
about 5 hours ago

MichelleDBeadle Michelle Beadle
RT @MarlonWayans: Check me out actin' the fool on @SportsNation with @Max_Kellerman @MarcellusWiley @MichelleDBeadle http://t.co/ry4lRWjoFg
about 5 hours ago

Max_Kellerman Max Kellerman
RT @MarlonWayans: Check me out actin' the fool on @SportsNation with @Max_Kellerman @MarcellusWiley @MichelleDBeadle http://t.co/ry4lRWjoFg
about 5 hours ago

MichelleDBeadle Michelle Beadle
RT @SportsNation: .@MichelleDBeadle and @MarlonWayans combined for an epic #selfiefail on today's show http://t.co/BpxMUm5CTZ http://t.co/U…
about 5 hours ago

marcelluswiley Marcellus Wiley
Much respect to Joe Rogan. Cool cat, even though he's crazy thinking Rhonda Rhousey could beat Floyd… http://t.co/MNtzqIP2Lp
about 6 hours ago

SportsNation SportsNation
.@MarlonWayans bringing it in today's hashtag game http://t.co/FR9ZttEbra
about 6 hours ago

Max_Kellerman Max Kellerman
More impressive risk taken by Mexican star: @jcchavezjr1 fighting @gggboxing or @caneloOficial fighting @Laraboxing? #boxing
about 6 hours ago

MichelleDBeadle Michelle Beadle
It's near and dear to my heart. @DashDiallo1
about 6 hours ago

SportsNation SportsNation
.@MichelleDBeadle and @MarlonWayans combined for an epic #selfiefail on today's show http://t.co/BpxMUm5CTZ http://t.co/UHovbhYehn
about 6 hours ago

MichelleDBeadle Michelle Beadle
Thanks for warning me of your presence RT @Cnotorious: Beadle just made my day. no filter needed. #sportsnation http://t.co/f2pDCyHoMp
about 6 hours ago

MichelleDBeadle Michelle Beadle
Today, I lost control of the show. Thanks @MarlonWayans http://t.co/VFxMZwHkrA
about 6 hours ago

SportsNation SportsNation
Jabari Parker sings "Should I Stay or Should I Go" to get ready for his BIG decision >> http://t.co/m2CC7AgNcZ
about 7 hours ago